Grab your blueberries—you are about to bake the best Paleo Blueberry Lemon Bread you've ever tasted!
When it comes to baking, I'm a creature of habit. I have a handful of go-to recipes I rely on and can literally make on autopilot. But every so often, I like the challenge of whipping up something new and exciting. There's something about the anticipation of baking something new, wondering if it will turn out to be a success or a complete flop. In this case, it turned out to be one of the biggest baking wonders I've turned out yet!
Love coconut flour recipes? Get our free coconut flour recipe cookbook here!
The flavor of blueberry and lemon in a bread is one I can't resist. There's something magical about biting into a thick slice of homemade bread and getting bursts of sweet and sour flavors. Perfect for a relaxing morning with a large cup of joe!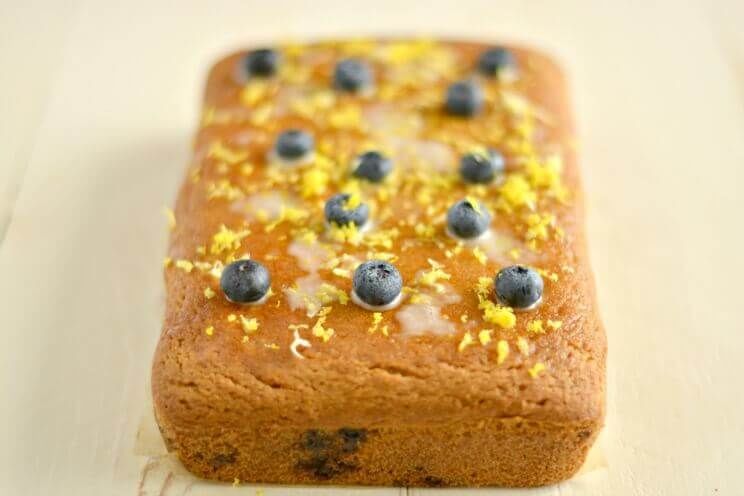 Aside from how easy it is to make (seriously, all you do is mix, dump and bake), is the pretty marbled effect you get from the blueberries. I spent a little extra time dispersing the blueberries one by one throughout the batter so the bread would come out looking like a pretty marbled cake. You don't have to do that, but it sure does make it look beautiful!
Top with a coconut cream glaze, a handful of blueberries and lemon zest.
Megan Olson
Coconut Flour Blueberry Lemon Bread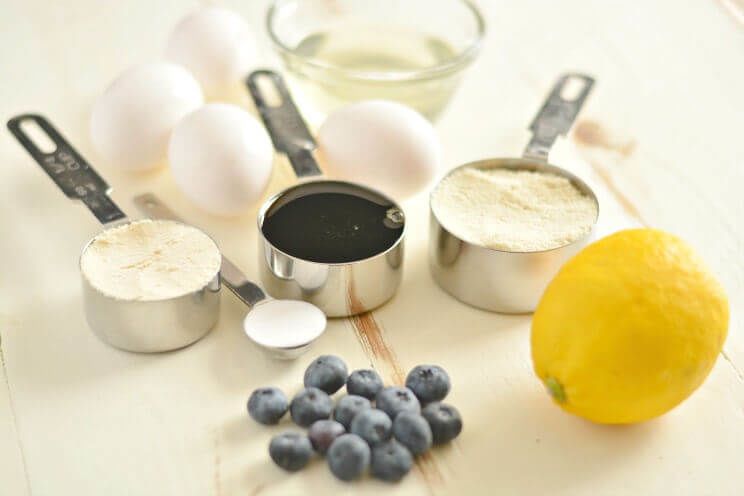 Cook Time:
30 mins
30 minutes
Prep Time:
5 mins
5 minutes
Coconut Flour Blueberry Lemon Bread
Grab your blueberries—you are about to bake the best Paleo Blueberry Lemon Bread you've ever tasted!
Ingredients
For the bread:
6 large eggs

½ cup coconut oil

1/3 cup maple syrup

4 T freshly squeezed lemon juice

2 T lemon zest + 2 T more for topping

½ t salt

1 t baking soda

½ cup tapioca flour

¾ cup coconut flour

½ cup fresh blueberries + more for topping
For the glaze:
¼ cup coconut cream (not coconut milk)

1 T maple syrup
Instructions
Preheat oven 350°F. Prepare a loaf pan by placing a piece of parchment paper inside. Allow the ends to hang off the edges a bit for easy removal.

Whip together the ingredients for the glaze and place in the refrigerator until the bread is done baking.

In a medium bowl, sift together the coconut flour, tapioca flour and baking soda.

In a separate large bowl, whisk together eggs, maple syrup, salt, lemon juice and lemon zest.

Slowly add the flour to the egg mixture, mixing until incorporated. Add the coconut oil last, stirring until fully incorporated.

Gently fold the blueberries into the batter.

Transfer to the prepared loaf pan. Use a fork or spoon to spread the blueberries out evenly. This will ensure you get a marbled look to the bread.

Bake 30 minutes, or until a toothpick inserted into the center comes out clean.

Leave the bread in the pan 1 hour to cool at room temperature.

Once cooled, spoon the glaze over the bread, allowing it to drizzle down the sides. Top with more blueberries, lemon zest and devour!

(You'll Also Love: Paleo Rainbow Bread)