Donut lovers, rejoice. These Turmeric Protein Donuts turns your favorite treat into an anti-inflammatory, protein-packed recipe.
These mini donuts are super dense but not too sweet and loaded with extra protein. They're the perfect post-workout treat or afternoon pick-me-up to ward off tiredness. All you need is a silicone donut mold (I bought mine on Amazon) and a handful of ingredients for these delicious protein donuts.

The combination of raw cashews and fresh Medjool dates gives the dough its chewy texture and caramel-like flavor. The protein boost makes these donuts extra nourishing. Turmeric is a spice that I use almost daily because it boasts so many benefits. I love adding it to desserts because it gives everything a beautiful golden hue and contains loads of nutrients, especially antioxidants and anti-inflammatory compounds. Talk about a miracle spice!
Love turmeric recipes? Get our free turmeric recipes cookbook here!
Be sure to use Medjool dates for this recipe, as dried dates will need to be soaked before adding to the food processor. Once processed, press the dough into a silicone donut mold and cover with plastic wrap. Believe me, the hardest part is waiting for these protein donuts to firm up in the freezer without eating all the batter first!
Zoe Raissakis
No-Bake Turmeric Protein Donuts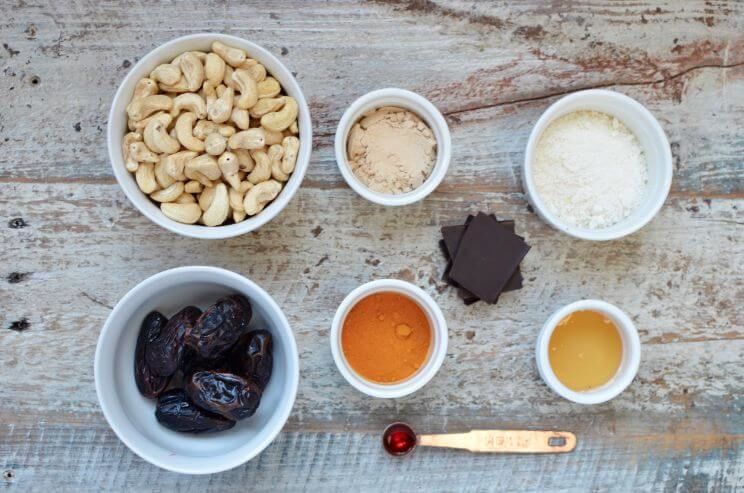 Cook Time:
45 mins
45 minutes
Prep Time:
5 mins
5 minutes
No-Bake Turmeric Protein Donuts
Donut lovers, rejoice. As if donuts weren't already good enough, this Turmeric Protein Donut recipe turns your favorite treat into an anti-inflammatory, protein-packed superfood.
Ingredients
1½ cups raw cashews

½ cup (7 pieces) Medjool dates, pitted

1 T vanilla protein powder

¼ cup shredded coconut

2 t maple syrup

¼ t vanilla essence

1 t turmeric powder

¼ cup dark chocolate (for topping)
Instructions
Combine all ingredients (except the chocolate) in a food processor and process on high until a smooth and sticky cookie dough forms.

Roll batter into eight balls and firmly press into silicone donut mold.

Cover mold with plastic wrap and place in freezer 30 minutes to set.

For the chocolate topping, pour a cup of water into a saucepan and bring to a boil.

Then place a smaller saucepan on top of the pan and add the chocolate to the bowl. Stir gently until the chocolate is completely melted.

Once set, remove donuts from mold, drizzle with dark chocolate and store in an airtight container in the fridge.
Watch the Recipe Video Below!



(You'll Also Love: Strawberry Chocolate Donuts)