Repurpose those ends, skins, and scraps for an out-of-this-world vegetable broth bursting with vitamins and flavor!
If you've been tossing those carrot ends and celery strings, it's time to start saving them for a big batch of broth! Not only will you save money by utilizing unwanted scraps and produce in the fridge (think dry or wilted veggies), but it's also a great way to work in heart-healthy nutrients to your diet.
The next time you're meal prepping, save the scraps and keep this recipe handy. You can use any combination of veggies or herbs listed below and if you're missing some of the essentials, just double-up on the ones you have on-hand.
How does bone broth fight inflammation AND promote weight loss? Download our Free Bone Broth Guide And Recipes To Find Out Now!
Click here to get your FREE Bone Broth Guide And Recipes Today!
What to Use:
Celery ends, strings, and hearts: These pieces often get discarded, but they're full of tasty goodness that will flavor soup.
Sweet potato and carrot peel and ends: Rich in beta carotene, they'll add antioxidants to the broth.
Onion skins and garlic bulbs: Onion and garlic make for the most fragrant broth along with the outer skins that are often thrown away.
Herbs that have dried, wilted, or slightly browned: A little discoloration in rosemary or thyme will still make for an aromatic broth. Wilted cilantro and parsley still pack a ton of flavor and nutrients.
Bell pepper tops: Full of vitamins and antioxidants, bell peppers (especially the red variety) add a touch of sweetness to stock.
Mushroom stems: Often plucked off and discarded, mushrooms stems add a meaty umami flavor to stock.
Broccoli stalks: The stalks of broccoli are full of vitamin C, fiber, and iron that will infuse stock.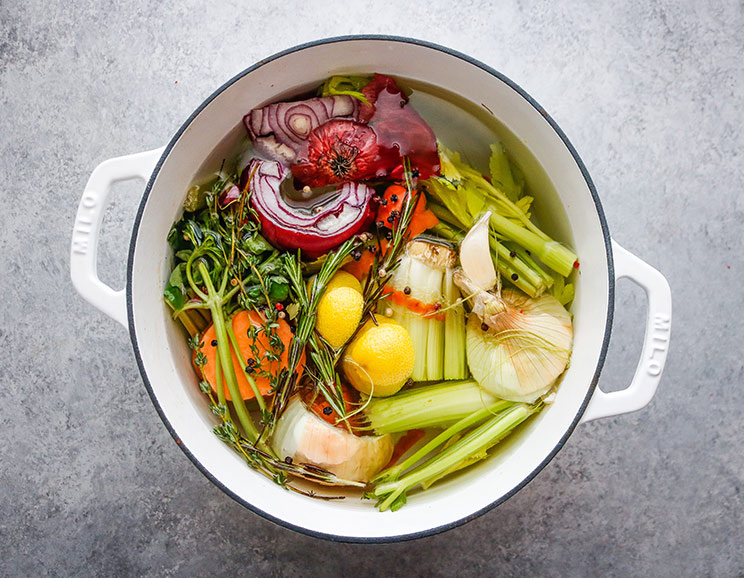 Making the Stock
Once you have about six cups of veggie scraps, you're ready to make a broth. Place veggies in a stockpot and submerge with six cups of water. Bring to a boil over medium heat, then reduce the heat and simmer for two hours. Strain the veggie scraps and pour the stock into airtight jars, uncovered. Cool to room temperature and secure the lids before storing inside the refrigerator.
They'll keep their freshness for up to five days in the fridge or up to four months in the freezer. If freezing, make sure to thaw for 24 hours in the fridge before using.
Tips:
Steer clear of any vegetables or herbs that have become mushy, slimy, have a musty smell, or are growing mold. These are signs of spoilage.
Adding additional seasonings like pepper, sea salt, and a splash of coconut aminos will help tie the broth together for better-than-store-bought flavor.
Add apple cider vinegar after simmering and cooling stock to preserve its potent enzymes and probiotics.
Jennafer Ashley
How To Make Amazing Vegetable Broth with Kitchen Scraps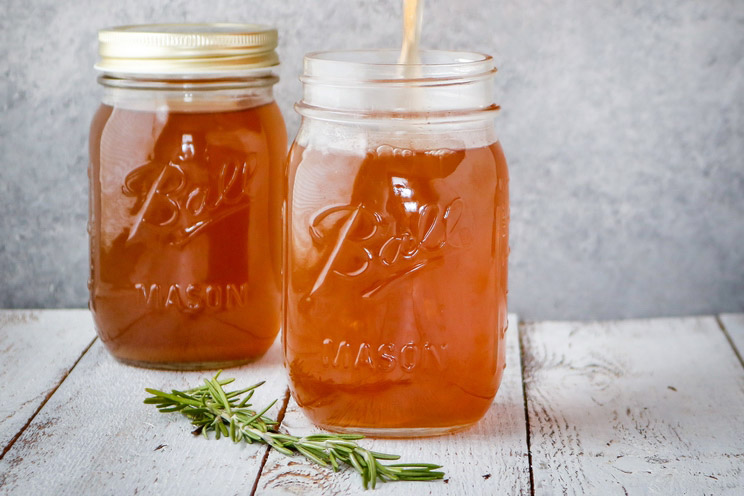 Prep Time:
5 mins
5 minutes
How To Make Amazing Vegetable Broth with Kitchen Scraps
Repurpose those ends, skins, and scraps for an out-of-this-world vegetable broth bursting with vitamins and flavor.
Tools
Dutch oven

Strainer

16 oz jars (3 total) or a 48 oz jar
Ingredients
6 Cups Mixed Veggie Scraps:
Carrot peels and ends

Celery ends and hearts

Onion peel

Potato peels and ends

Broccoli stalks
1 Cup Mixed Herb Scraps:
Garlic peel / bulbs

Basil

Parsley

Cilantro

Rosemary

Thyme
Extras (optional):
½ t peppercorns

½ t sea salt

1 T coconut aminos

1 T apple cider vinegar
Instructions
Place veggie scraps and any additional herbs in a 5-quart Dutch oven and cover with 6-8 cups of water. Bring to a boil. Reduce heat to simmer and simmer for 2 hours.

Strain and discard veggies. Pour broth into airtight jars. Use within 5 days if refrigerated or freeze up to 4 months.
Looking for Paleo ingredients? Here are a few we'd recommend:
Sea salt (REDMOND)
Apple cider vinegar (Bragg)

Meal prep recipes that will leave you with plenty of scraps include: