Collagen-rich bone broth and antioxidant-packed turmeric meet in this savory soup. Full of hearty vegetables and easy, 5-ingredient meatballs, this hearty soup comforts on even the coldest days.
With ample amounts of minerals and amino acids, bone broth is a go-to for many people plagued with gut issues, joint issues, or anyone looking to improve their overall health. As a plus, bone broth's rich flavor complements many savory recipes. If you are short on time, you can purchase bone broth online and in many health food grocery stores.
Turning bone broth into a soup or stew is easy by adding your favorite chopped vegetables and herbs. We are going to take it one step further for this recipe and roll some mini meatballs to add to the soup.
How does bone broth fight inflammation AND promote weight loss? Download our Free Bone Broth Guide And Recipes To Find Out Now!
Click here to get your FREE Bone Broth Guide And Recipes Today!
Start by making the bone broth a few days in advance to reap the full benefits from the bones. Making bone broth is a slow process, but luckily requires minimal prep time. The magic happens as it slowly simmers. Preparing a large batch of bone broth will save lots of time in the future, and it can be frozen to have on hand in a pinch. Note: We used this beef bone broth recipe.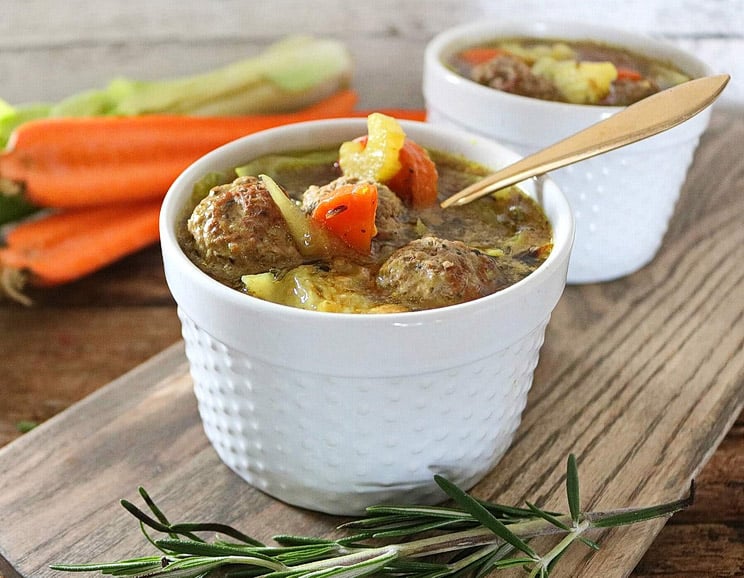 Once your bone broth is prepared, combine ingredients for the meatballs and roll into small balls about the size of a superball. Cook the meatballs in a large pan just long enough to brown (they will finish cooking in the soup). I like to brown my meatballs before adding them to sauces or soup because it deepens the flavor and adds even more richness to any recipe without the need for a lot of extra ingredients.
Next, combine the vegetables in a large stock pot or Dutch oven and sauté until they begin to tenderize. Pour in the bone broth along with herbs and meatballs and simmer for 15 minutes to fully cook the meatballs and allow all of the flavors to mingle together. Ladle the hot soup into bowls and let it melt your worries away.
Tips:
Combine with 1-2 tablespoons arrowroot powder to create a gravy and smother over meat and Paleo biscuits.
Freeze bone broth in ice cube trays and pop out as needed to melt down and sauté with veggies and stir-fries instead of oil.
Stir into cauliflower rice to add a meaty flavor.
Jennafer Ashley
Bone Broth Turmeric Soup with 5-Ingredient Meatballs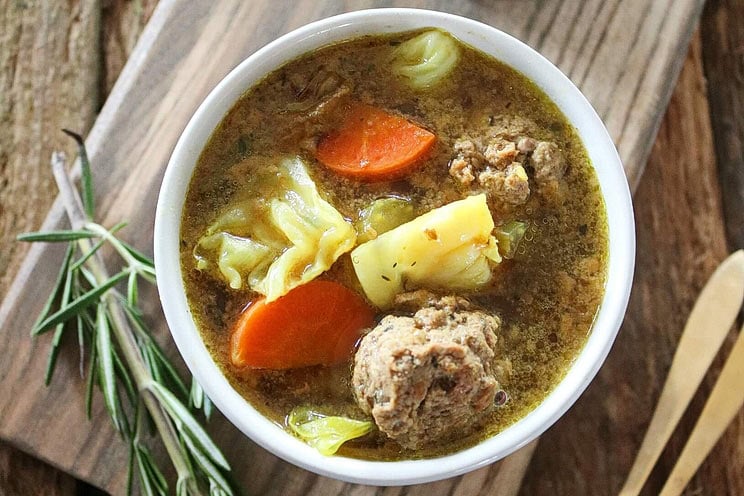 Cook Time:
35 mins
35 minutes
Prep Time:
20 mins
20 minutes
Bone Broth Turmeric Soup with 5-Ingredient Meatballs
Collagen-rich bone broth and antioxidant-packed turmeric meet in this savory soup.
Ingredients
For the Soup:
8 cups beef bone broth

2 cups green cabbage, coarsely chopped

1 cup celery, chopped

1 cup carrots, chopped

1/2 cup white onion, minced

2 T olive oil

1 sprig rosemary

1 t dried thyme

1 t ground turmeric

2 garlic cloves, minced

2 t sea salt

1/2 t black pepper
For the Meatballs:
1 lb ground, grass-fed beef

2 T nutritional yeast

1 egg

1 t dried basil

1 t cracked fennel
Instructions
Prepare bone broth in advance. See link below for recipe.

Next prepare meatballs by combining ground beef, egg, nutritional yeast, dried basil and cracked fennel in a large bowl. Stir to combine until egg is completely mixed in.

Form mixture into small meatballs using a tablespoon to scoop and then rolling with hands into balls.

Lightly grease a large skillet with extra virgin olive oil and heat over medium heat until hot. Add meatballs and brown for 5 minutes, turning occasionally for even browning. Remove pan from heat. Note: Meatballs should NOT be completely cooked.

In a large Dutch oven or pot, heat extra virgin olive oil over medium heat. Add celery, onion, and carrot. Cover and cook 5 minutes.

Stir in garlic, thyme, turmeric and cabbage. Cover and cook an additional 5 minutes.

Pour in bone broth and add meatballs, salt, pepper and sprig of rosemary. Bring to a low boil and reduce heat to simmer for 15 minutes. Remove rosemary sprig. Ladle into bowls and serve hot.

(You'll Also Love: 55 Cozy Bone Broth Recipes)