Craving a flavorful, deeply-spiced dish to make for dinner?
Try this vegetable curry, enriched with mineral-heavy bone broth and antioxidant-rich curry powder, thanks to the turmeric.
Don't fear the seemingly long list of ingredients: This recipe is straightforward and simple, taking about an hour and minimal effort. All for a super flavorful and warm dish, best served atop a bed of cauliflower rice or with thick slices of Paleo bread.
Trying to figure out exactly what to eat on Paleo?
Look no further than our FREE 21 Day Paleo Meal Plan
Courtney Hamilton
Vegetable Coconut Curry Recipe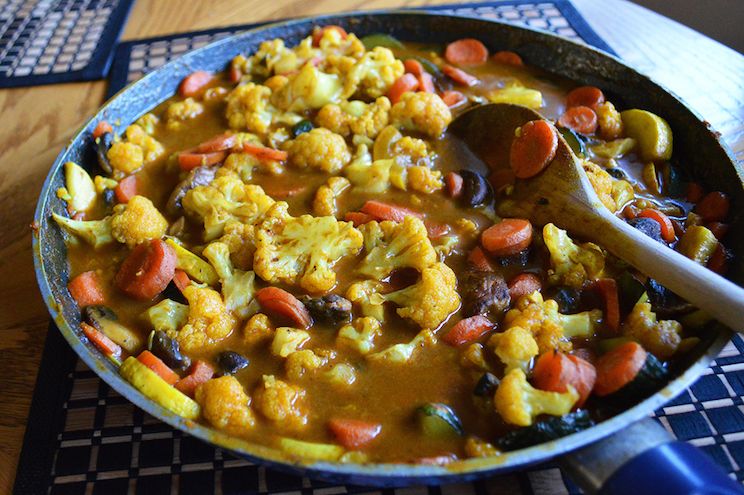 Cook Time:
50 mins
50 minutes
Prep Time:
10 mins
10 minutes
Vegetable Coconut Curry Recipe
With so much flavor and spice, this vegetable coconut curry is sure to please all appetites.
Ingredients
1 T ghee

4 garlic cloves, minced

2 T yellow curry powder

4 oz Crimini mushrooms

2 T coconut oil

3 whole organic canned plum tomatoes

1 t salt

½ cup full-fat coconut milk

1 head cauliflower

½ yellow squash

½ zucchini

3 carrots

2 cups + 2 T bone broth
Instructions
In a large pan, simmer minced garlic in ghee until fragrant. While garlic simmers, add to a blender curry powder, 2 tbsp bone broth, coconut oil, plum tomatoes and salt. Blend curry base until smooth.

Add curry base and remaining 2 cups bone broth to pan. Allow mixture to reduce to half its size, stirring occasionally, around 20 minutes.

While sauce cooks, chop cauliflower, yellow squash, zucchini, carrots and mushrooms.

When reduced, add coconut milk to sauce. Stir to combine.

Add vegetables to sauce. Pan will likely crowd—that's okay. Cook in sauce until tender, around 20-30 minutes.

Serve with cauliflower rice or with Paleo bread.
Tip: To thicken sauce, add a slurry of tapioca starch or arrowroot powder.

(You'll Also Love: 20 Easy Paleo Crockpot Recipes)