This immune-boosting detox vegetable soup recipe has a rainbow of vegetables and herbs (including cabbage, kale, and anti-inflammatory turmeric).
It's a vibrant, delicious way to nourish your body from the inside out!
If you're looking for a way to get your fill of daily veggies, this detox vegetable soup recipe is it. This cozy soup packs purple cabbage, carrots, kale, celery, and broccoli. And zingy lemon juice and hearty spices tie the flavors together.
In need of a sugar detox?
Click here to get your FREE Sugar Detox Guide + Sugar-Free Recipes!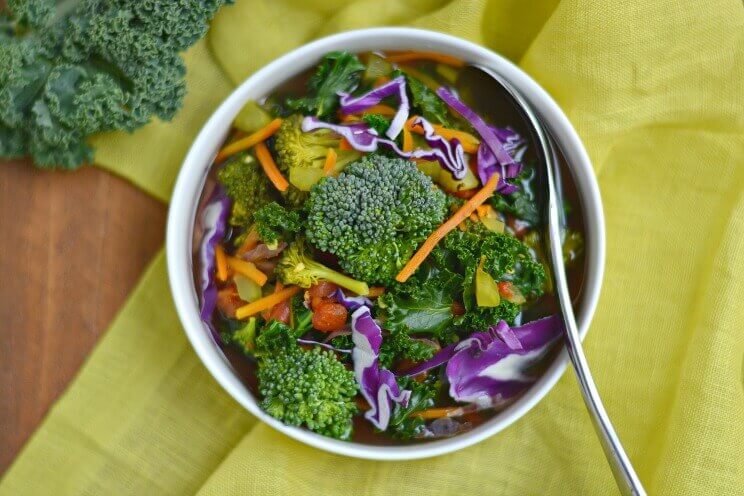 This recipe comes together in just 20 minutes, and you'll only need one large pot. So cleanup is a breeze! Simply sauté and simmer the vegetables, and marry the seasonings. It makes for an easy go-to recipe to with wholesome ingredients that'll make you feel balanced and renewed.
For a complete meal, serve the soup as a side with a healthy protein (such as chicken, beef, turkey, or fish). Or directly add protein to the soup for a whole meal!
Megan Olson
One-Pot Detox Vegetable Soup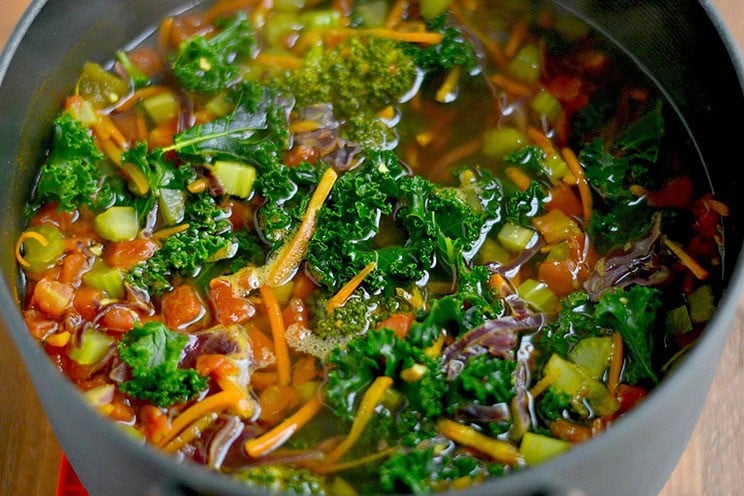 Cook Time:
20 mins
20 minutes
Prep Time:
15 mins
15 minutes
One-Pot Detox Vegetable Soup
This vibrant, immune-boosting soup has a rainbow of vegetables and herbs, nourishing your body from the inside out!
Ingredients
1 cup shredded purple cabbage

1 cup shredded carrots

2 cups kale (destemmed and torn into pieces)

1 cup celery (diced)

3 cups broccoli florets

1 cup diced tomatoes

1 T minced garlic

1 T minced ginger

½ cup lemon juice

¼ cup organic vegetable broth

6 cups water

¼ t cinnamon

¼ t cayenne pepper

1 t turmeric

Salt & pepper to taste
Instructions
Heat a large pot over medium-high heat. Add celery, carrots, minced garlic, and ginger to the pot. Sauté for 5 minutes (until the veggies are a bit tender).

Next, add broccoli, tomatoes, salt, and pepper. Sauté another 3-5 minutes.

Add water and vegetable broth, then cover and bring the pot to a boil.

Once boiling, immediately reduce the heat to a simmer. Then add lemon juice, cayenne, cinnamon, turmeric, cabbage, and kale. Stir to combine. Let the ingredients simmer 10-15 minutes (or until vegetables are soft).

(You'll Also Love: Cozy Rainbow Vegetable Soup)