Something I love about the Paleo lifestyle is that once you start purging toxic chemicals out of your food and beauty regime, the easier it becomes and the more inspired you are to do it. The same holds true for this homemade peppermint lip gloss!
I recently started using spearmint in my daily beauty routine to help prevent dry scalp, and I even use it to make my own mouthwash. It's not only tasty (just don't eat it!), but it also helps me feel awake and energized in the morning.
Although I've said goodbye to my makeup kit and anything unnatural in it, I started to miss my favorite minty lip gloss. I wanted something to dress up my daily beauty look.
This peppermint lip gloss recipe is my natural replacement to my coveted mint gloss. I apply it in the morning on my lips and even on my forehead, temples, and wrists when I'm feeling unusually stressed or if I feel a migraine coming.
Want naturally radiant skin? We've created a FREE guide to give you the best tips & tricks for natural skincare. Click here to grab your copy!
It's really easy to make this peppermint lip gloss. Just remember to keep it stored in a cool or room temperature location. I recommend making a new batch of gloss every 1-2 months or as needed.
The Benefits of Using Natural Ingredients
Tea tree oil is one of my favorite essential oils. Its powerful antifungal properties make it a natural remedy for fungus and blemishes, and its rise in popularity has made it a go-to active ingredient in a number of cosmetic and household products. (1)
Peppermint oil is great for easing indigestion and, thanks to its minty smell, also acts as a refresher to help wake you up.
Coconut oil will act as a carrier oil in this recipe, and adds both shine and moisture to your lips.
If you're a peppermint fanatic like me, feel free to add an extra drop or two of peppermint oil to your gloss. If you're sensitive to mint or smells, reduce the amount of peppermint you add to your gloss.
Regarding the coconut oil, you MUST use fractionated coconut oil in this recipe. The difference between fractionated coconut oil and your typical coconut oil? Fractionated coconut oil maintains its liquid form regardless of temperature. Regular coconut oil hardens when stored in cool rooms.
Destiny Lalane
Peppermint Lip Gloss with Coconut Oil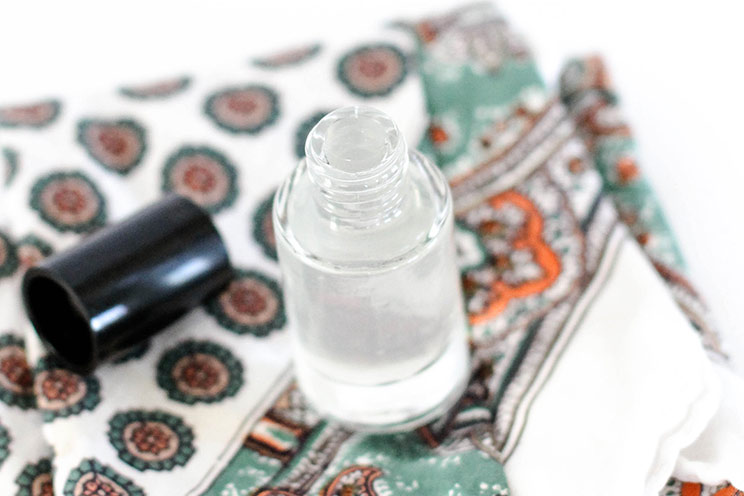 Prep Time:
5 mins
5 minutes
Peppermint Lip Gloss with Coconut Oil
This natural mint lip gloss adds shine and moisture, while also helping to reduce stress and headaches!
Tools
Small bowl

Strainer, cheesecloth, or nut milk bag

Funnel

15ml roll-on applicator
Ingredients
8 drops peppermint essential oil

1 drop tea tree essential oil

1 T fractionated coconut oil

1 loose mint leaf
Instructions
Pour coconut oil, mint, and tea tree oil into a bowl. Mix well.

Add mint leaves to the mixture and let sit for 20-30 minutes in your refrigerator.

Strain the lip gloss, removing any remaining mint leaves from the gloss.

Funnel the gloss into a roll-on applicator.

Store in cool or room temperature location.

(Read This Next: Homemade Citrus Burst Facial Toner)