Gently exfoliate dull, tired skin with these mini scrub bars made from coffee and moisturizing coconut oil.
I've recently become obsessed with all things coffee. There's something about its scent that makes you feel fresh and ready to go.
I'm so obsessed that I recently made an eye serum, body scrub, and foot scrub with the help of coffee beans and a few carrier oils. Although I've seen other coffee scrub bars on the market, I like the idea of making mine at home since it creates less waste from packaging (and I already have the ingredients in my home).
Want naturally radiant skin? We've created a FREE guide to give you the best tips & tricks for natural skincare. Click here to grab your copy!
So I decided to put together coffee scrub bars that exfoliate and moisturize too! It's super simple to make, takes only a few minutes, and it makes a great DIY gift.
Coffee grinds act as a natural exfoliator, smell delicious, and can help reset your sense of smell.
Coconut oil has natural moisturizing effects on the body and helps reduce acne, which is handy if you're someone like me who tends to get random zits on their body. (1)
In total, this recipe created 30 mini heart coffee scrub bars. If you want to get creative, add finishing touches, such as whole coffee beans, salt and cinnamon, as skin-friendly ingredients to polish the look of your bars.
Destiny Lalane
Coffee Coconut Oil Scrub Bars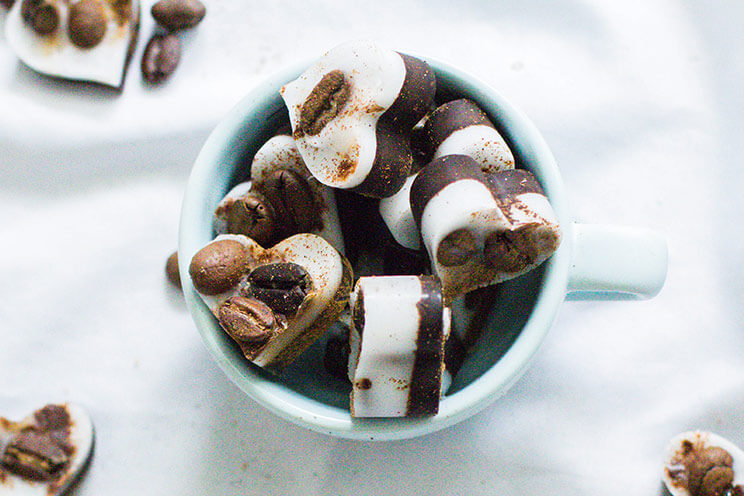 Cook Time:
2 hrs 5 mins
2 hours 5 minutes
Prep Time:
10 mins
10 minutes
Coffee Coconut Oil Scrub Bars
Gently exfoliate dull, tired skin with these mini scrubs made from coffee and moisturizing coconut oil.
Tools
Coffee grinder

Mason jar or airtight container

Ice cube tray
Ingredients
1 drops tea tree oil

1 T cinnamon (optional)

2 t salt (optional)

1 t coffee beans (optional)
Instructions
To create the first layer of the bars, heat and melt shea butter and ⅔ of the coconut oil in a small saucepan. Pour into a bowl.

Mix the coconut oil-butter mix with coffee and maple sugar until smooth.

Pour into an ice cube tray and freeze for one hour.

For the second (top) layer, melt the rest of the coconut oil and essential oils into a bowl. Mix well.

Pour into the same ice cube tray, over the first layer. For decoration, sprinkle optional coffee beans, cinnamon, and salt on top of the bars.

Freeze for an additional hour then remove from ice tray.

Store in freezer. When ready to use, scrub on face, hands and body until bar melts away. Note: your bath/shower will be slippery from the oil, so make sure to rinse off your tub with hot water to prevent slipping.
Tips:
The scent of coffee is enough for me, but if you're interested in giving your bars a unique scent, feel free to add a few drops of your desired essential oils into the recipe. I chose to use tea tree oil to help preserve the bars and lemon to balance the tea tree oil scent.
These will melt at room temperature. For that reason, these body bars should be stored in a freezer when not in use. You can freeze and store them for up to one to two months in an airtight jar. I choose to leave them in a mason jar in my freezer and take one out when I'm ready to exfoliate.


(Read This Next: All-Natural Ways to Exfoliate Skin)