If you're not eating hemp protein, you're missing out on one of the healthiest foods on the entire planet.
Extracted from hemp seeds (also known as hemp hearts), hemp protein is one of the only plant foods to contain 18 primary amino acids, making it a complete source of protein. (1, 2) Hemp protein is also rich in omega-3 essential fatty acids as well as several essential vitamins and minerals, such as iron, zinc and magnesium. Most varieties contain up to 14g of fiber per serving.
While hemp protein is a well-rounded source of several essential nutrients, perhaps the strongest nutritional benefit is the complete amino acid profile.
Do you struggle with bloating, gas, constipation, or other digestive issues? We've created a FREE guide to healing your gut naturally.
Click here to get your FREE copy of our Digestion Guide!
Since our bodies are unable to synthesize 9 out of the 20 essential amino acids, it's important to get these amino acids from our diets each day. (3) Amino acids are the foundation of our health because they help produce digestive enzymes, which facilitate the process of converting food into energy. Amino acids also help build and maintain lean muscle mass, support healthy brain function, and keep our bones, joints and skin healthy. (4, 5)
---
A Healthy Meat Alternative
On the Paleo diet, most of us turn to animal protein to meet our amino acid requirements. However, there's a strong emphasis on choosing quality, organic and grass-fed meat to avoid consuming unnecessary hormones and antibiotics that can end up in factory-farmed animal products.
In some cases, quality meat can be hard to source, or may be extremely costly and unrealistic to eat every day. When quality meat isn't available, hemp protein is a cost-effective, nutritious and protein-rich alternative to meat that can still ensure you're meeting your daily amino acid requirements.
Another reason you may want to periodically substitute hemp protein for animal protein is because animal protein has an acidifying effect on the body. A diet rich in acidifying foods (with a lack of alkaline foods) can wreak havoc on your health by creating the perfect environment for illness and disease to survive in. (6)
This is why the Paleo diet also recommends neutralizing the negative effects of acidifying foods by regularly eating alkaline foods, such as leafy greens, vegetables, and yes – hemp protein.
---
Health Benefits of Hemp Protein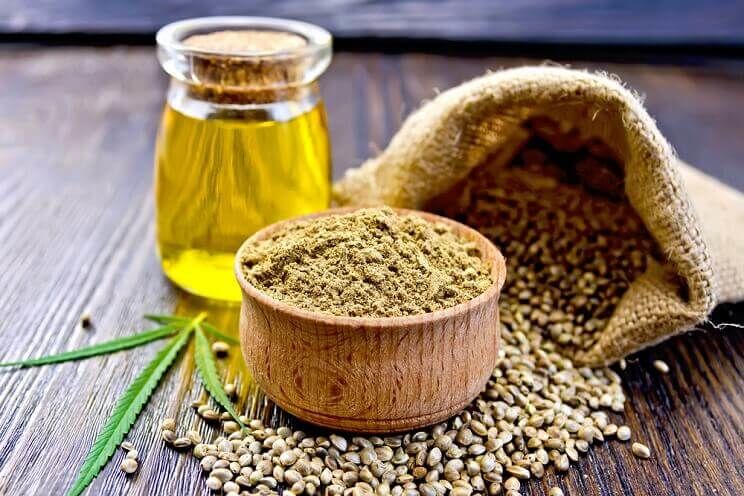 Let's take a closer look at the health benefits of hemp protein that make it worth adding to your diet.
Better Digestion
If you suffer from bloating, gas or irregularity, hemp protein may help improve your digestive function. This is because hemp protein contains two nutrients that are critical for optimal digestive health: fiber and amino acids.
Hemp protein contains both soluble and insoluble fiber, which add "bulk" to the stool to promote regular elimination and remove waste from the digestive tract. Unfortunately, many of us aren't eating nearly enough fiber from plant foods, which may explain why we're more susceptible to digestive disorders today than ever before. [tweet_quote] Hemp protein can help you meet your daily fiber requirement.[/tweet_quote]
The fiber content in hemp protein supplements varies. However, most contain a minimum of 8 grams of fiber per serving. Since the average person requires roughly 30 grams of fiber per day, adding a serving or two of hemp protein to your diet can easily help you meet your daily fiber requirements. (7)
The amino acids in hemp protein also play a role in digestive health. In particular, l-glutamine is an amino acid found in hemp protein that's been shown to help improve gut health by healing the intestinal lining, which can help reduce the risk or severity of inflammatory digestive conditions (8).
Hormone Balance
Your hormones are the chemical messengers of your body's communication system. They regulate nearly every physiological process in your body, from your metabolism and appetite to your sleep and wake cycle. (9)
One of the easiest ways to support the proper functioning of your hormones is by eating protein-rich foods. This is because your body requires certain amino acids to produce healthy hormones.
In particular, hemp protein is rich in l-tyrosine, an amino acid that, when combined with iron, helps produce the thyroid hormones T3 and T4. (10)
Another reason hemp protein is a hormone-balancing food is because it contains omega-3 essential fatty acids. Omega-3 essential fatty acids help produce healthy cell membranes, which produce certain hormones in your body. (11)
Reduced Inflammation
Studies suggest chronic inflammation is at the root of many Western illnesses and diseases, such as heart disease and type 2 diabetes. (12) Foods such as refined sugar, high oleic vegetable oils and trans-fats cause inflammation, while omega-3 essential fatty acids help reduce inflammation. (13)
As a rich source of omega-3 essential fatty acids, hemp protein is an ideal food to include in your diet each day to help reduce inflammation, which may help prevent the onset of serious health conditions.
Brighter Looking Skin
When your skin is glowing and clear, it's a sign that you're getting enough vitamins, minerals and omega-3 essential fatty acids in your diet. And as you now know, hemp protein is an excellent source of all of these nutrients.
The amino acids in hemp protein also help support skin health by aiding in collagen production. Collagen helps reduce the appearance of fine lines and wrinkles, and maintains the skin's elasticity. (14)
Natural Weight Loss
Lastly, hemp protein may contribute to sustainable weight loss because it helps balance your blood sugar levels.
Stable blood sugar levels are essential to weight loss. This is because blood sugar spikes and crashes trigger your body to release an excess of insulin. Insulin is a blood sugar regulating hormone that, when released in excess, can contribute to fat gain. (15) This is why erratic blood sugar levels can prevent your body from entering a fat-burning state, making natural weight loss difficult. [tweet_quote] Hemp can help balance blood sugar levels, which are essential to weight loss.[/tweet_quote]
As the ultimate blood sugar balancing nutrient, protein helps stabilize your blood sugar levels, encouraging your body to enter a fat-burning state and promoting natural weight loss (16).
With its nutty, mild flavor, hemp protein can be added to your green smoothies or your favorite Paleo recipes such as Coconut Flour Pancakes, Beet Brownies and Paleo Energy Bars.
Now, you may be wondering if hemp protein has any relationship to the "other" hemp: marijuana.
---
Is Hemp the Same Thing as Marijuana?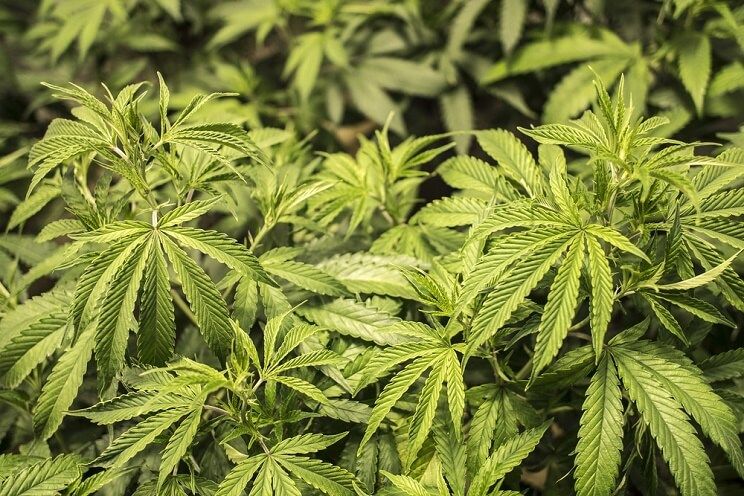 While "hemp" and "marijuana" are often used interchangeably – and stem from the same cannabis plant – hemp seeds come from a variety of hemp called industrialized hemp, which does not have any psychoactive properties. So no, you can't get high from smoking or eating the protein kind.
Industrialized hemp is the type of hemp that's also used to make biodegradable paper, hemp clothing, hemp seed oil, body care products and cosmetics. As an extremely nutrient-dense food with no negative side effects, the use of industrialized hemp is completely legalized.
Marijuana may come from the same cannabis plant, but it's characterized with the psychoactive chemical THC, which is responsible for producing the "marijuana high".
---
Tips for Choosing Hemp Protein Powder
As is the case with most health foods, not all hemp supplements are created equal.
How the protein is processed is an important consideration. Some processing methods may use high temperatures or chemicals to extract hemp protein from the seeds. This can destroy several of hemp's delicate nutrients, which not only results in a less nutritious product, but one that may be contaminated with harmful toxins.
The best processing method for keeping hemp's delicate nutrients intact is called cold milling. Cold milling ensures that the hemp protein is not exposed to high temperatures, which preserves all of its delicate nutrients. [tweet_quote] Make sure your hemp powder was cold milled to preserve its delicate nutrients.[/tweet_quote]
One of the most common chemicals used in hemp protein processing methods is hexane. Hexane is a solvent that helps extract nutrients from seeds, but releases harmful chemicals in the process. Hexane is considered unsafe for human consumption, so always be sure to choose a hemp protein that is guaranteed to be hexane-free. (17)
Lastly, purchase organic hemp protein to avoid hemp protein that's been sprayed with pesticides. Certain pesticides may be toxic to the body. (18)
The main takeaway: the best form of hemp protein is organic, cold milled, hexane-free hemp protein. You can find high quality hemp protein at the majority of natural health food stores.
(Read This Next: 10 Paleo Sources of Protein That Aren't Meat)