Ditch graham crackers and get your bonfire ready for these gooey chocolate chip s'more sandwiches. Bonus: the marshmallows are made with grass-fed gelatin and taste even better than the classic you grew up on.
Dear s'more enthusiasts: You can make real, fluffy marshmallows with wholesome, good-for-you Paleo ingredients. They can be cut and toasted just like you would traditional marshmallows. Plus, they taste heavenly when sandwiched between chocolate chip cookies with melty, dark chocolate.
Making the marshmallows involves a watchful eye and a bit of mixing. But it's easy to do and a crucial part of achieving the tastiest part of the recipe. The grass-fed gelatin will "bloom" with just a little bit of water while you make the syrup for the marshmallows. Make sure to use a candy thermometer so you know when it's time to remove the syrup from the heat. The syrup will be slightly thickened at 240ºF. If you are using a handmixer (like I did), pour the syrup into a measuring cup with a pour spout so you can use one hand to pour and one hand to mix. Add the syrup into the gelatin very slowly so that you don't end up with clumpy marshmallows (yuck).
Love Paleo Desserts? Then you'll love our FREE Paleo Dessert Cookbook.
Click here to get your FREE copy of our delicious Dessert Recipes!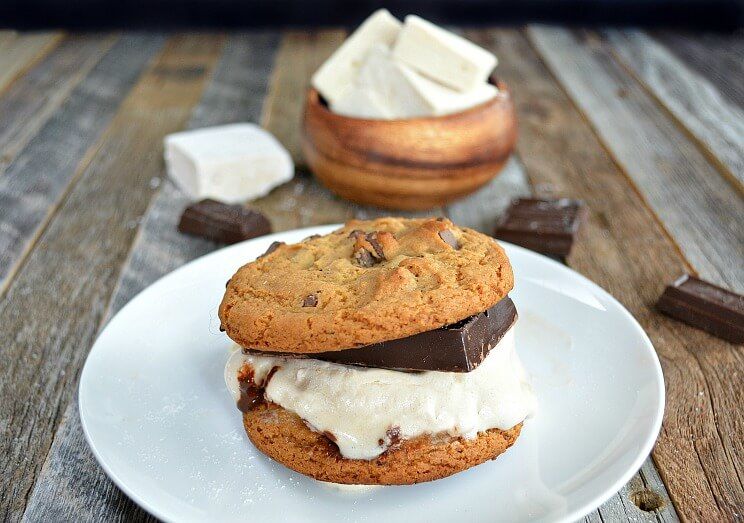 Next, you will beat the mixture until a marshmallow fluff-like texture forms. Pour in the vanilla extract and continue to beat. I recommend dipping a finger in at this point and having a taste. Finally, pour the mixture into the tapioca-floured pan and top with another layer of tapioca starch. This gives the marshmallows that soft outer coating they are known for.
Once the marshmallows are completely set, about 4-6 hours, they are ready to slice. Slice the marshmallows into cubes and toss in a bit more tapioca starch. Now the fun begins. Layer your marshmallows with these coconut flour chocolate chip cookies and a chunk of dark chocolate, then pop them in the oven for 5-7 minutes to lightly melt. One bite of these ooey gooey s'more sandwiches and you will be transported to dessert heaven!
Tips:
When making the syrup (water, maple syrup, and salt), it's important to use a medium-sized saucepan. One that is too large can cause the syrup to burn. Also, make sure to not go over 245ºF.
When slicing the marshmallows, add more tapioca starch on the cut sides to give that soft marshmallow effect.
Jennafer Ashley
Chocolate Chip S'more Sandwiches with Healthy Marshmallows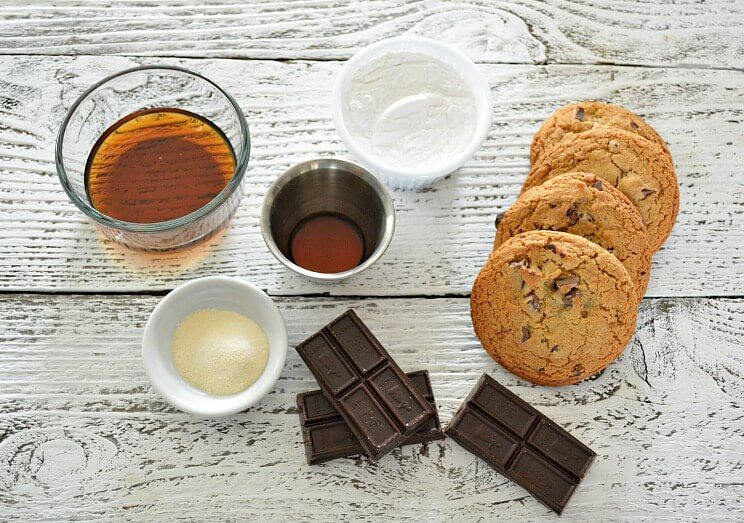 Cook Time:
20 mins
20 minutes
Prep Time:
20 mins
20 minutes
Chocolate Chip S'more Sandwiches with Healthy Marshmallows
Ditch graham crackers and get your bonfire ready for this gooey chocolate chip s'more sandwich recipe.
Ingredients
1 cup water (divided into ½ cups)

3 T grass-fed beef gelatin

1 cup pure maple syrup or honey

1 t vanilla extract

¼ t sea salt

½ cup tapioca starch, for coating the outside of marshmallows

10 Coconut flour chocolate chip cookies

1-2 dark chocolate bars
Instructions
Line an 8×8 pan with parchment paper, leaving overlay on all sides to use as handles to remove the marshmallows when they're finished.

Sprinkle the parchment paper with tapioca starch.

In the bowl of a stand mixer, add the gelatin with ½ cup of water. If using a hand mixer, use a large mixing bowl.

While the gelatin is softening, pour ½ cup of water in a medium-sized saucepan along with the maple syrup and sea salt. Turn the burner on medium heat. Slowly bring the mixture to a boil.

Place a candy thermometer in the saucepan and continue to boil the mixture until it reaches 240ºF (or the soft ball stage). This could take 10 to 20 minutes. Try not to stir the syrup, but keep a close eye on it as it can overflow.

Remove syrup from heat. Quickly (and carefully) pour the syrup into a glass measuring cup with a handle and spout for easy pouring. If using a stand mixer, turn it on to low/med. Pour the syrup mixture into the bowl in a slow steady stream down the side of the bowl, combining it with the softened gelatin. Turn the mixer to high and continue beating until it becomes thick and fluffy (about 7-10 min).

Add the vanilla a few minutes before it's done mixing, giving it enough time to mix in completely.

Turn off the mixer and transfer the marshmallow to the prepared pan. Smooth the top and sprinkle with tapioca starch.

Leave the marshmallows to set 4-6 hours.

When set, remove the marshmallows by lifting from the parchment paper flaps. Cut to desired size (approximately 3x2 inch squares).

Next, preheat oven to 300ºF. Layer chocolate chip cookies with a few pieces of dark chocolate and 1-2 marshmallows. Place on a parchment paper-lined baking sheet. Bake 2-3 minutes until marshmallow and chocolate are just starting to melt. Place another cookie on top and gently press. Enjoy!

(You'll Also Love: Paleo Apple S'mores)