Whip up this caramel protein smoothie in just 5 minutes using wholesome, natural ingredients!
Full of sweet flavors, this protein smoothie is perfect for pre-workout fuel. It's rich in essential vitamins and minerals, plus it'll give you long-lasting energy throughout the day!
Date Paste Is The New Caramel
Date paste produces an amazing caramel flavor that pairs perfectly with the almond butter and the banana. For this recipe, we like using this homemade date paste. But you could also sub in six pitted dates instead.
Love Paleo Breakfasts? Then you'll love our FREE Paleo Breakfast Recipes.
Click here to get your FREE copy of our delicious Breakfast Recipes!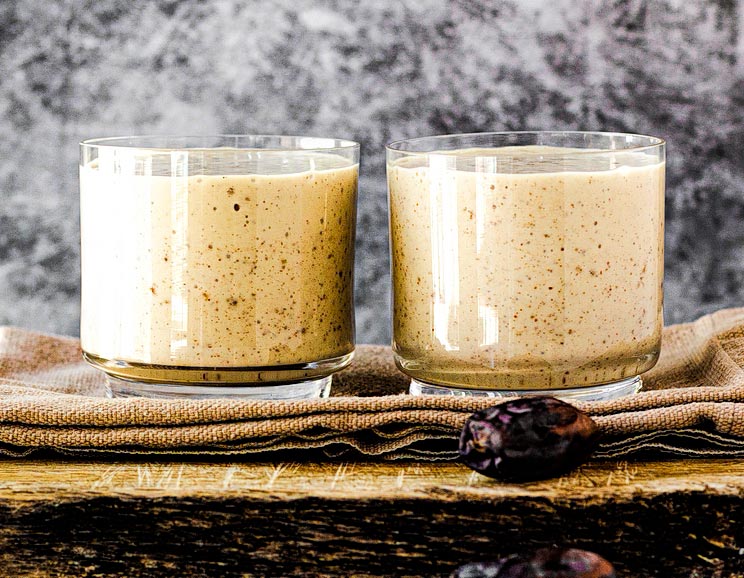 Why We Love Maca
The maca powder provides extra depth with flavors that are both nutty and malty. It has an incredible mix of nutrients (such as iron, calcium, and zinc) and packs in heaps of brain-boosting benefits.
Choosing High-quality Protein Powders
It's best to choose powders that don't contain unnecessary preservatives or sweeteners. Grass-fed whey concentrate and collagen peptides are your best bet but go for the best option that fits your needs. (Here's what a nutritionist has to say).
Helpful Tips To Get Started:
Use tahini butter instead. You can easily sub out the almond butter for tahini butter in equal amounts.
Leave out the maca. If you're not a fan of the taste, it's completely optional.
Danielle Moore
Caramel Protein Smoothie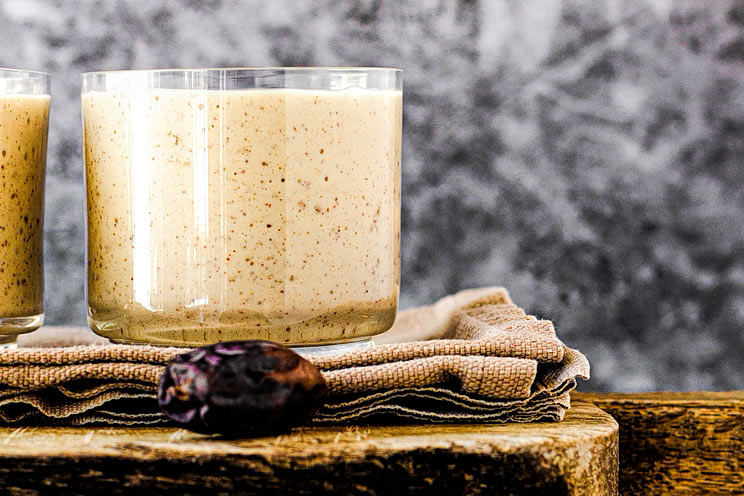 Prep Time:
5 mins
5 minutes
Nutrition facts:
20 grams of protein
54 grams of carbohydrates
13 grams of fat
Caramel Protein Smoothie
Whip up this caramel protein smoothie in just 5 minutes using wholesome, natural ingredients.
Ingredients
1 large banana

2 T protein powder

1½ cups almond milk

2 T date paste

1 T almond butter

1 t maca powder
Instructions
Add all of the ingredients to a blender and pulse until smooth.

Pour the mixture into a glass.

Serve and enjoy!
Looking for Paleo ingredients? Here are a few we'd recommend:
Protein powder vanilla coconut (Primal Kitchen)
Protein powder chocolate coconut (Primal Kitchen)
Almond butter (Barney)
Maca powder (Healthworks)
For other caramel-inspired recipes, try this salted caramel chia seed pudding or these caramel cheesecake bites!