Load up on skin-nourishing antioxidants, healthy fats, and amino acids with this collagen-laced Goldilocks' breakfast porridge.
Keep your locks and skin healthy with antioxidants and healthy fats, like the ones found in this creamy, nutty porridge.
This Goldilocks' porridge is just right, loaded with essential fatty acids that fight inflammation from the inside out. (1) Topped with sweet blueberries and rich dark chocolate, it's also a delectable breakfast treat.
Love Paleo Breakfasts? Then you'll love our FREE Paleo Breakfast Recipes.
Click here to get your FREE copy of our delicious Breakfast Recipes!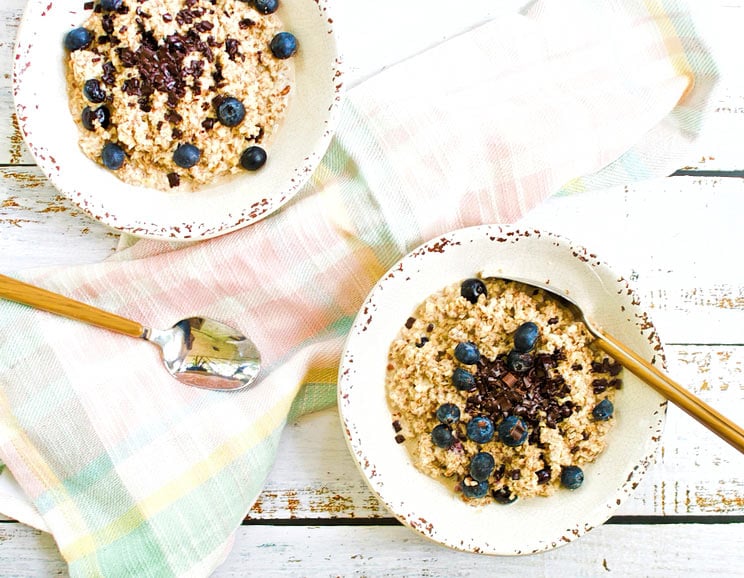 This One's Too Thick, This One's Too Thin
Pulsing the nuts in the food processor to the right consistency is key to this recipe. Too little pulsing, you'll basically end up with a bowl of nuts. Too much pulsing, you'll end up with nut butter.
Pulse until the mixture is crumbly, but not too creamy. The creaminess will come on the stove when you add the coconut milk and let it simmer.
Helpful Tips To Get You Started:
Speed up the soak. If your porridge can't wait until tomorrow for the nuts to soak, you can speed things up! Combine walnuts and pecans in a pot, cover them with water, and bring the mixture to a boil. Cover the pot and remove it from the heat. Allow the nuts to soak for 15 to 20 minutes, until soft. Drain then proceed with your recipe.
Shave chocolate with a veggie peeler. No fancy tools needed to shave your chocolate. Simply shave it with a veggie peeler straight onto your porridge. The shaved chocolate will immediately start to melt when it hits that steamy bowl of porridge, making it more ideal than heartier chocolate chips.
Danielle Moore
Goldilocks' Skin Glowing Porridge with Collagen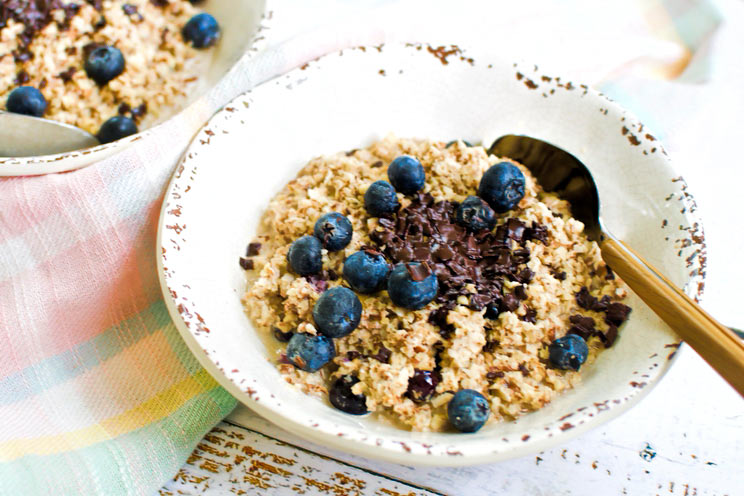 Cook Time:
7 mins
7 minutes
Prep Time:
5 mins
5 minutes
Nutrition facts:
16 grams of protein
43 grams of carbohydrates
86 grams of fat
Goldilocks' Skin Glowing Porridge with Collagen
Load up on skin-nourishing antioxidants, healthy fats, and amino acids with this collagen-laced Goldilocks' breakfast porridge.
Tools
Food processor

Medium saucepan

Vegetable peeler
Ingredients
1 cup walnuts, soaked overnight

1/2 cup pecans, soaked overnight

1/2 cup unsweetened shredded coconut

1 cup coconut milk

1/2 cup blueberries, divided

1 t vanilla extract

2 T maple syrup

1 T collagen powder

1/2 t dark chocolate shavings
Instructions
Remove the walnuts and pecans from soaking water. Discard the water. In a food processor, pulse the walnuts, pecans, and shredded coconut until crumbly, about 20 to 30 seconds.

In a medium saucepan, combine the nut mixture, coconut milk, half of the blueberries, vanilla extract, and maple syrup. Bring to a boil.

Reduce the heat and simmer over medium heat for 4 to 5 minutes, stirring often.

Remove from the heat and stir in collagen until well combined.

Divide the porridge between two bowls. Top with the shaved dark chocolate and remaining blueberries.
Looking for Paleo ingredients? Here are a few we'd recommend:
Raw walnuts (NOW Foods)
Raw pecans (NOW Foods)
Coconut milk (Native Forest)
Vanilla extract (Frontier)
Collagen (Bright Naturals)
Sunspire baking chocolate (SunSpire)

If you need even more Paleo porridge inspiration, try our healthy hemp seed "oatmeal" or one of these kid-friendly overnight oats recipes.
Eat cinnamon apple-crusted doughnuts… zesty lemon scones… and even breakfast chili all while staying healthy with the Paleo diet!
Enjoy 101 delicious Paleo
Breakfast recipes that melt fat, fight inflammation, and keep
you healthy
Enjoy 101 delicious Paleo
Breakfast recipes that melt
fat, fight inflammation, and
keep you healthy