Beat the heat with this icy watermelon frosé featuring skin-nourishing collagen!
Go alcohol-free with this refreshing Paleo mocktail made with sweet watermelon and fresh mint. It has plenty of electrolytes to hydrate your body and boasts an elegant flavor that rivals a real wine cocktail.
Since it's made with just five simple ingredients, it's the perfect drink to sip on at parties or to enjoy post-workout.
Love Paleo Desserts? Then you'll love our FREE Paleo Dessert Cookbook.
Click here to get your FREE copy of our delicious Dessert Recipes!
Key Elements Of A Paleo Frosé
This recipe elevates its wine-infused counterpart by using honey, lemon juice, and fresh mint instead of added sugars. You get the same sweet and tangy flavors of traditional rosé without that sickly sweet feeling.
We also swapped the boring ice in favor of frozen watermelon cubes. This will keep things light and sweet to the very last sip without watering down your drink. Plus, it'll pack in extra vitamins to help stave off dehydration.
To make the watermelon ice cubes, place the fresh chunks of watermelon onto a tray lined with parchment paper. Set them in the freezer overnight or at least four hours in advance.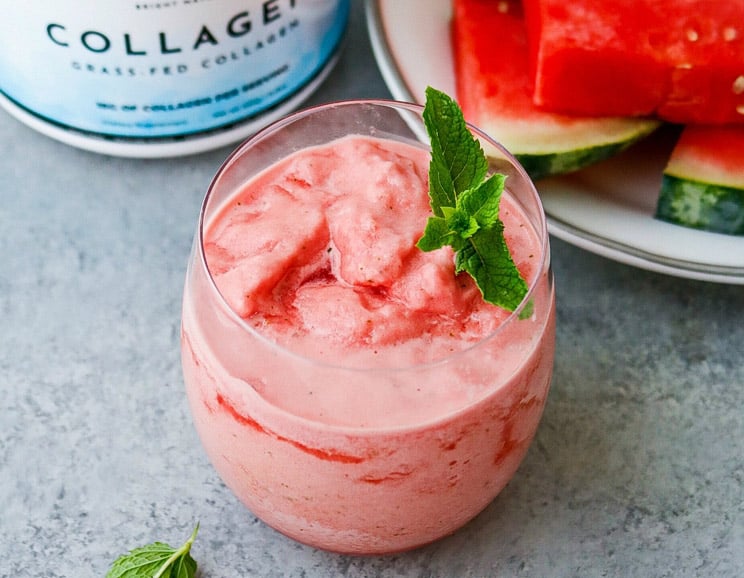 How To Upgrade Your Drink With Collagen
To make this watermelon frosé a cut above the rest, we toss in a few scoops of collagen powder. Its mild flavor blends easily with any beverage and is a simple way to work in your daily dose of protein. Try adding it to your morning coffee, lattes, and smoothies, too.
Collagen also plays an important role in your body's connective tissues. A few scoops of collagen powder a day can help improve skin elasticity, ease inflammation, and improve digestion.
For the best quality, look for grass-fed collagen without any artificial flavoring or sweeteners.
Helpful Tips To Get Started:
Try lime juice. Either lemon or lime juice will add the perfect amount of tang.
Don't delay. For the frostiest texture, enjoy this drink right away.
Jennafer Ashley
Watermelon Frosé with Skin-Glowing Collagen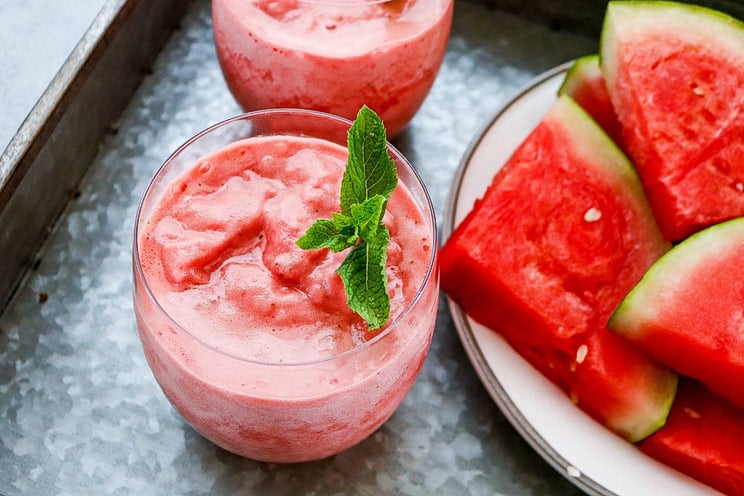 Prep Time:
5 mins
5 minutes
Nutrition facts:
19 grams of protein
47 grams of carbohydrates
1 grams of fat
Watermelon Frosé with Skin-Glowing Collagen
Beat the heat with this icy watermelon frosé featuring skin-nourishing collagen.
Ingredients
6 cups seedless watermelon cubes, frozen 4 hours or overnight

3 T Bright Naturals Collagen Powder

3 T fresh lemon juice

1 T raw honey

4 fresh mint leaves
Instructions
Combine the frozen watermelon cubes, lemon juice, collagen, honey, and mint in a blender and pulse until smooth.

Divide between two glasses and enjoy right away.
Looking for Paleo ingredients? Here's what we recommend:
Raw honey (Bee Farms)
Grass-Fed Collagen (Bright Naturals)