Ditch store-bought crackers for these homemade, super-crunchy flax seed crackers!
Yes, you can create a gluten-free cracker right at home. This easy vegan-friendly recipe uses five different seeds to pack in all the best nutrition. Serve this hunger-busting snack with any of your favorite Paleo dips, like spicy sweet potato hummus or creamy eggplant spinach dip.
Packing In The Crunch
We'll start by mixing together our favorite super seeds with a bit of water and salt. The seeds absorb water as they expand in the batter, acting as the binder that holds everything together – no eggs necessary.
Want to snack smarter and curb cravings? Get your FREE 25 Healthy Paleo Snacks Cookbook here.
Click here to get your FREE copy of our Snack Recipes Cookbook!
To make these flax seed crackers extra crunchy, we bake them low and slow for two hours. This helps dehydrate the seeds and infuses the crackers with nutty, earthy flavors.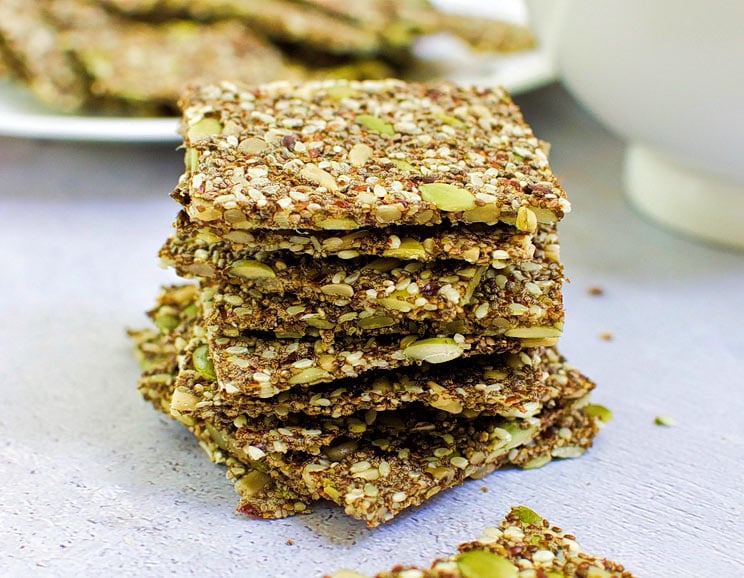 Spice It Up
You can customize these crackers any way you like. Try adding dried herbs like rosemary, thyme, or garlic. For a Paleo version of cheese crackers, add a bit of nutritional yeast to mimic the flavor.
Helpful Tips To Get Started:
Position your oven racks in the center. This will allow the heat to circulate evenly around the crackers.
Spread it thin. The thinner you spread your batter, the crispier your crackers will be.
Be patient. The crackers may look ready halfway through, but give them the full 2 hours to completely firm up.
Danielle Moore
Easy Crispy Flax Seed Crackers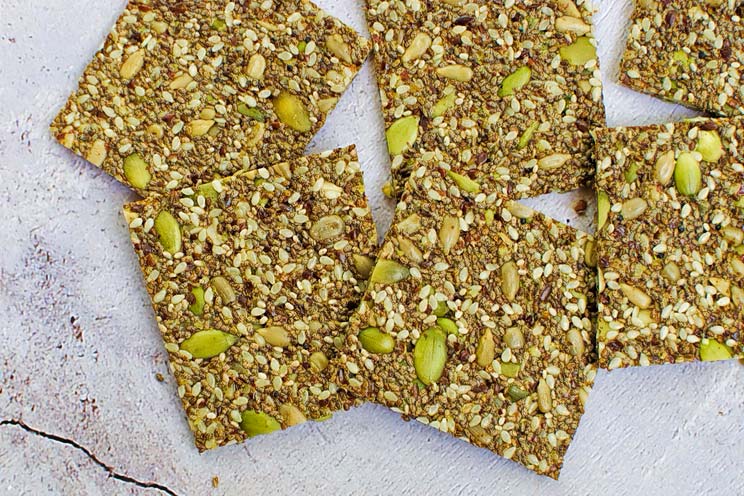 Inactive Time:
1 hr
1 hour
Prep Time:
25 mins
25 minutes
Nutrition facts:
10 grams of protein
8 grams of carbohydrates
13 grams of fat
Easy Crispy Flax Seed Crackers
Ditch store-bought snackers for these homemade, super-crunchy flax seed crackers.
Tools
2 sheet pans

Large mixing bowl

Wire rack
Ingredients
1 T olive oil

⅓ cup chia seeds

⅓ cup pumpkin seeds

3 T sesame seeds

3 T sunflower seeds

2 T ground flax seeds

1 t coarse sea salt

1 cup filtered water
Instructions
Preheat the oven to 175°F and line 2 sheet pans with parchment paper. Lightly grease the pans with olive oil and set aside.

In a large mixing bowl, combine all the seeds and salt. Add water and stir the mixture for 3 minutes to thicken. Set it aside for 20 minutes to soak.

When ready, stir the mixture to combine and divide it evenly between 2 baking sheets. Use the back of a rubber spatula to smooth it into a thin layer, about ⅛-inch thick.

Transfer the sheet pans into the oven and bake for 2 hours.

When finished, remove the sheet pans from the oven and carefully transfer the crackers onto a wire rack. Let them cool for 1 hour or until they're completely firm.

Break the finished mixture into small crackers and serve with your favorite dip.
Looking for Paleo ingredients? Here are a few we'd recommend:
Olive oil (Sky Organics)
Chia seeds (Viva Naturals)
Sesame seeds (McCormick)
Sunflower seed butter (Onceagain)
Ground flax seed (Spectrum)
Coarse sea salt (AztecSeaSalt)
If you like snacking as much as we do, you'll love the delicious, simple, and gourmet recipes in our Paleo Snacks cookbook. Now you can nosh on healthy, jealousy-inducing bites like Pecan & Banana Mini Bars, No-Bake Hazelnut Brownies, and over 75 more ridiculously tasty snack recipes. You'll never run out of tasty snack ideas again!