When you're on the run, this portable hemp seed and maca snack bar makes the perfect mini-meal on the go!
If you're wondering what benefits hemp seeds and maca root can do for your health, there's plenty of reasons to give it a try. For one, hemp seeds help reduce inflammation and provide relief for your digestion system. In addition, maca root (a Peruvian plant) can help improve your mood and boost your energy. Combined together, these two bad boys will have you up and running in no time!
Add this hemp seed and maca snack bar recipe to your daily routine for a healthy go-to treat to enjoy throughout the week.
Want to go Paleo? Not sure where to start?
Start with this FREE Paleo For Beginners Guide Today!
PaleoHacks Team
Hemp Seed and Maca Snack Bar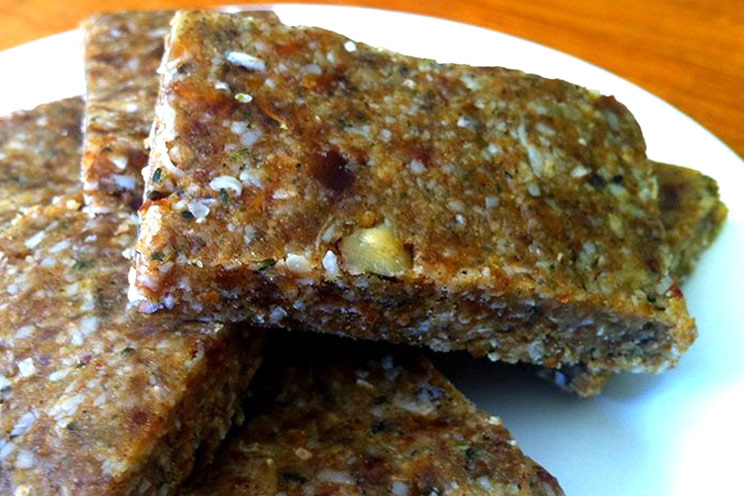 Prep Time:
10 mins
10 minutes
Hemp Seed and Maca Snack Bar
This hemp seed and maca snack bar recipe will keep you satisfied between meals. Great for digestive systems and energy levels!
Tools
Medium bowl

Food processor

Baking tray

Parchment paper

Rolling pin
Ingredients
1 cup hemp seeds / hemp hearts

1/2 cup shredded coconut

1/2 cup walnuts, chopped

2/3 cup pitted dates

2 T coconut oil, melted

2 T maca powder

Pinch of ground nutmeg

Pinch of ground cinnamon
Instructions
Place the dates in a bowl and cover with boiling water. Let soak for 10 minutes or until the dates are nice and soft then tap dry with a paper towel.

Put all of the ingredients into a food processor and blend to create a smooth paste.

Scoop the mixture onto a tray lined with baking paper. Cover with another sheet of baking paper then use a rolling pin to evenly spread out to a 1-2cm thickness.

Place into the refrigerator for a minimum of 4 hours, or until firm to touch.

Slice into individual snack bars to serve.
(You'll Also Love: Hemp Seed and Kefir Snack Bars)