These Super Seed Energy Bars are packed with five different superfoods for maximum nutrition and energy. Perfect for taking with you on the go!
Good quality protein bars are convenient for those on the go, in a rush, or as a post-workout snack. While there are quite a few protein bars on the market, many of them have added unhealthy ingredients, and not many are 100% Paleo options either.
Luckily, making your own seed energy bars at home is easy! All you need are a handful of wholesome ingredients and a few minutes to blend them together. That's all you need to make these delicious, homemade superfood protein seed energy bars. It's really that easy and you will have the satisfaction knowing you are putting good quality, nutritious ingredients in your body!
Want to snack smarter and curb cravings? Get your FREE 25 Healthy Paleo Snacks Cookbook here.
Click here to get your FREE copy of our Snack Recipes Cookbook!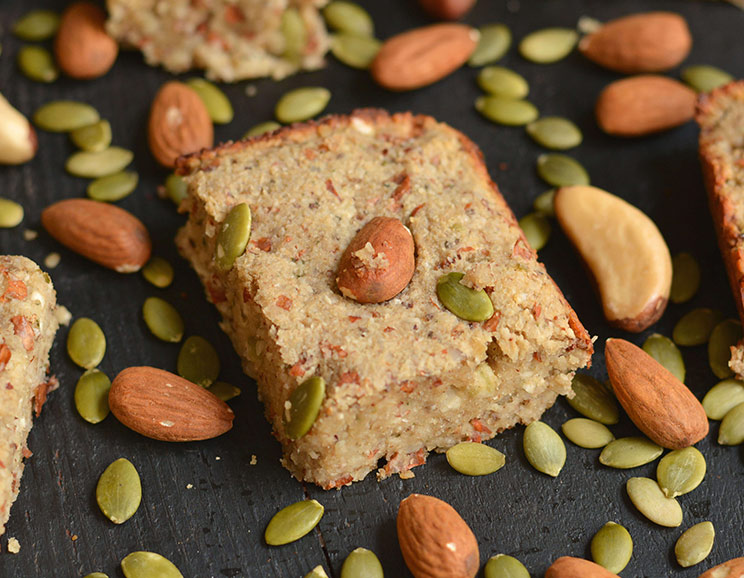 These superfood bars are nut- and date-based. Brazil nuts, almonds, pumpkin, chia and hemp seeds are married with plant-based protein powder, making a yummy snack combo you can't resist. They're also lightly sweetened – another reason for making your own bars at home, so you can control the sugar content!
While nuts are full of healthy fats, they also contain phytic acid. Phytates decrease the absorption of minerals from other foods when eaten in large amounts. They bind to the minerals in the foods, preventing their absorption in the gastrointestinal tract. Therefore, soaking the nuts is very important so you can get all the amazing health benefits from these bars!
Soaking the nuts and dates overnight is recommended, but if you're in a time crunch, soaking them a minimum of 4 hours will work. The longer you soak them, the smoother and creamier the recipe is! It's a small extra step, but one that's well worth it!
Tip: If the mixture appears dry after adding the protein powder, add 4-6 tablespoons of water to help it process until smooth.
Megan Olson
How to Make Super Seed Energy Bars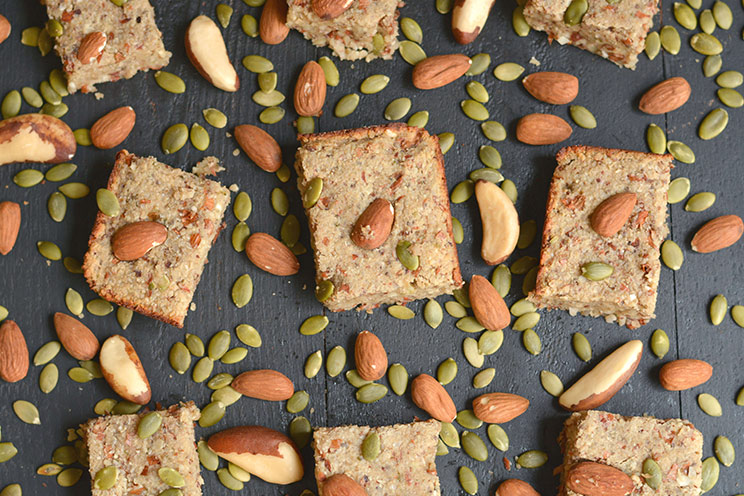 Cook Time:
20 mins
20 minutes
Prep Time:
10 mins
10 minutes
How to Make Super Seed Energy Bars
These Super Seed Energy Bars are packed with 5 different superfoods for maximum nutrition and energy.
Tools
Blender

8x8 Baking pan

Parchment paper
Ingredients
½ cup plant-based protein powder

½ cup dates, pitted, soaked overnight

1 cup raw almonds, soaked overnight

1 cup raw Brazil nuts, soaked overnight

1/3 cup pumpkins seeds

1 T chia seeds

1 T hemp seeds

1/8 cup coconut oil, melted

1 T honey

Pinch of sea salt

Extra raw almonds and pumpkin seeds for topping
Instructions
Preheat the oven to 350°F.

Drain the water from the dates and nuts, and then place both in a blender with seeds, salt, honey and coconut oil. Process on high 2 minutes, then scrape down the sides, and process again.

Add the protein powder and process another 1-2 minutes. Continue processing and scraping the sides until fully combined.

Prepare an 8x8 baking pan by laying parchment paper crisscross, allowing the ends to hang over the edges.

Transfer the batter to the baking pan. Spread into a smooth layer with a spatula.

Place a few extra raw almonds and pumpkin seeds on top, gently pressing them into the batter to set.

Bake for 18-20 minutes until the edges are brown.

Remove from the oven. Cool in the pan 30 minutes, then remove using sides of parchment paper. Slice into 16 bars.

(Make This Next: Paleo Energy Bars)