Add a Paleo twist to classic schnitzel using gluten-free flours, chicken breast, and Dijon mustard!
Traditional German schnitzel is a popular dish that consists of thin, breaded meat fried to crisp perfection. The problem is that most recipes require processed flours and heaps of oil for frying. This Paleo take on schnitzel uses high-heat avocado oil along with cassava and almond flours for a grain-free version that's every bit as good as the classic!
In this recipe, we take pasture-raised chicken breasts and pound them into thin, quarter-inch slices using a meat mallet. This tenderizes the chicken and also makes it much quicker to cook in the skillet. You can also ask your butcher to thinly prepare the chicken breasts so that they're ready to go when you get home.
Love slow cooker recipes?
Click here to get your FREE copy of our delicious Slow-Cooker Recipes!
Our next step is to coat the chicken in three distinct dredges, starting with cassava flour. Cassava flour works seamlessly as the first dredge because of its light and airy texture. It also has the ability to effortlessly stick to the chicken, which will help all other seasonings stay in place during the cooking process.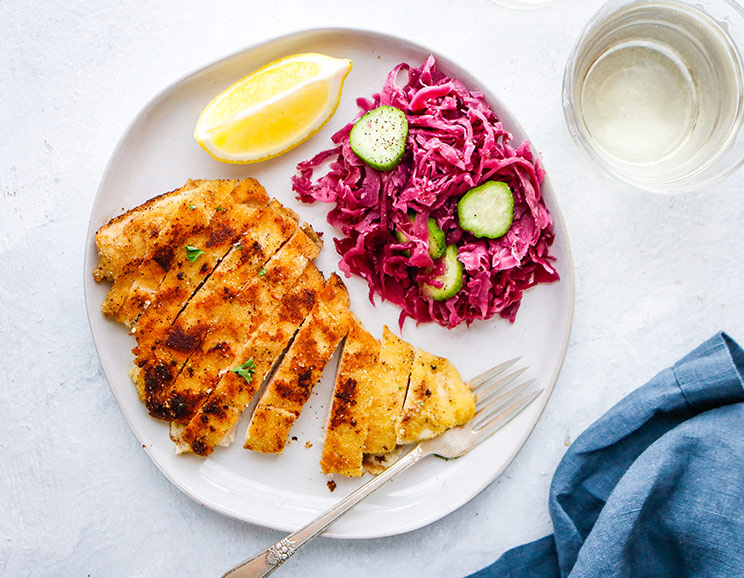 The next stages include an egg-Dijon mix, followed by an almond flour coating. Dijon mustard adds a built-in zippy flavor, while the almond flour steps in for traditional bread crumbs. This will give it that golden crisp crunch that all fried chicken lovers will enjoy.
When the chicken pieces are fully prepped, it's time to start pan-frying them for about three minutes on each side. Use a cast iron skillet (greased with avocado oil) to cook the chicken on medium-high heat.
If you need to work in batches, place the cooked chicken pieces onto a baking sheet and set in the oven at 200°F. This will allow you to keep the finished pieces warm while you prep and cook the rest. You can also transfer them to a dish and cover.
Once all the chicken is cooked, serve right away for the best texture. The end result will include a juicy center with a crispy outside. You can serve alongside whipped cauliflower mash or with a tangy cabbage salad for a complete meal.
Jennafer Ashley
Crispy Chicken Schnitzel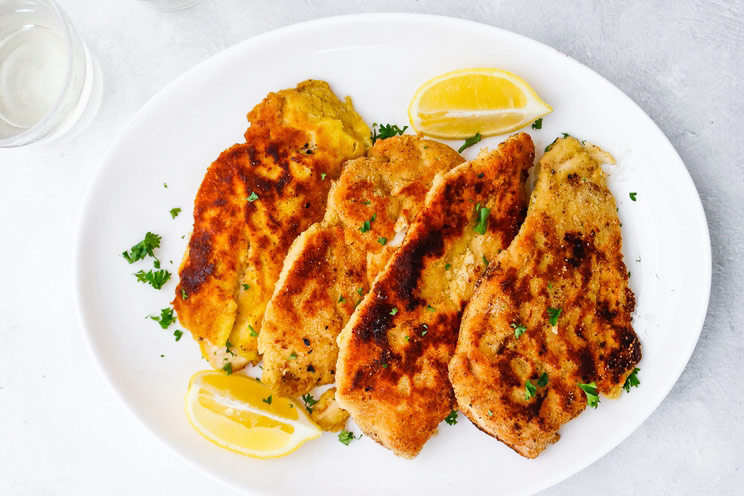 Cook Time:
27 mins
27 minutes
Prep Time:
15 mins
15 minutes
Crispy Chicken Schnitzel
Add a Paleo twist to classic schnitzel using gluten-free flours, chicken breast, and Dijon mustard.
Tools
3 shallow bowls

Medium cast iron pan
Ingredients
1/2 cup cassava flour

2 eggs

1 t Dijon mustard

1 cup blanched almond flour

1/4 t sea salt

1/8 t black pepper

1/4 cup avocado oil

4 chicken breasts, pounded to ¼-inch thick
Instructions
Add the cassava flour to a small shallow bowl.

In a separate shallow bowl, whisk the eggs and Dijon mustard together.

In a third bowl, stir together the almond flour, sea salt, and black pepper.

Heat the avocado oil in a skillet over medium-high heat for 3 minutes.

While the oil heats, lightly dredge the chicken on both sides in the cassava flour.

Dunk the dredged chicken into the egg mixture and shake off any excess egg.

Coat the egg-dredged chicken in the almond flour mixture and place it into the skillet.

Cook for 3 minutes on each side, then transfer to a dish and cover to keep warm.

Repeat with remaining chicken and serve hot.
Looking for Paleo ingredients? Here are a few we'd recommend:
Almond flour (Hodgson Mill)
Sea salt (REDMOND)
Black pepper (Frontier)
Avocado oil (Bella Vado)

(You'll Also Love: Unfried Chicken Recipe)