Indulge in this rich apple crisp recipe full of warm and sweet flavors like cinnamon and coconut!
If you have apples you need to use up, this recipe is the perfect way to utilize what you have on-hand. With a decadent flavor that rivals any traditional apple pie, this recipe includes a nutty crumble topping that's completely grain-free and gluten-free. Best part is, it takes minimal effort to prep and can be served with your favorite coffee or tea!
For this recipe, you can use any apple variety (like granny smith or gala) to pair with the added coconut sugar and cinnamon. If you don't have coconut sugar, feel free to sub in honey or maple syrup in equal amounts. You can also add some pecans to the topping for extra crunch.
Love Paleo Desserts? Then you'll love our FREE Paleo Dessert Cookbook.
Click here to get your FREE copy of our delicious Dessert Recipes!
During the baking process, you may notice the crumble topping start to cook faster than the filling. If this happens, simply cover it with a bit of foil and continue baking. This will help prevent the top from burning, while allowing the apples to continue tenderizing.
To get started, place the apples in a casserole dish and mix with two tablespoons coconut sugar and one teaspoon cinnamon. Reserve the rest of the coconut sugar and cinnamon for later. You'll need it to make the crumble topping.
Next, chop up the raw almonds and place into a medium mixing bowl. Add the coconut flakes, egg, coconut oil, and the remaining cinnamon and coconut sugar. Stir until fully combined, then evenly top the apples with the almond mixture (aka the crumble topping).
Then, place the casserole dish into the oven and bake for one hour. You'll know it's ready when the apples start to tenderize. When finished, remove from the oven and serve immediately. You can also top with a dollop of coconut cream and a drizzle of maple syrup for added flavor.
Heather Resler
Easy Paleo Apple Crisp Recipe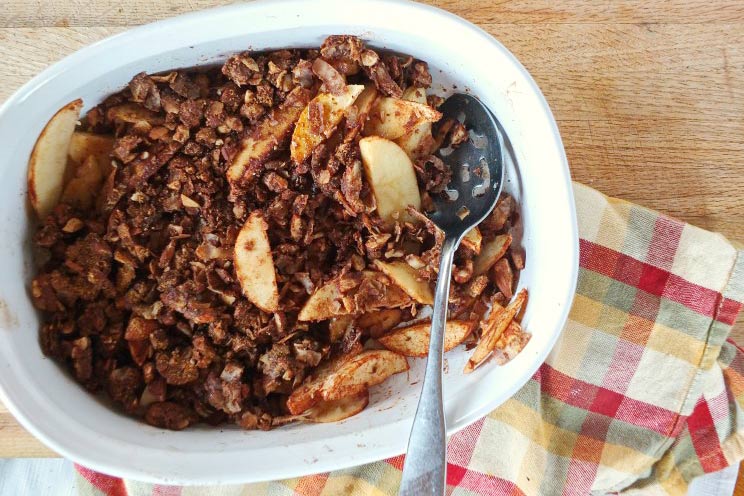 Prep Time:
20 mins
20 minutes
Easy Paleo Apple Crisp Recipe
Indulge in this rich apple crisp recipe full of warm and sweet flavors like cinnamon and coconut.
Tools
Small casserole dish

Medium mixing bowl
Ingredients
4 cups peeled and sliced apples

2 T + 1/4 cup coconut sugar, divided

3 t cinnamon, divided

1 cup raw almonds

1 cup unsweetened coconut flakes

1 egg

2 T coconut flour

3 T coconut oil, melted
Instructions
Preheat the oven to 350°F.

Place the apples in a small casserole dish and toss with 2 tablespoons coconut sugar and 1 teaspoon cinnamon.

Chop the raw almonds and to medium mixing bowl. Stir in the coconut flakes, 2 teaspoons cinnamon, 1/4 cup coconut sugar, egg, and coconut oil. Mix well until fully combined.

Crumble the almond mixture over the apples and bake for 60 minutes, or until the apples are tender. Cover with foil if the topping starts to brown too quickly.
Looking for Paleo ingredients? Here are a few we'd recommend:
Ground cinnamon (Simply Organic)
Raw almonds (NOW Foods)
Unsweetened, coconut flakes (Let's Do…Organics)
Coconut flour (Nutiva)
Cold pressed coconut oil (Viva Naturals)
You'll Also Love: No-Bake Easy Apple Tart Recipe