There's nothing like fluffy and soft Paleo apple cherry muffins! Especially when paired with hot tea or a cup of organic coffee – it really can't be beat!
I am quite particular about the muffin recipes I create; the perfect muffin has a texture and sweetness in between bread and cake. It's also important that the muffin rises well; it has to be big and fluffy!
These delicious apple cherry muffins fit the bill perfectly. They're perfect to make during the week as a special treat or for a fancy Sunday brunch. My local health food store sells fresh apple muffins, and these are my paleo version with a delicious crispy walnut topping (because who can pass up a crumb topping?!). They also have nearly an egg's worth of protein and plenty of fiber from the coconut flour and fruit.
Love Paleo Breakfasts? Then you'll love our FREE Paleo Breakfast Recipes.
Click here to get your FREE copy of our delicious Breakfast Recipes!
These muffins are packed with diced apples and dried cherries — you'll get them in every bite! I used a Gala apple when I made these, but you can also use Granny Smith for a more apple pie-like flavor. If you're feeling especially adventurous, try substituting a diced ripe pear for the apple as a variation of this recipe. The dried cherries I like are organic and sweetened with apple juice; that way they taste amazing and don't contain any refined sugars or corn syrup! If you can find unsweetened dried cherries, feel free to use those.
For smaller muffins, divide the batter between eight muffin cups and decrease the cooking time by five minutes (just make sure to keep an eye on them, as every oven is different).
Heather Resler
Paleo Apple Cherry Muffins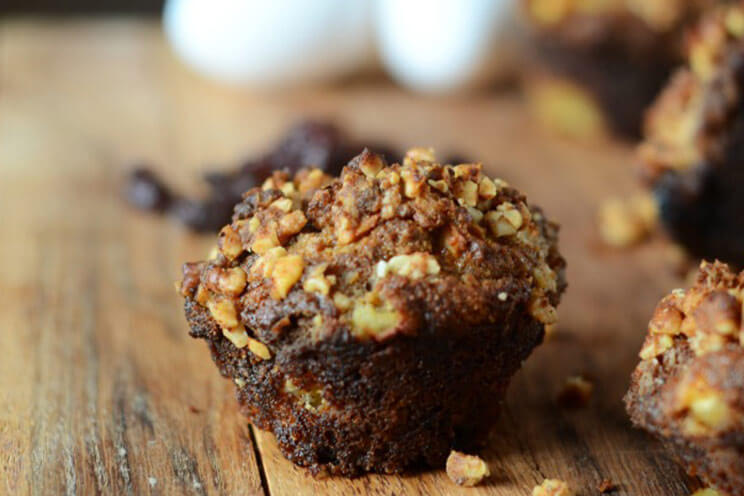 Cook Time:
25 mins
25 minutes
Prep Time:
20 mins
20 minutes
Paleo Apple Cherry Muffins
These muffins are worth waking up to with warm flavors of diced apples, cranberries, and walnuts.
Tools
Muffin Tin

2 Mixing Bowls
Ingredients
For the Muffins:
4 eggs

1/3 cup coconut oil, melted

1/3 cup coconut sugar

1/2 cup coconut flour

1 t baking soda

1 apple, peeled and diced

1/3 cup dried cherries
For the Topping
1/2 cup chopped walnuts

2 T coconut flour

1 T coconut sugar

3 T coconut oil, melted
Instructions
For the Muffins: Preheat the oven to 375°F.

Grease a muffin tin with a little coconut oil.

In a mixing bowl, whisk the eggs with the coconut oil and coconut sugar.

Add the coconut flour and baking soda and mix well.

Fold in the apples and cherries.

Divide batter between 6 muffin cups.

For the Crumb Topping: In a small bowl, combine all topping ingredients (walnuts, coconut flour, coconut sugar, and coconut oil) and mix.

Divide evenly between muffins.

Bake for about 25 minutes, or until a toothpick inserted near the center of a muffin comes out clean.

Let cool and bit and enjoy.
Looking for Paleo ingredients? Here's what we recommend:
Cold Pressed Coconut Oil (Viva Naturals)
Coconut Flour (Nutiva)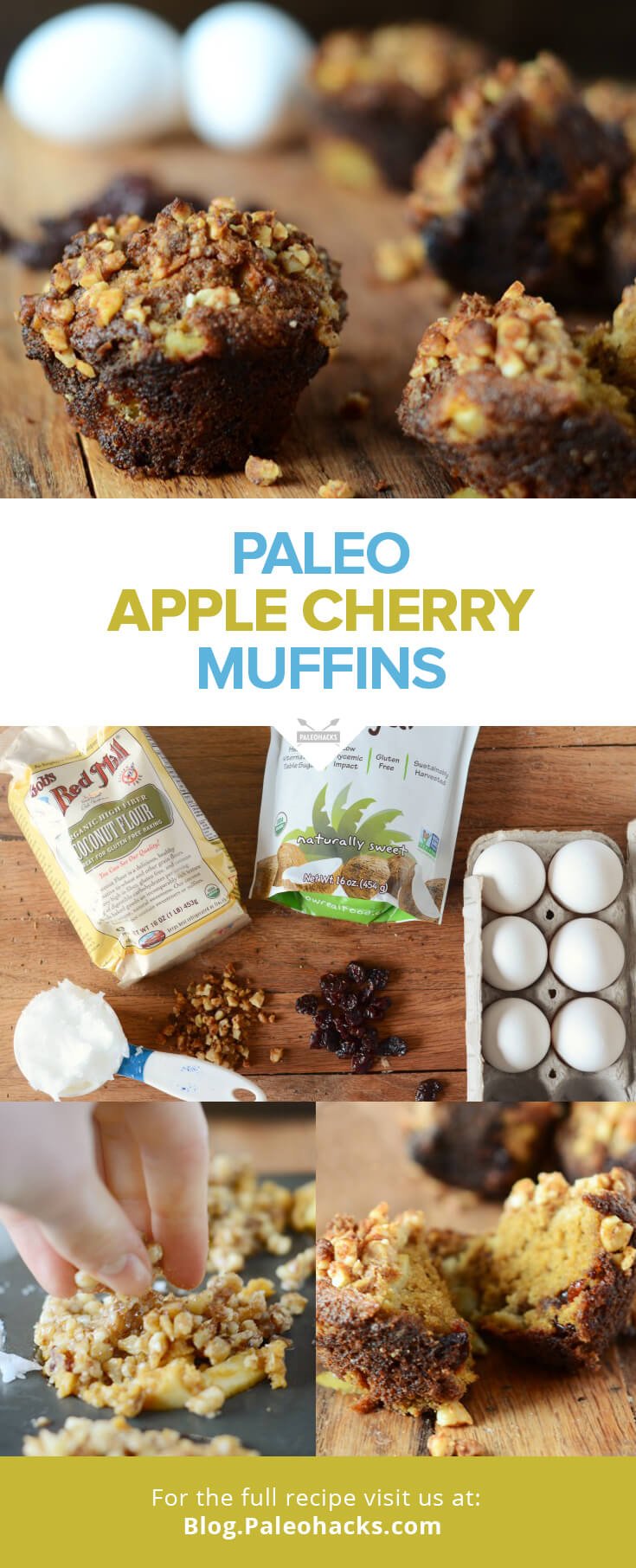 (You'll Also Love: Heavenly Paleo Banana Muffins)