Instant veggie noodles and bone broth built right in the jar for a portable, healthy lunch!
If you love a comforting bowl of instant noodles, you will go crazy for this Paleo version bursting with savory flavor. Spiralized zucchini noodles add crunchy texture and stand up to the heat of bone broth poured over it. Together with fresh chopped veggies and sliced beef jerky, they turn lunchtime into a nutrient-rich feast.
This ramen-inspired meal is made with bone broth for a rich flavor, leaving little need for added spices. As a plus, bone broth naturally boosts digestion while promoting a healthy immune system!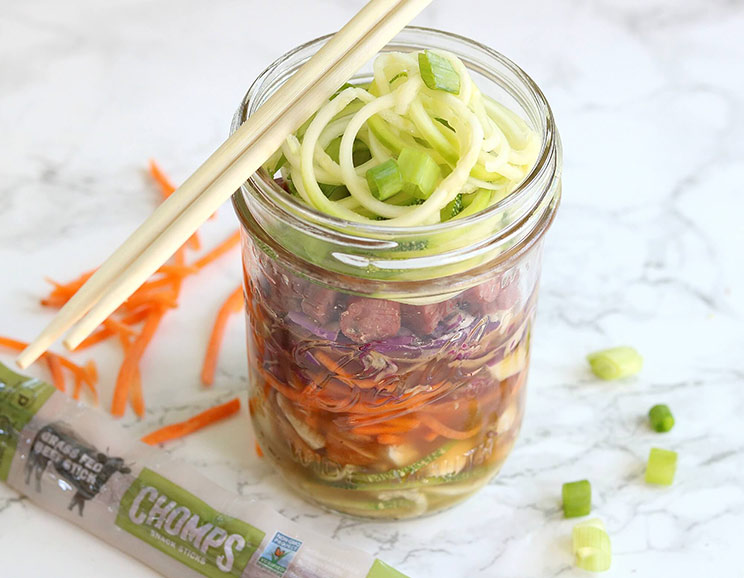 For the protein, instead of the usual pork or chicken, we sliced up Chomps beef jerky for a quick, no-cook meat. If you want to use another brand of beef jerky, make sure to read the label – many jerky companies fill their product with artificial flavors, fillers and MSG. So if you want to keep this dish healthy and nourishing, stick to trusted Paleo brands that are transparent about their ingredients.
Trying to figure out exactly what to eat on Paleo?
Look no further than our FREE 21 Day Paleo Meal Plan
Start by removing the casing from a Chomps jerky stick by running a sharp knife lengthwise, then peeling. Chop the jerky into small pieces, and spiral sliced zucchini into curly strands. Layer the zoodles with carrots, cabbage, mushrooms and jerky in a wide-mouth mason jar. When you're ready to chow down, pour hot bone broth over the top and allow everything to sit for 3-5 minutes to lightly tenderize the vegetables. If you'd like to add extra zip to your noodles, finish with a dollop of this Paleo Sriracha recipe!
Jennafer Ashley
DIY Instant Veggie Noodles in a Mason Jar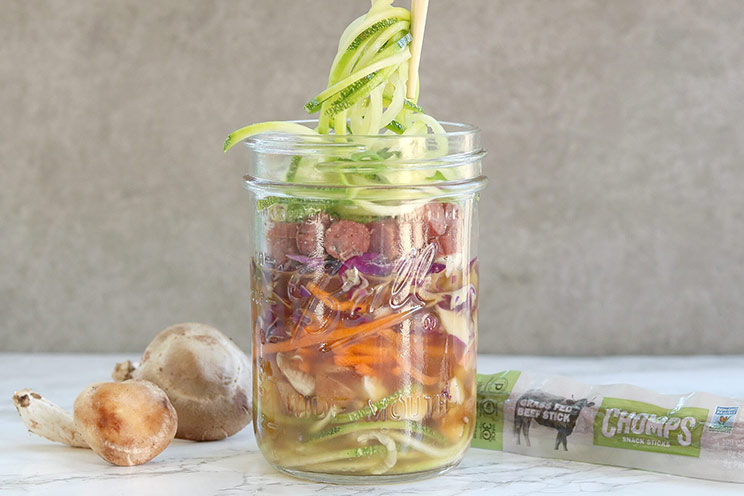 Cook Time:
5 mins
5 minutes
Prep Time:
15 mins
15 minutes
DIY Instant Veggie Noodles in a Mason Jar
Zucchini noodles and bone broth built right in the jar for a portable, healthy lunch!
Tools
16-ounce, wide-mouth mason jar

Sharp knife

Julienne peeler or spiral slicer
Ingredients
1 Chomps jerky stick, thinly sliced

1 cup zucchini noodles, sliced on 3-mm blade

1/3 cup shredded carrots

1/3 cup shredded cabbage

1/3 cup shiitake mushrooms

1/4 cup scallions, thinly sliced

1.5 cups beef bone broth
Instructions
Remove casing from jerky and thinly slice into small pieces.

Layer all ingredients except the bone broth in a wide-mouth mason jar. Refrigerate until ready to eat.

Heat bone broth until simmering and pour over vegetables in mason jar. Allow to sit 3-5 minutes. Enjoy hot.
Tip: If you don't have a spiral slicer, a julienne peeler also does the trick.

This post is sponsored by our friends at Chomps. Our goal is to always bring you healthy, Paleo-friendly articles that we know you'll love. We only feature trusted brands approved by the PaleoHacks team.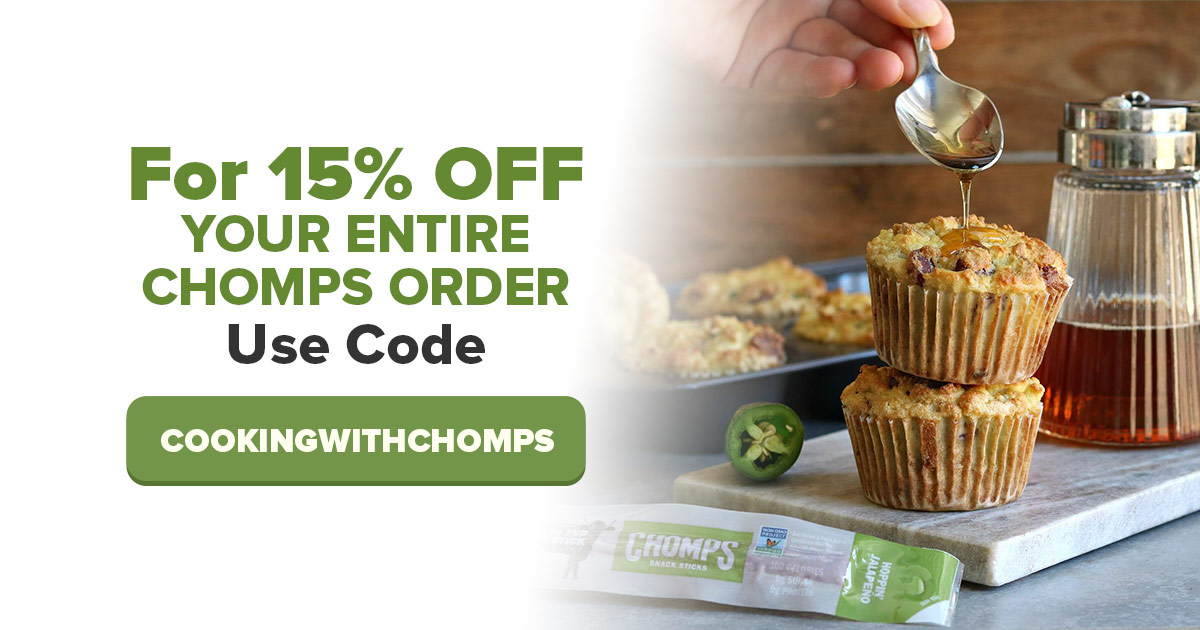 (You'll Also Love: 20 Cozy Bone Broth Mix-Ins)