Mix things up with these raw chocolate-laced maca brownies, spiked with energizing maca powder.
Crunchy, six-ingredient, superfood brownies that are made with nuts, are sweetened naturally, and require zero baking? Sign up for the yum!
Maca powder is one of the world's natural "superfoods," and it's one of my personal favorites. Best-known for its ability to boost the immune system, increase fertility, and balance hormones, maca powder offers a wealth of health benefits.
Love Paleo Desserts? Then you'll love our FREE Paleo Dessert Cookbook.
Click here to get your FREE copy of our delicious Dessert Recipes!
You can find maca in powder form at your local health food store. It's a great addition to smoothies and baked goods. Most of the time, you won't even know it's there. And it's powerful, so a small amount goes a long way.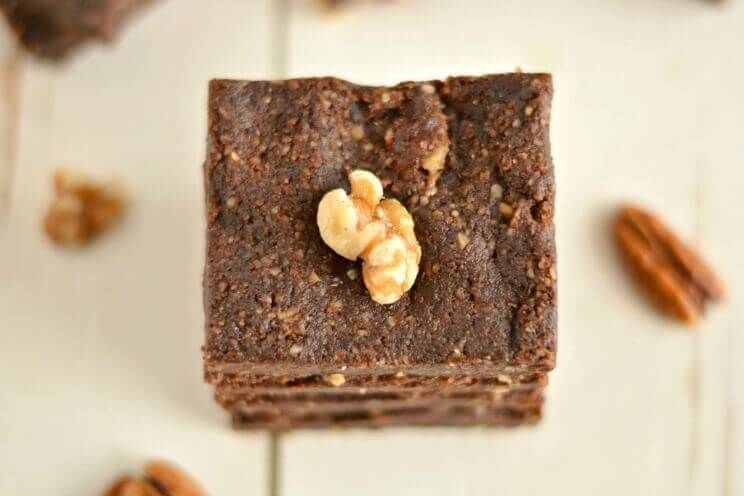 For the brownies, I used a teaspoon to give the brownies that extra energy boost. If you're a seasoned maca lover, you can add up to two teaspoons to the batter—without affecting the taste of the recipe.
After being mixed with antioxidant-rich cocoa powder, high-protein nuts, and fiber-packed sweet dates, maca powder yields a simple, no-bake, chocolatey brownie that balances nutrition and a delicious taste.
Toss everything in a blender or food processor, transfer it to a baking pan, and pop it in the fridge to harden. And voila, you've made decadent brownies!
Megan Olson
Energizing No-Bake Maca Brownies

Prep Time:
10 mins
10 minutes
Energizing No-Bake Maca Brownies
These crunchy, six-ingredient superfood brownies are naturally sweetened, made with nuts, are require zero baking.
Ingredients
1/3 cup unsweetened cocoa powder

1 cup pitted dates (They can be substituted with any dried fruit, but please note, they'll change the flavor of the brownies.)

½ cup raw walnuts

½ cup raw pecans

1 T maca powder

1 t almond extract
Instructions
Place dates in a large bowl. Fill with water to soften for 2-3 hours.

Drain water from dates, then place in a food processor or blender with all remaining ingredients.

Blend on high for 2 minutes, or until dates and nuts have broken down into a doughy batter.

Line a 9 x 5 meatloaf pan with parchment paper, allowing the paper to hang over the edges of the pan for easy removal.

Transfer the dough into the pan, and spread it flat into an even layer in the corners of the pan. It's best to use the palms of your hands.

Place the pan in the refrigerator for a minimum of one hour to harden.

Remove from the refrigerator, lift the parchment paper out of the pan with the hardened brownies, slice into 8 bars, and devour!


(You'll Also Love: Chocolate Almond Butter Brownies)