Chow down on this Cauliflower Au Gratin smothered in dairy-free béchemal sauce for a savory recipe that's hearty enough to be your main dish, too.
Au gratin vegetables pack in serious flavor with this hearty dish! Transforming this recipe into a dairy-free Paleo dish is easy with ingredients like almond milk, ghee, and cassava flour. The result is a smooth and creamy sauce that turns roasted cauliflower into au gratin perfection.
Traditional recipes typically incorporate carb-heavy potatoes, but this version swaps in roasted cauliflower to add more dimension and nutrition. The béchemal sauce is the standout of the recipe and consists of a creamy roux made with ghee and cassava flour. Ghee is used for its "buttery" taste and healthy fats, while also boasting a higher smoke point than traditional butter.
Add power-packed superfood veggies to every meal with these easy cauliflower recipes.
Click here to get your FREE copy of our Cauliflower Recipe Guide!
Wheat-free cassava flour is used to thicken the béchemal sauce, without adding any grittiness or deviation from traditional flavor. As an bonus, this recipe uses a "breadcrumb" topping made with almond meal, nutritional yeast, and oregano for extra crunch. Tip: You can also use this "breadcrumb" combo for other recipes like chicken fingers or veggie fries.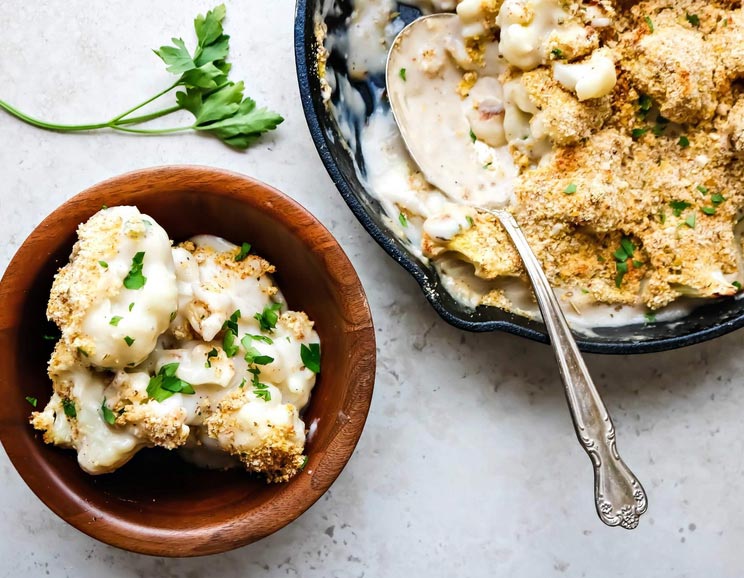 Get started by roasting the cauliflower in the oven for 25 minutes. While the cauliflower roasts, stir together the "breadcrumb" ingredients in a mixing bowl and set aside. Next, whip up the sauce by melting ghee in a saucepan and whisking in cassava flour, followed by the almond milk. Add in the remaining seasonings and let the sauce come to a low boil, whisking occasionally. After 3-5 minutes, the sauce will begin to thicken. Switch the oven to broil and remove the cauliflower from the oven.
Pour the sauce on top of the cauliflower and generously sprinkle the "breadcrumbs" on top. Return to the oven and broil for five minutes, or until the top is lightly browned. Serve hot alongside your favorite Paleo entrée and enjoy!
This recipe's versatile white sauce can also be used in other dishes! Try it…
Jennafer Ashley
Creamy Cauliflower Au Gratin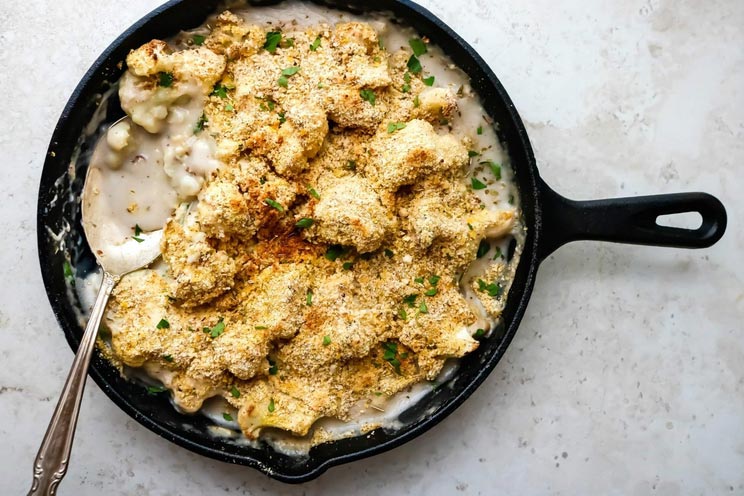 Cook Time:
35 mins
35 minutes
Prep Time:
10 mins
10 minutes
Creamy Cauliflower Au Gratin
Chow down on this Cauliflower Au Gratin smothered in dairy-free béchemal sauce for a savory recipe that's hearty enough to be your main dish, too.
Tools
9" cast iron pan

Medium saucepan
Ingredients
For Cauliflower:
1 large head cauliflower, chopped into florets (about 6 cups)

1 T avocado oil
For Béchamel Sauce:
2 T ghee

3 T cassava flour

3 cups unsweetened almond milk

1 t sea salt

1/4 t black pepper

1/8 t nutmeg
For the 'Breadcrumbs':
1/4 cup almond meal

1 T nutritional yeast

1 t dried basil or oregano
Instructions
Preheat the oven to 400°F.

For the Cauliflower: Place the cauliflower florets in a skillet and drizzle with avocado oil. Roast for 25 minutes.
For the 'Breadcrumbs': While the cauliflower roasts, combine the breadcrumb ingredients in a small bowl. Set aside.
For the Béchamel Sauce: Melt the ghee in a saucepan over medium-low heat. Whisk in the cassava flour to thicken. Gradually pour in the almond milk while continuing to whisk. Stir in the sea salt, pepper, and nutmeg. Allow the sauce to come to a low boil and thicken for 3-5 minutes, occasionally stirring.

Turn the oven to broil. Pour the sauce over the cauliflower and top with the "breadcrumbs." Return to the oven for five minutes or until the breadcrumbs are lightly browned.
Looking for Paleo ingredients? Here are a few we'd recommend:
Avocado oil (Primal Kitchen)
Ghee (Pure Indian Foods)
Cassava flour (Otto's Naturals)
Almond meal (Barney)
Nutritional yeast (Sari Foods Co)

(You'll Also Love: Keto Cheesy Zucchini Gratin – Low Carb, Paleo)
Lose weight, fight inflammation, and soothe your digestion with delicious meals like juicy skirt steak with cucumber & radish salad, succulent pulled pork, and more!
FREE Cookbook:
80 Gourmet Paleo Recipes from
a Professional Chef trained at Le
Cordon Bleu in Paris
FREE Cookbook:
80 Gourmet Paleo Recipes
from a Professional Chef
trained at Le Cordon Bleu
in Paris