While we do our best to eat and exercise like our Paleo ancestors, our working habits are firmly grounded in the 21st century. Spending hours each day sitting at a desk or driving in a car is ruining your health and potentially shaving years off your life.
In this article, I'll show you how to create an ergonomic home office on a budget. I'll also show you how your default posture is ruining your health, and how to fix it.
What is Ergonomics?
Ergonomics is a science that uses design and layout to create efficient and safe movement. It is intended to provide optimum comfort and avoid stress or injury for people using equipment, moving objects, and doing repetitive movements.
Suffering from a sore neck, back and shoulders? Get our mobility guide to ease pain and soreness.
Get The FREE Mobility Guide To Fix Your Pain Today!
It's easy to underestimate how the environment in which you work impacts your physical health. Even jobs that don't require intense physical labor are still putting your body under immense strain.
A non-physical job that combines sedentary work and repetitive tasks can increase the risk of developing musculoskeletal disorders (MSDs), which affect the muscles, nerves, blood vessels, ligaments and tendons. [tweet_quote] A sedentary job can lead to musculoskeletal disorders, such as tendinitis and muscle strain.[/tweet_quote]
Simple actions like crossing the ankles or legs, jutting the head forward, rotating the trunk, holding a phone, and even typing can all lead to MSDs. Examples of MSDs include:
Tendinitis
Muscle strains and lower back injuries
---
How to Ergonomically Upgrade Your Workspace
Ergonomics minimizes muscle fatigue, increases productivity and can reduce the likelihood and severity of these disorders (1). I'm going to walk you through the ideal ergonomic setup, from head-to-toe, including cheap fixes to make your home office ergonomically sound.
Head Position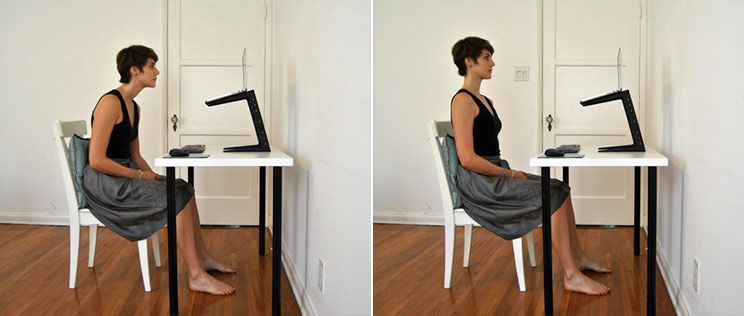 The Common Position: Using a computer or cell phone tends to draw the head forward and down, as our attention is glued to the screen. This position, known as forward head posture, can increase pressure on your neck and spine by up to 60 pounds (2).
The body compensates for this extra pressure on the cervical spine by building up bone and fat tissue, which you may recognize as a "hump."
The Problem: Unsightly "hump" aside, short-term side effects of forward head posture include:
Constant fatigue and lack of energy
Pain in your neck, shoulders or upper, lower and middle back
Headaches and migraines
Poor sleep or insomnia
Early degeneration of your spine
Pinched and trapped nerves
Decreased range of motion
Decreased blood flow to the brain
The Ideal Position: Your head weighs 10-12 pounds and needs to rest directly above your neck and shoulders for optimum support. In a neutral position, your ear, the middle of your shoulder, and the middle of your hips should be stacked in a straight line to the floor. If your ear is in front of your shoulder, you have lost this alignment. [tweet_quote] Tip: Keep your ears back behind your shoulders while sitting.[/tweet_quote]
The Fix: Become aware of how a neutral neck alignment looks and feels—you may need to practice in a mirror—and be mindful of maintaining that position throughout the day. Increase the font size if you find yourself craning forward to see the screen, and incorporate exercises that strengthen and stretch the neck into your daily routine.
---
Eye Line Position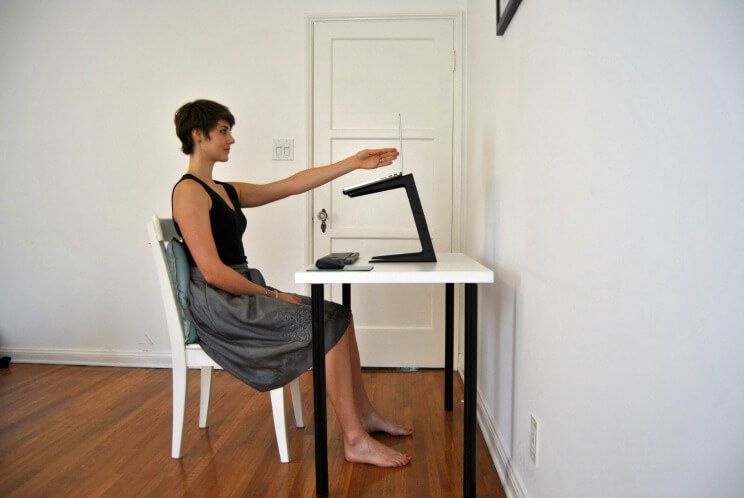 The Common Position: We spend a lot of time looking at screens, whether it's a computer, phone or television. While research hasn't shown that screen time damages our eyes, it can lead to eye strain in the short-term.
The Problem: Where our gaze goes, our head tends to follow. Looking down can increase the likelihood of forward head posture.
The Ideal Position: When using a computer, the gaze should be directly forward, with the screen one arm's distance away from the face. Adjust the brightness of the screen to match the area directly behind it. [tweet_quote] Keep your computer monitor right at eye level to avoid neck strain.[/tweet_quote]
The Fix: Elevate your monitor by stacking it on books or purchasing a cheap computer stand. Lift your phone up to your eye line when texting, rather than looking down.
Every hour, take a few moments to do eye exercises, including looking left and right, up and down, and allowing your gaze to focus and blur. This will reduce strain and strengthen the eye muscles.
---
Shoulder Position

The Common Position: Elevating the shoulders is a natural reaction to stress, and rounding the shoulders is a natural reaction to fatigue (hello 4pm). Both of these postures strain the neck as well as the upper and lower back.
The Problem: Statically keeping the shoulders in a forward or up position can impede breathing and blood flow (3), increase fatigue and neck strain, and even lead to nerve damage. [tweet_quote] Hunched over your desk? You're impeding your blood flow and could suffer from nerve damage down the line.[/tweet_quote]
The Ideal Position: The shoulders should remain directly above the hips. The collarbones are wide and open, while the shoulder blades lay flat on the back. Once you've arranged your body in this position, take a big breath in, and as you exhale, allow the shoulders to relax away from your ears.
The Fix: Become aware of how your shoulders look and feel once they're in the correct position, and then be mindful of maintaining that throughout the day. Every hour, take a few moments to lift your shoulders all the way up to your ears and then let them drop. It's a good idea to incorporate exercises that stretch and strengthen your back into your current workout routine.
---
Elbow and Wrist Position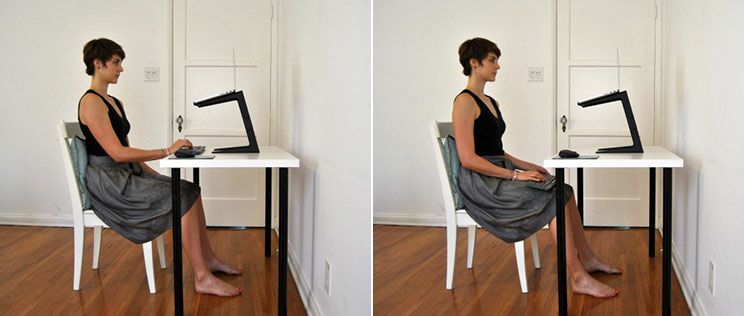 The Common Position: We generally use a keyboard while sitting at a desk, where it's slightly higher than the elbow joint. This static wrist extension not only places unnecessary stress on the forearm extensors, it also keeps the elbows bent, which can restrict blood flow to the hands.
The Problem: Typing with the forearms on an incline increases muscle tension in the upper arms, shoulders, and neck. This can lead to muscle fatigue within a few hours, and over time, can create issues such as carpal tunnel and tendinitis.
The Ideal Position: Place the keyboard below seated elbow height, and gently slope it away from your torso. This position keeps the wrists in neutral alignment, allows for proper circulation, and lets the arms, shoulders, neck and back to relax.
The Fix: Purchase a low-cost wireless keyboard that you can connect to your laptop via USB. Ideally, you would place the keyboard on a lap tray with space for your mouse, but in a pinch, you can rest it on a pillow or on your lap. Incorporate exercises that stretch and strengthen the wrists and forearms.
---
Spine Position + Core Engagement

The Common Position: The two common postures include slouching (tucking the tailbone under and rounding the shoulders forward) and extending the spine and pushing the chest forward.
The Problem: Whether you're sitting or standing, taking the spine out of neutral alignment increases pressure on the neck, back, hips and pelvis, and even the feet. Remaining in a static (and ergonomically unsound) position for hours every day retrains your muscles into adopting this position as the neutral state.
The Ideal Position: Engage your abdominals and lengthen your spine, keeping your torso directly above your hips. When seated, the lower back should be supported against the back of the chair, and when standing, the feet should be parallel and hip distance apart. This posture puts the least amount of stress on your body.
The Fix: Improve your posture with these exercises.
---
Sitting VS Standing
Since the 1940s, dozens of articles have been written about the negative impact of sitting. What they show is that sitting for extended periods—like the kind we do at work and while commuting—not only hurts our bodies, it could actually be shaving years off our life (4).
In the short-term, sitting can lead to neck and lower back strain, it can worsen arthritis and degenerative spine diseases, and it impedes digestion.
In the long-term, sitting for extended periods of time is linked with increased risk of obesity, cancer (5), diabetes, and cardiovascular disease (6). And that's even if you exercise regularly.
Unfortunately, standing all day also isn't a magic bullet to good health—I know, it seems frustratingly complicated! [tweet_quote] Standing all day isn't a magic bullet to good health. The trick is to keep moving![/tweet_quote]
Standing too much can compress the spine and lead to lower back problems. It can also increase the risk for varicose veins and cardiovascular strain, as the heart is challenged by pumping blood up from your toes.
Ultimately, whether you're sitting or standing the problem is the same—your body is static, which isn't the way it was designed.
But there is a solution, which I've covered in my three-part Fix below: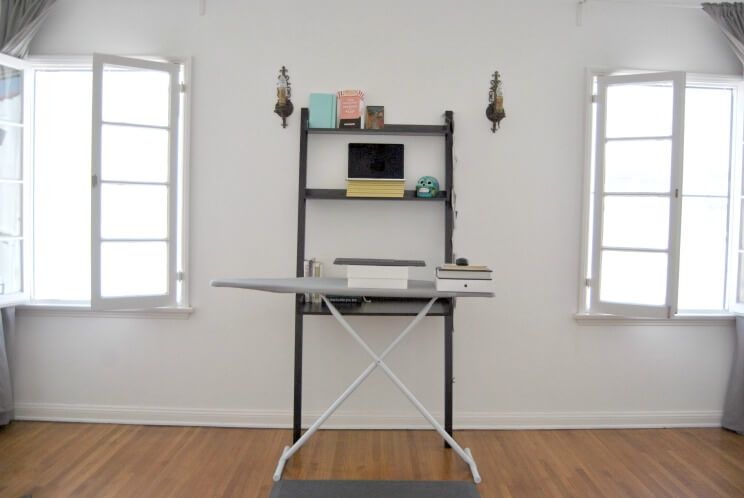 Alternate sitting and standing throughout the day (7). You can invest in a convertible stand-up-sit-down desk, but they are pretty expensive. My budget Fix was to keep my basic IKEA desk, and then convert a leaning bookshelf and an ironing board into a stand-up desk. You'll notice in the picture below that I've used books to position my monitor and wireless keyboard to the ergonomically correct height.
Fidget. Ignore your first grade teacher and fidget throughout the day. If you're seated, you can squeeze and release your glutes, sway your torso from side to side, or tap your feet. If you're standing, you can rock your weight back and forth, do calf raises, or occasionally lift your arms up and down. Looking silly in the office won't matter if it means adding years back onto your life.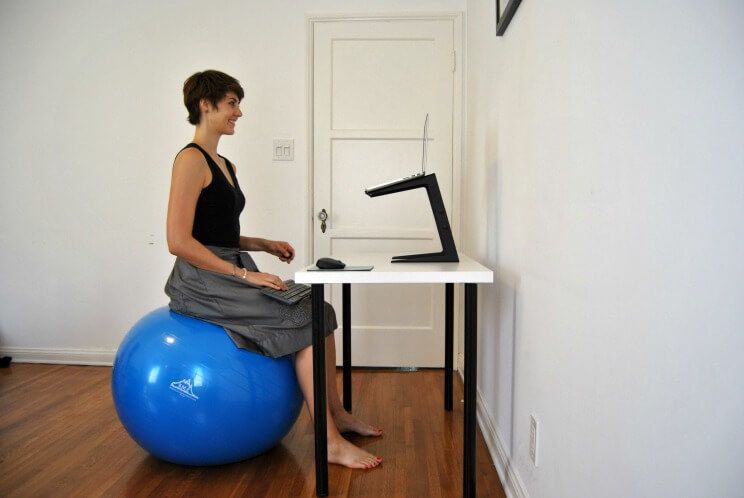 Support your body. When seated, you should look a little lazy. Let the feet slide forward so that the hip and thigh are at a 35º angle, recline the spine against the chair back, and relax your shoulders. If your chair isn't offering enough support, simply place a small pillow behind your lower back. I alternate sitting on a chair and an exercise ball to keep my core active. When standing, you should wear supportive shoes, or ideally stand on an anti-fatigue mat.
---
The Final Takeaway
I hope that you'll take the time to update your own workspace with these ergonomic tips, and become more mindful of your posture throughout the day. But ultimately the best, and cheapest, thing that you can do is simply to move your body.
The final Fix: Set an alarm for 53 minutes. When it goes off, spend 7 minutes moving your body in some way: walk to get a glass of water, roll up and down through your spine, do a set of jumping jacks, or just close your eyes.
Work may be busy, the hours may go quickly, but at the end of the day, it's your body and your life that really matter.
(Read This Next: Straighten Up: How to Fix Posture)