Add a little spice to your life with this one-skillet Thai red chicken curry!
If you love Thai food, you're going to want to brace yourself for this next-level recipe. Rich, savory and lightly sweet, this 30-minute chicken curry is tastier – and healthier – than takeout. Ladle it over a steaming bowl of cauliflower rice for a truly satisfying dish.
The secret to making this amazing Thai curry is to use plenty of aromatics like onion, garlic and ginger. The sauce is made from full-fat coconut milk thickened with tapioca flour and spiced with red curry paste for a little heat. Feel free to adjust the curry paste depending on how spicy you want the curry. For the veggies in this recipe, we used carrots, onions, and sweet potato, but broccoli, cauliflower, mushrooms or diced butternut squash would work as well. Just make sure to cut them into same-size small pieces so they cook evenly.
Want to go Paleo? Not sure where to start?
Start with this FREE Paleo For Beginners Guide Today!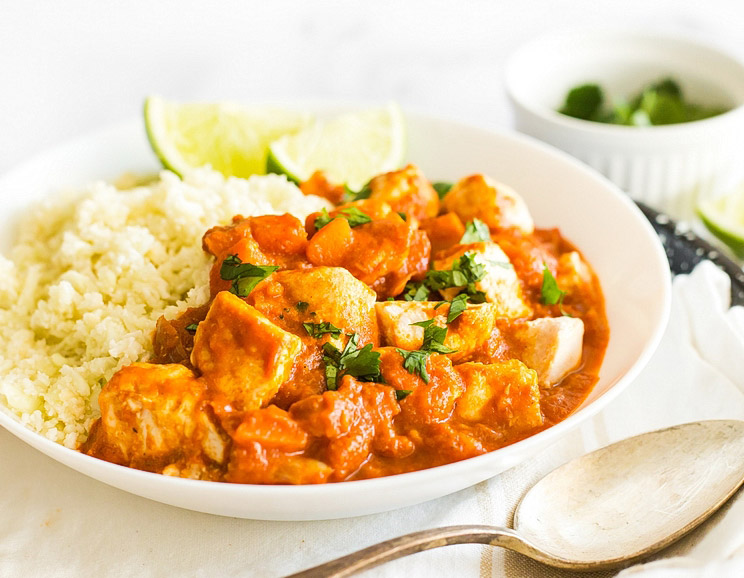 Start by sautéing the cubed chicken breast over medium-high heat until no longer pink, about seven minutes. Remove the chicken from the skillet and then cook the veggies until soft, another seven minutes. While the vegetables cook, prepare the sauce by whisking coconut milk with red curry paste until combined. Add the ginger and garlic to the veggies and cook until fragrant, then return the chicken to the skillet and cover with the sauce. Bring to a boil, then simmer for five minutes to thicken the sauce and let the flavors marry.
Serve your red chicken curry over cauliflower rice and garnish with lime slices and freshly chopped cilantro.
Tips:
Chop your chicken and veggies in advance for even quicker meal prep. Try freezing the chicken briefly before cubing to make it easier to slice.
Leftovers can be stored in an airtight container in the refrigerator for up to 5 days.
Felicia Lim
Red Curry Chicken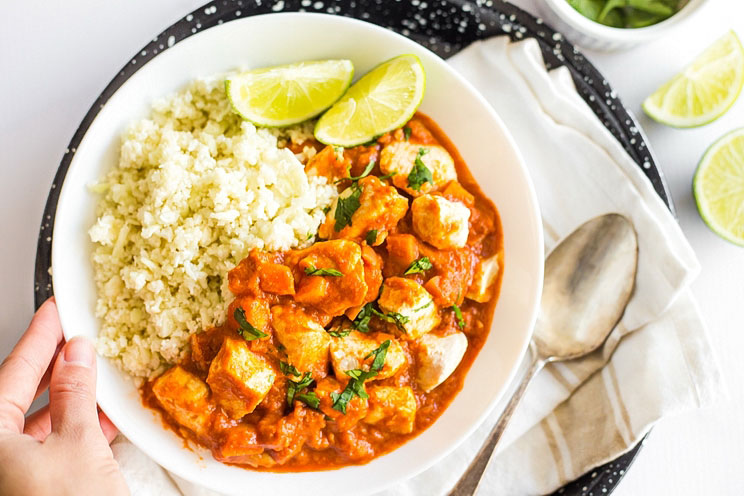 Cook Time:
20 mins
20 minutes
Prep Time:
10 mins
10 minutes
Nutrition facts:
38 grams of protein
26 grams of carbohydrates
18 grams of fat
402 calories
Red Curry Chicken
Add a little spice to your life with this one-skillet Thai red chicken curry.
Ingredients
2 T avocado oil, divided

3 cups cubed chicken breasts

1 cup diced onions

1 cup diced carrots

1 cup diced sweet potatoes

1 T freshly grated ginger

1 T minced garlic

1 cups coconut milk

2 T red curry paste

Chopped fresh cilantro, to garnish

Lime wedges, to garnish
Instructions
Heat one tablespoon of avocado oil in a large skillet over medium-high heat. Add the chicken and cook until cooked through, about 7-8 minutes. Remove from the skillet and set aside.

Reduce the heat to medium and add the remaining avocado oil to the skillet. Add the onions, carrots, and sweet potatoes sauté until the veggies are soft, about 5-6 minutes.

Meanwhile, in a medium bowl, whisk together the coconut milk and red curry paste.

Add the grated ginger and minced garlic to the skillet and sauté for 1 minute or until fragrant, 1 minute.

Pour the coconut milk sauce over the top. Bring to a boil, then reduce to a simmer for 3 minutes to thicken the sauce.

Return the chicken to the skillet, mix well, and let simmer for 1-2 minutes.

Serve hot garnished with chopped cilantro and lime wedges.
Looking for Paleo ingredients? Here are a few we'd recommend:
Avocado oil (Bella Vado)
Coconut milk (Native Forest)