Hunting for new, crave-worthy ways to cook beef? We've got you covered with these easy, hearty recipes using four different cuts.
How many ways can you cook a cow? When ButcherBox— a unique monthly delivery service that doles out prime cuts of grass-fed beef, organic chicken and heritage breed pork—offered to send us one of their all-beef boxes, we set out to find out.
Selection within the box varies from month to month, but every cut of meat—from succulent ribeye steak to tender, fajita-friendly hanger steak—comes hand-butchered and flash frozen from one of the company's trusted suppliers. With lots of variety and generously portioned cuts, there's more than enough meat to keep your creativity cooking for several weeks.
Love slow cooker recipes?
Click here to get your FREE copy of our delicious Slow-Cooker Recipes!
When we opened our box, hanger steak—a choice cut favored by restaurant chefs and nearly impossible to find in a typical grocery store—begged us to transform it into a vibrant fajita salad. With tender-crisp bell peppers and rich slices of avocado, it's a homemade, sustaining salad you're probably used to doling out too much for while dining out.
Glorious Paleo bacon from Pedersen's Natural farms—sugar-free and uncured—comes in every ButcherBox order, so naturally it made its way into several of our recipes. Perfectly smoky and rich, it makes a great complement in our creamy mushroom sauce-topped ribeye recipe and a brunch-worthy breakfast burger.
Next up was the ground beef, which, despite being extra lean, was juicier and more flavor-packed than anything you can get at the store. Below, you'll find four of our favorite recipes featuring different beef cuts. We have a feeling you'll love them just as much as we do.
Homemade Paleo Roast Beef
A simple, traditional roast beef recipe the whole family will love
Courtney Hamilton
Homemade Paleo Roast Beef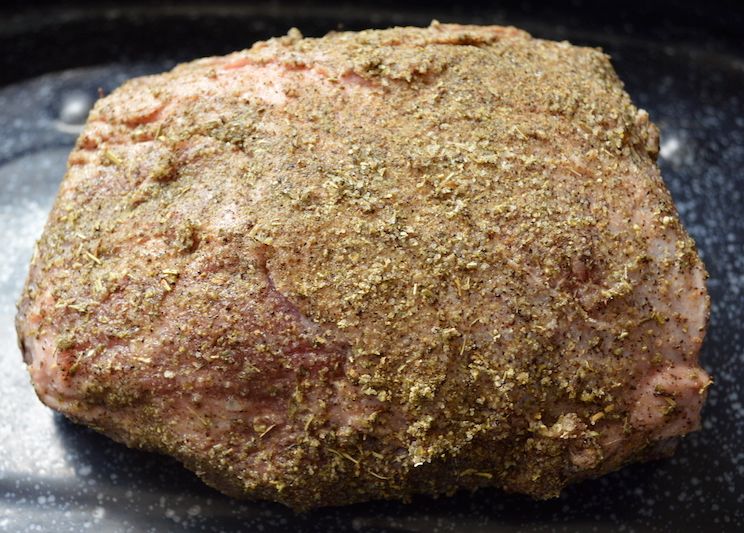 Cook Time:
1 hr 30 mins
1 hour 30 minutes
Prep Time:
10 mins
10 minutes
Homemade Paleo Roast Beef
Ingredients
2 lbs. ButcherBox Beef Scotch Roast

2 t Italian seasoning

2 t salt

2 t pepper

1 t dry mustard

Olive oil or avocado oil as needed
Instructions
Preheat oven to 350F. In a bowl, blend Italian seasoning, salt, pepper and dry mustard into a spice rub.

Coat roast thoroughly with olive oil or avocado oil. Rub spice mix all over the roast.

Roast in a roasting pan for 70 to 80 minutes, depending on your preferred meat preparation.

Allow roast to rest for 10 to 20 minutes before slicing into it. For deli style roast beef, slice the meat as thinly as possible. Serve as is, on a Paleo sandwich, or on a bed of greens.
Bacon and Egg Breakfast Burgers
All the flavors of breakfast in a hearty, organic burger.
Courtney Hamilton
Bacon and Egg Breakfast Burgers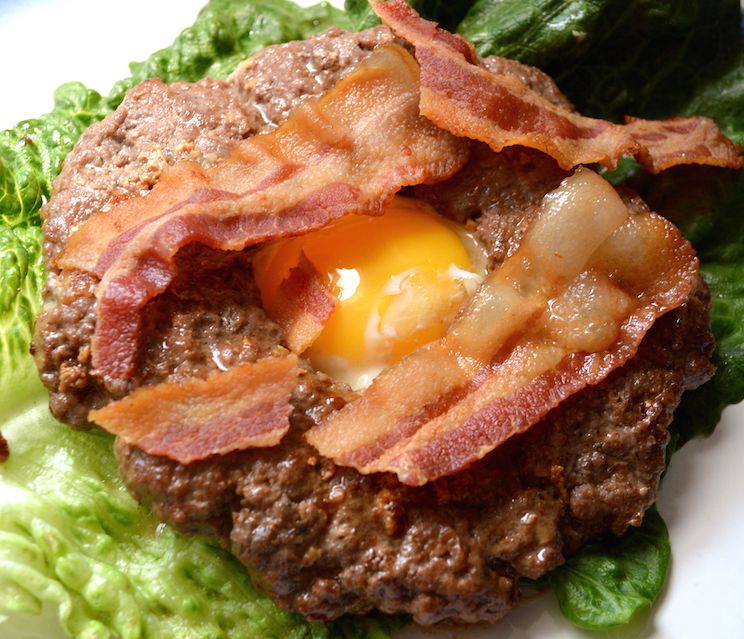 Cook Time:
20 mins
20 minutes
Prep Time:
15 mins
15 minutes
Bacon and Egg Breakfast Burgers
Ingredients
1 lb. ButcherBox Extra Lean Ground Beef

4 slices ButcherBox Paleo Bacon, cooked

2 eggs

1 t minced garlic

½ t salt

½ t pepper

Cooking fat (avocado oil, coconut oil, ghee) as needed
Instructions
Cook your bacon. As your bacon cooks, hand-mix ground beef in a bowl with garlic, salt and pepper. Set bacon aside.

Portion out 2 burger patties. With a mason jar or similarly sized cup, cut out the center of the burgers. Form the extra meat onto the outer circle of the patty.

Heat cooking fat in a pan. Cook burgers on medium heat for 4 to 5 minutes a side. In the final two to three minutes, crack your egg into the center. You can cook it sunny side up, or flip the burger one last time for an over-easy egg.

Place bacon on top of burgers, and, if you're feeling it, douse the whole thing in your favorite hot sauce. Enjoy!
Steak Fajita Salad
This restaurant-quality dinner salad is about as fresh as it gets.
Courtney Hamilton
Steak Fajita Salad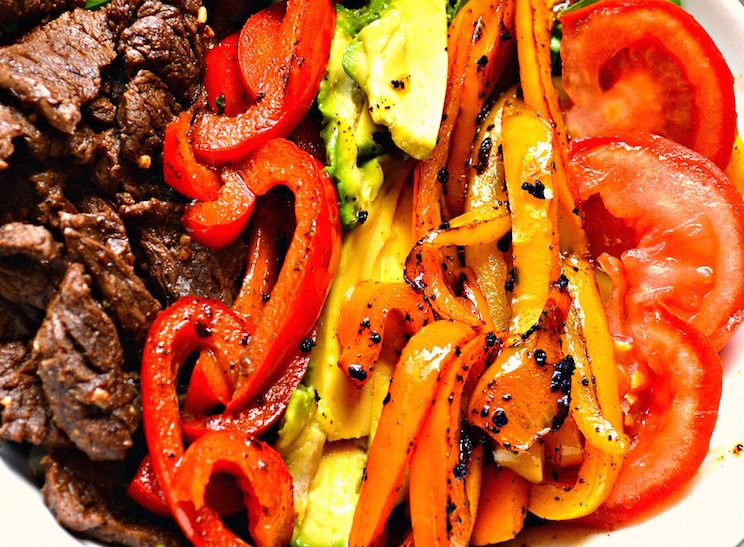 Cook Time:
20 mins
20 minutes
Prep Time:
10 mins
10 minutes
Steak Fajita Salad
Ingredients
1 lb. ButcherBox Hanger Steak

1 t cumin

1 t ancho chile powder

1 t minced garlic

Juice of 1 ½ limes

½ t salt

1 T water

1 T avocado oil + more for cooking

5 oz. salad greens

½ yellow bell pepper, sliced

½ red bell pepper, sliced

½ orange bell pepper, sliced

½ Hass avocado, sliced

1 tomato, chopped
Instructions
Slice hanger steak thinly against the grain. In a bowl, whisk together cumin, ancho chile powder, garlic, lime, salt, water and 1 tablespoon avocado oil. Coat steak in the sauce.

In a skillet with some avocado oil, cook steak over medium-high heat for 5 to 8 minutes, stirring occasionally.

Remove steak and add sliced bell peppers to the same pan. Cook until tender, around 5 to 8 minutes.

Arrange steak, bell peppers, avocado and tomato over your salad greens.

Tip: You can toss the salad greens with some olive oil, apple cider vinegar, lime juice and salt for added flavor.
Ribeye with Creamy Paleo Mushroom Sauce
Bacon and mushrooms round out the beefy flavor of these fresh ribeye steaks.
Courtney Hamilton
Ribeye with Creamy Paleo Mushroom Sauce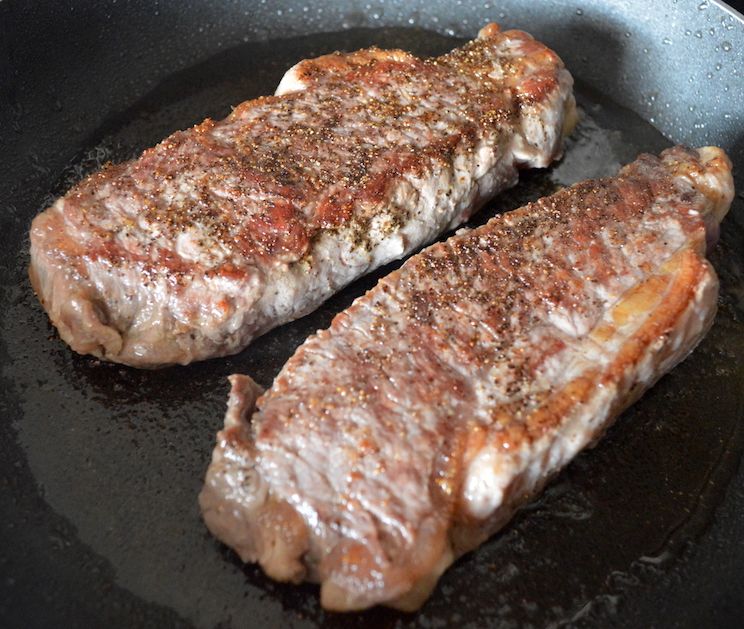 Cook Time:
25 mins
25 minutes
Prep Time:
10 mins
10 minutes
Ribeye with Creamy Paleo Mushroom Sauce
Ingredients
2 ButcherBox ribeye steaks, room temperature

2 slices ButcherBox Paleo bacon, diced

8 oz. white mushrooms or Cremini mushrooms, sliced

½ yellow onion, finely diced

1 cup beef broth or bone broth

2 t minced garlic

1 ½ T coconut cream

Salt and pepper to taste

Cooking fat (avocado oil, coconut oil, ghee) as needed
Instructions
Season your ribeye steaks liberally with salt and pepper. In a skillet, heat your preferred cooking fat over high heat. Sear steaks 3 to 4 minutes a side, or to preferred doneness.

Remove steaks and tent in foil to rest. Quickly cook your diced bacon in the same pan. Add to the pan the garlic, onion, mushrooms and some salt and pepper. Sautee for 5 minutes.

Add to your pan beef broth and cook until sauce reduces, 5 to 6 minutes.

In final minutes of cooking, stir in coconut cream. Spoon sauce over steaks and dig in.
While conventional wisdom tells us the brighter red the meat, the fresher, ButcherBox meat doesn't boast the same synthetic hue. This is because the antibiotic and hormone-free meat doesn't go through the same carbon-monoxide and other modifying treatments before it reaches the consumer. This makes for naturally browner, tastier meat.
With that level of freshness, though, you'll want to cook the meat the day you thaw it. Otherwise, keep the cuts in your freezer until the night before you're ready to use them.



If you're serious about your meat and knowing you're getting 100% grass-fed quality every time, then ButcherBox is the way to go.  No more second-guessing if what you're getting was raised on a grassy pasture or on a feedlot using cheap fillers like corn and soy. You'll find no hormones or antibiotics in their product — just leaner meat, less calories, and up to five times the anti-inflammatory Omega-3s thanks to the green leaves their cows graze on.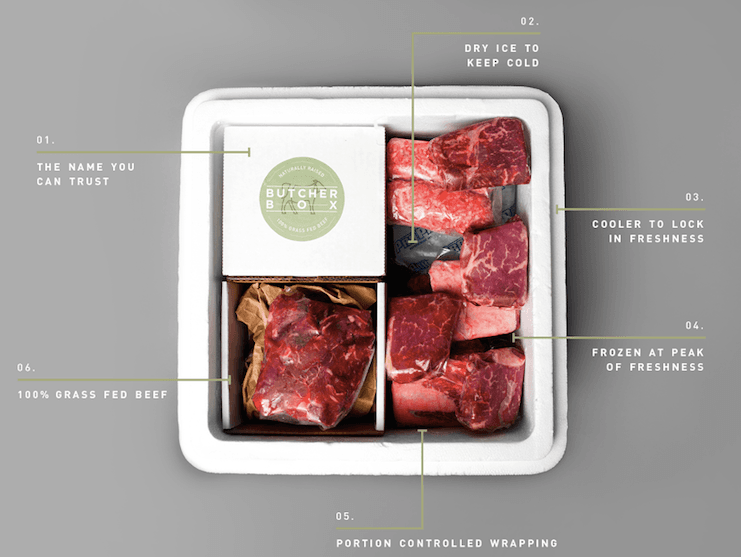 Starting at about $7 a meal ($129 a month), you get 7 to 10 pounds of meat delivered right to your door. Each box is frozen at the peak of freshness with a variety of cuts delivered in a handy cooler. It's not all beef either, you can choose among four different boxes: all beef; beef, chicken and pork; beef and chicken; or beef and pork.
You'll get a chance to try a rotating menu of premium cuts that come with more foodie-approved recipes. It's an easy way to add variety to your diet and gain control over what you eat.
Since we know our readers love their meat, we teamed up with the folks at ButcherBox to give you $10 off your first box and FREE Paleo-approved bacon. Shipping is free and all you have to do to get started is click the link below. Happy eating!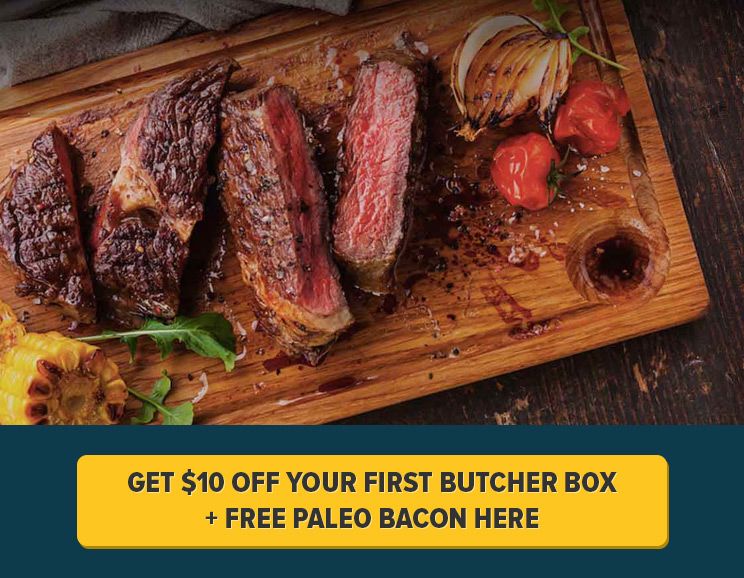 This post is sponsored by our friends at ButcherBox. Our goal is to always bring you healthy, Paleo-friendly articles that we know you'll love. We only feature trusted brands approved by the PaleoHacks team.