This super soft and chewy Skillet Gingerbread Cookie is bursting with seasonal holiday spices!
Made with coconut flour, this simple Gingerbread Skillet Cookie is warm, fluffy and spiced with molasses, cinnamon, ginger and more! Thick like a cake, this skillet cookie makes for a comforting dessert that's dairy-free, grain-free and nut-free. Perfect for sharing!
The recipe has no added sugar. If you want to add some extra sweetness, simply add one or two tablespoons of coconut sugar to the batter.
Love Coconut Flour Recipes? Then you'll love our FREE Coconut Flour Recipes.
Click here to get your FREE copy of our delicious Coconut Flour Recipes!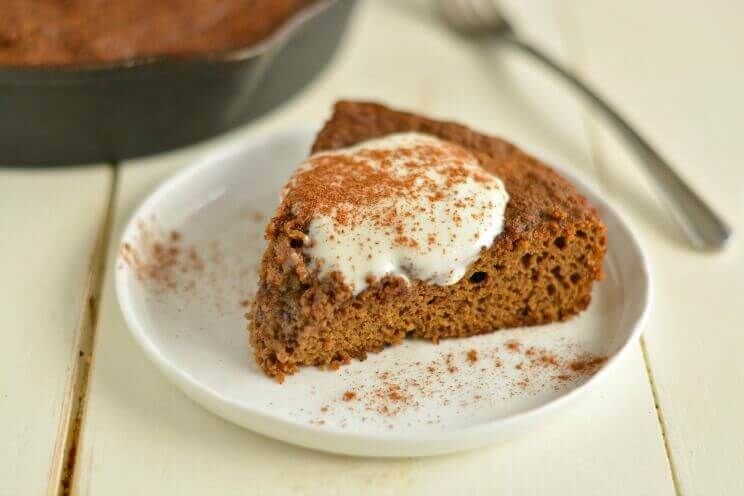 Everything comes together in under ten minutes by mixing the wet ingredients and dry ingredients separately and then folding them together. The batter is baked in a small, cast iron skillet, which bakes this yummy dessert into a soft and chewy cookie.
Since this gingerbread cookie is made in a skillet, I recommend serving it right in the skillet! Top with coconut cream, sprinkle extra cinnamon on top, and you've got yourself a holiday skillet cookie everyone will love!
Megan Olson
Giant Skillet Gingerbread Cookie Recipe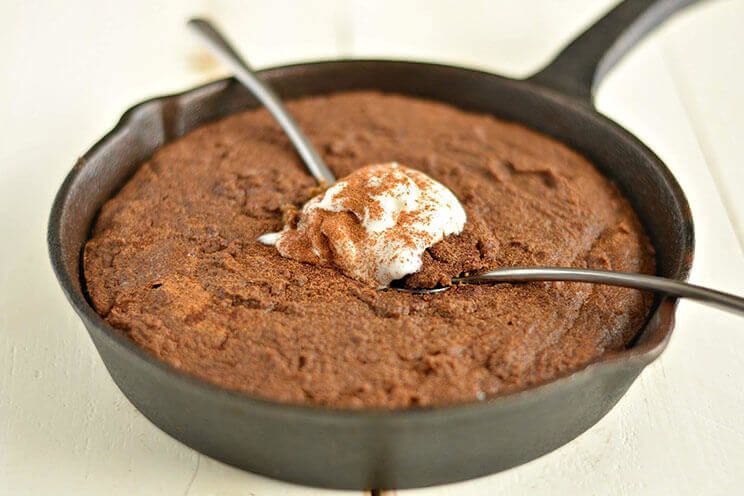 Cook Time:
22 mins
22 minutes
Prep Time:
10 mins
10 minutes
Giant Skillet Gingerbread Cookie Recipe
This super soft and chewy Skillet Gingerbread Cookie is bursting with seasonal holiday spices.
Ingredients
3 large eggs

¼ cup melted coconut oil

¼ cup blackstrap molasses

1 t vanilla extract

½ cup unsweetened coconut milk

½ cup coconut flour

1 T cinnamon

1 T ginger

¼ t nutmeg

½ t allspice

1 t baking powder

¼ t salt
Instructions
Preheat the oven to 350°F. Prepare a cast iron skillet by greasing it with melted coconut oil, and then set aside.

In a small bowl, sift the coconut flour, baking powder, salt, cinnamon, allspice, nutmeg and ginger until the ingredients are evenly dispersed.

In a large bowl, whisk together eggs with coconut milk, coconut oil, molasses and vanilla extract. Slowly fold the dry ingredients into the wet ingredients. Mix until ingredients are combined. Do not overmix, as this will make the batter stiff.

Transfer the batter to the prepared skillet. Using a spatula, spread the batter into an even layer.

Bake 22 minutes or until the edges are browned and the cake is set in the center. Insert a toothpick in the center; if it comes out clean, it's ready.

Remove from the oven and cool 30 minutes in the skillet before slicing into 6 large slices.

Serve warm. Top with coconut cream and sprinkle with cinnamon.

(You'll Also Love: Cookie Crust Chocolate Tarts)