Chinese 5-spice lends its deep flavors to tender steak and crispy broccolini in this deliciously aromatic recipe.
Paleo-friendly coconut aminos stands in for soy sauce and Worcestershire sauce. Gluten and soy-free, it imparts bold flavor and adds depth to the steak. Meanwhile, honey adds balance and a touch of sweetness to the marinade. Fresh minced garlic intensifies in flavor when it grills atop the steak.
Flank steak is the ideal cut of beef to soak up this marinade; it's affordable and easily feeds a crowd. Typically sold in large, flat pieces, it slices up perfectly tender once grilled.
Trying to figure out exactly what to eat on Paleo? Look no further than our FREE 21 Day Paleo Meal Plan.
Grab Our FREE Paleo Meal Plan By Clicking Here!
All that steak pairs with crispy broccolini, which beats out the flavor of plain old steamed broccoli any day of the week.
What Is Chinese Five-Spice Powder?
If you've never used Chinese five-spice powder, it's a blend of warm spices including cinnamon, clove, fennel, star anise, and Sichuan pepper. This ingredient is common in Chinese and Taiwanese cooking, and a balance five key flavors: sweet, salty, sour, bitter and umami.
You'll find it used in recipes for everything from pork belly to chicken wings. It doesn't take a lot of the spice blend to add heaps of flavor to a recipe. For this marinade, only a teaspoon is needed.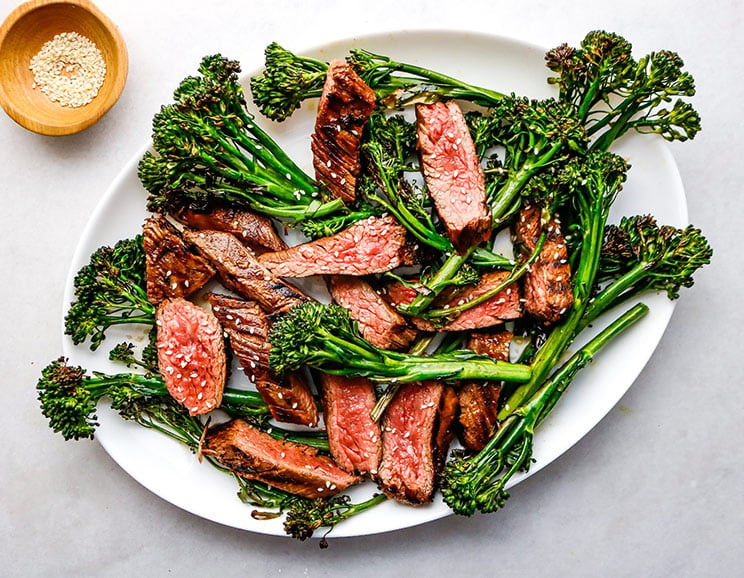 Helpful Tips to Get Started:
Cut your flank against the grain. This will ensure each bite is tender and juicy.
Substitute with other beef cuts. If you're out of flank, try using hanger steak or skirt steak instead.
Cook with what you have. If broccolini isn't available, regular broccoli will work just fine.
Indoors or outdoors? Either works. This recipe can be made on an outdoor grill or a cast iron grill pan for easy indoor cooking.
Jennafer Ashley
Chinese 5-Spice Steak with Crispy Broccolini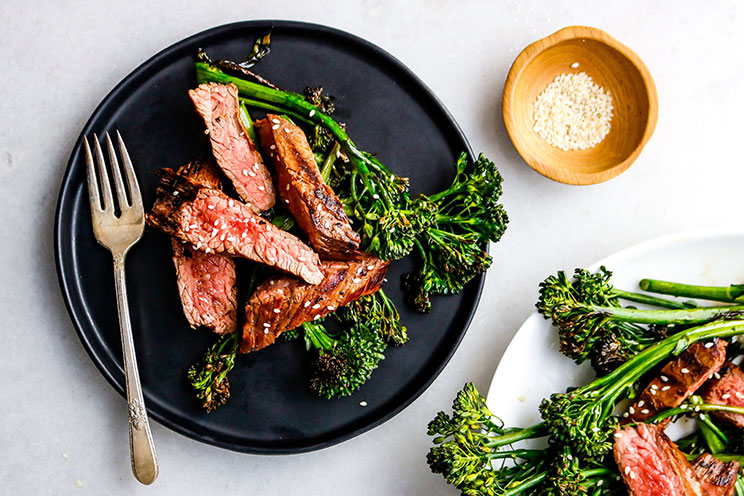 Inactive Time:
2 hrs 10 mins
2 hours 10 minutes
Cook Time:
27 mins
27 minutes
Prep Time:
10 mins
10 minutes
Nutrition facts:
26 grams of protein
15 grams of carbohydrates
20 grams of fat
Chinese 5-Spice Steak with Crispy Broccolini
Infuse steak with a five-spice marinade and pair it with crispy broccolini for a Chinese-inspired steak dinner.
Tools
Small mixing bowl

Medium shallow dish

Medium cast iron grill pan
Ingredients
For the Marinade:
⅓ cup coconut aminos

2 T avocado oil

2 T lime juice

1 T honey

1 t Chinese 5-spice powder

½ t minced garlic
For the Steak and Broccolini:
1 lb. flank steak

1 T avocado oil

4 cups broccolini

1 t sesame seeds (optional)
Instructions
Stir together all the marinade ingredients in a small bowl and set aside.

Place the steak in a medium, shallow dish and pour the marinade on top. Cover and marinate inside the fridge for 2 hours.

When ready, heat a medium cast iron grill pan over medium-high heat for 5 minutes. Lightly grease with avocado oil.

Remove the meat from the fridge, then drain and discard the marinade. Cook the steak for 5 minutes a side. Let the steak rest for 10 minutes.

Place half of the broccolini onto the hot pan and grill for 6 minutes, flipping halfway through. Repeat with the remaining broccolini.

Slice the steak and serve over broccolini. Garnish with sesame seeds and enjoy!
Looking for Paleo ingredients? Here are a few we'd recommend:
Avocado oil (Bella Vado)
Raw honey (Bee Farms)
Sesame seeds (McCormick)
PS: If you want more deliciously healthy, easy meals, get our FREE Paleo Eats Cookbook shipped to you now.