An easy step-by-step guide to cook your steak to the perfect temperature for uber-tender, restaurant-worthy steak!
Although the sous vide method of cooking might sound tricky, it is quite the opposite. Cooking a steak sous vide as opposed to grilling over a flame, keeps the steak at a constant temperature and never goes past it. The result is pillowy soft steak with a finer, more tender texture than grilled or pan-cooked steak.
What is Sous Vide? Sous vide is a cooking method where meat or other food is sealed in a pouch and placed in water where it is cooked at a regulated temperature for a period of time that can range from 1 hour to 72 hours!
Love slow cooker recipes?
Click here to get your FREE copy of our delicious Slow-Cooker Recipes!
Getting Started
While there are many sous vide gadgets on the market, we recommend the Joule sous vide for its super user-friendly interface. No need to be a tech wiz to use it, either. Just download the app, and it will guide you through cooking everything from veggies to steak. It's a fun cooking experience from the start! After a quick tutorial, you'll be able to select the thickness of your steak and your doneness preference. It's seriously that easy.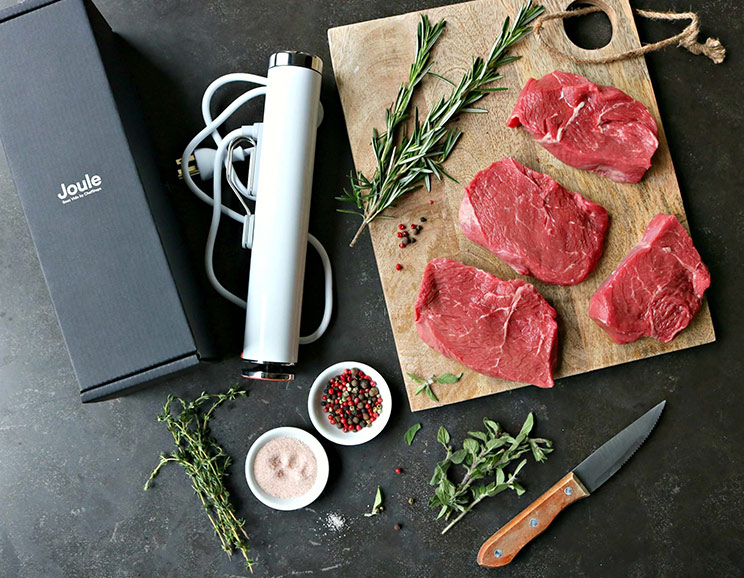 Let's Get Cooking!
Step 1:
Place your Joule in a stockpot filled with water and hit the top button to turn it on. While the Joule heats up, you'll prep the steak. I went with sirloin steak, but ribeye, flank or filet would also be amazing. Season steak liberally with sea salt, pepper and place in a large plastic bag (make sure it's BPA-free and reusable). Add a drizzle of extra virgin olive oil and a generous amount of your favorite herbs like rosemary, thyme, oregano and garlic. You can also try shallots, chives, basil or a bay leaf! Remove all the air from the bag and tightly seal.
Step 2:
Next, you'll choose one of seven different temperatures to please even the pickiest of steak lovers. The beauty of this method is that the food will never get hotter than the temperature that the water is set to. That means no more guesswork, and no overcooked steaks!
For reference, here are the four basic degrees of doneness and their temperatures:
Rare (125°F) – Mostly red, cool in the center
Medium Rare (129°F) – Red in the center
Medium (135°F) – Pink center
Well Done (154°F) – No pink
Step 3:
Once the water has reached the right temperature (your app will let you know when), add the bag to the water and let the Joule do the rest. Your steak will be ready in 1 hour.
Tip: If you're cooking it above 130°F, you can leave it in there for up to 4 hours if you want to get it super tender. Remember, the beauty of sous vide is that it won't overcook!
Step 4:
When the steak is done, remove the steak from the bag and pat dry with a paper towel. Then, add a crust by quickly searing each side on a very hot skillet (about 1 minute per side). This technique adds drool-worthy texture and robust flavor outside without changing the temperature inside the steak. The finished product is a pillowy soft, succulent steak infused with your favorite herbs and spices. What could be better?
Jennafer Ashley
How to Sous Vide Steak Perfectly Every Time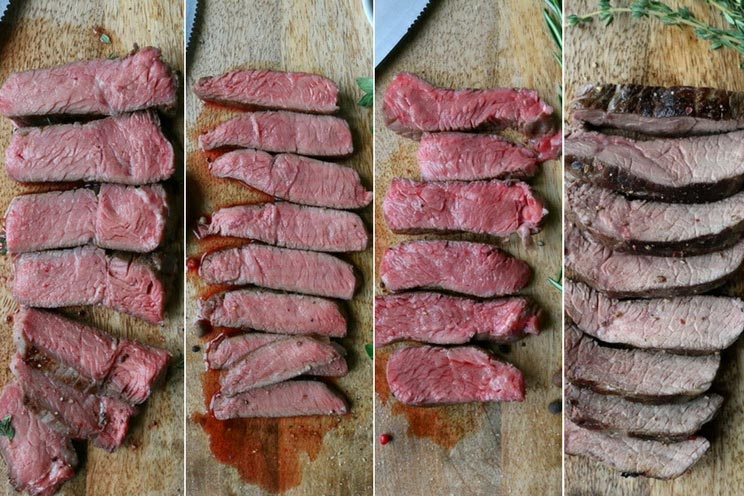 Prep Time:
5 mins
5 minutes
How to Sous Vide Steak Perfectly Every Time
What better way to learn than on grass-fed steak cooked to the perfect temperature for uber-tender, restaurant-worthy steak.
Tools
Joule Sous Vide

Stockpot

Quart-sized sealable plastic bag (BPA-free, reuseable)

Paper towel

Skillet
Ingredients
4-6 oz. Steak of choice (I used sirloin)

½ t Sea salt

¼ t Cracked pepper

1 t Herbs of choice (rosemary, thyme, oregano, garlic)

2 T Extra virgin olive oil
Instructions
Fill a stockpot with water 2/3 high. Insert Joule into the water and set the app to your desired heat preference.

While the water reaches temperature, season the steak with salt and pepper. Add the steak to a large plastic bag and drizzle with olive oil. Press to remove air and seal the bag.

Once the temperature is reached, place the bag into the water, submerging the steak completely for 1 hour.

Once the steak is finished cooking, remove it from the bag and pat it with a paper towel to dry. Moisture on the steak will cause the steak to steam, dry steak ensures ample browning.

Heat a pan over medium high heat until hot. Add the ghee or extra virgin olive oil. Place the steak on the hot pan and cook for 1minute on each side to form a crust.

Let the steak rest for 5 minutes to allow the juices to redistribute. Slice and serve!
Tips:
Yes, you can cook two steaks at the same time! The exact limit is 2 steaks per quart-sized bag to ensure you aren't overcrowding them.
Stick with one bag per batch. The water needs room to circulate around the steaks for even cooking.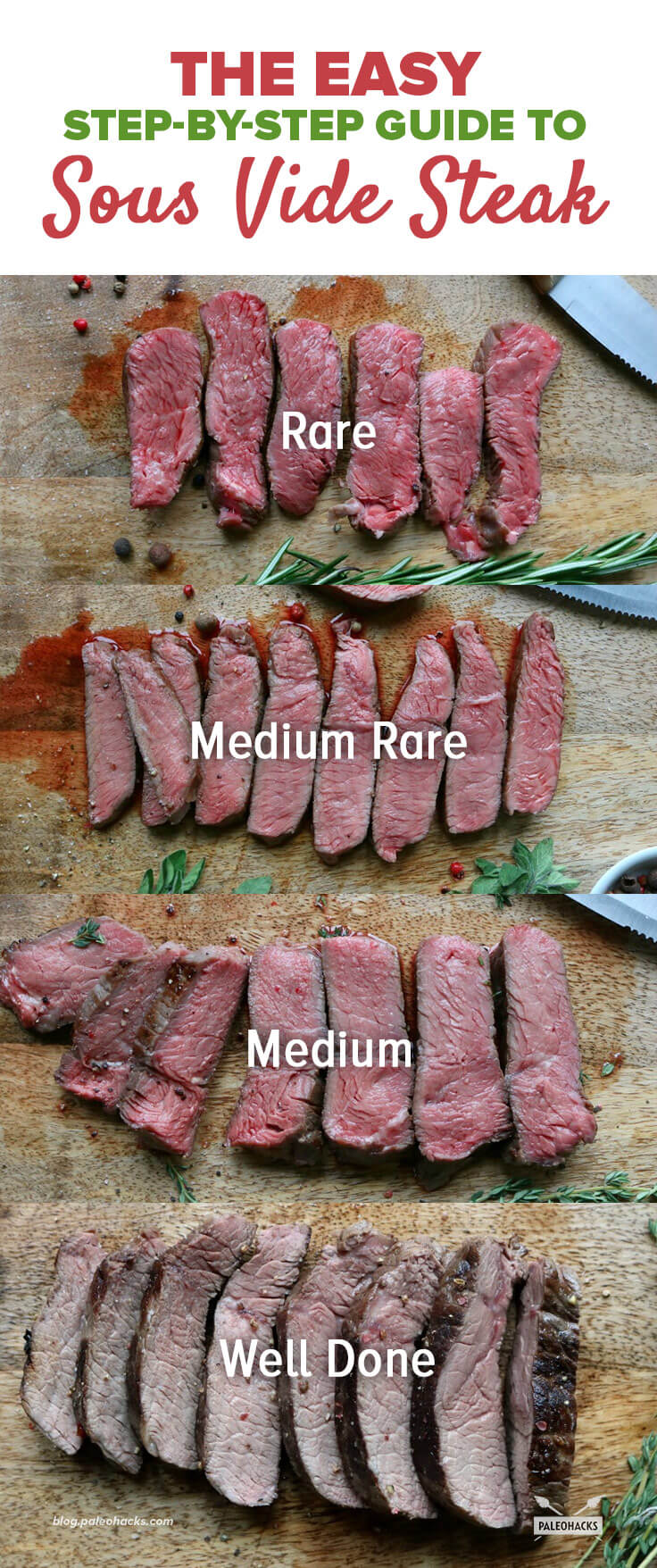 (You'll Also Love: 8 Freezable Steak Marinades)