Those little bean-shaped organs may be small, but they play a crucial role in your overall health. Here's how you can help them do their job with these foods for kidney health.
The kidneys play a big balancing act in your body. Aside from removing waste and excess water from the body, the kidneys even help manage blood pressure. (1) Unfortunately, the kidneys can quickly become overburdened by environmental toxins and eating an inflammatory diet.
The good news is that there are plenty of healthy foods you can eat to show your kidneys some much-needed love, giving them the boost they need to function at their best.
Add power-packed superfood veggies to every meal with these easy cauliflower recipes.
Click here to get your FREE copy of our Cauliflower Recipe Guide!
Why Your Kidneys Are So Important
Your kidneys are responsible for removing toxins from your body while also maintaining salt and mineral balance. On top of those major roles, kidneys also work hard to balance red blood cells, and also play a role in metabolizing vitamin D.
When the kidneys aren't working properly, it can lead to all sorts of complications. Those with kidney problems, for example, might not be able to balance potassium levels in the blood, which can lead to an increased risk of heart attack.
If your kidneys aren't working properly, the inevitable imbalances in your body can cause serious problems. You may be at risk for experiencing any of these health issues: (2)
High blood pressure
Anemia
Bone health issues
Kidney failure
---
Foods to Avoid
Since one of the primary roles of the kidneys is to filter out toxins, overloading our bodies with alcohol and processed is extremely taxing. Eating foods high in salt is also dangerous, as too much sodium can cause fluid retention and other kidney health issues. (3)
If you're already dealing with kidney issues, you'll also want to avoid foods high in potassium or phosphorus, as the kidneys may not be balancing these minerals properly. Even eating too much protein can put a strain on already overworked kidneys! (4)
The great news is that there are many kidney-supporting foods that can help give your body a break. Swap out those unhealthy packaged and processed foods whenever possible for any of these superfoods.
---
15 Foods That Support Kidney Health
1. Cucumbers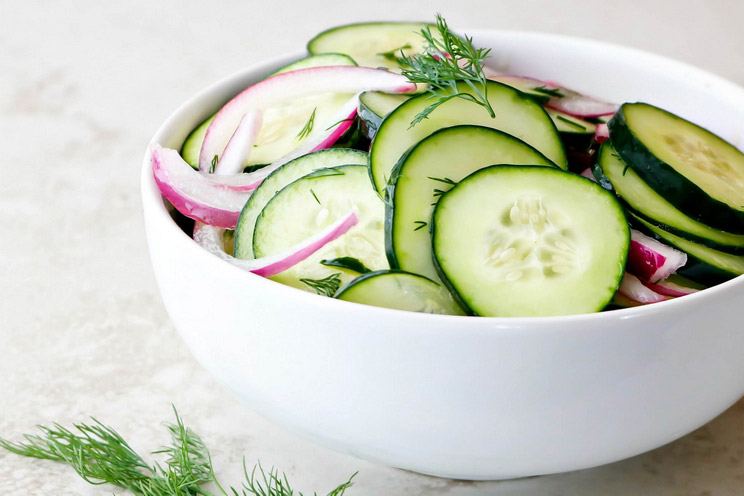 Cucumbers are ultra-hydrating, which is an excellent choice for kidney health. That's because their high water content can help cleanse your kidneys. Cucumbers are also low in potassium, making them a kidney-friendly vegetable for those with kidney health issues. Cucumbers are low in potassium, so you can add these to your diet and enjoy them regularly.
How to add cucumbers to your diet: Dip cucumbers into bean-free hummus, or enjoy them as a fresh, light salad.
2. Cherries
This sweetly tart fruit is another excellent addition to your diet, as one study found that cherries can reduce gout risk by 35%. (5) Gout is a type of arthritis that can happen when your kidneys aren't functioning properly, so you'll definitely want to eat more of this healing stone fruit.
How to add cherries to your diet: Try making a smoothie with pitted cherries, coconut milk, and chia or flax seeds.
3. Cauliflower
Cruciferous veggies like cauliflower can help support your body's ability to detoxify. Cauliflower in particular is rich in vitamin C, folate, and fiber, all of which can help ward off toxins and lessen the stress you put on your kidneys. (6)
How to add cauliflower to your diet: Roast cauliflower with honey and garlic, or pulse up some cauliflower rice as a healthy side dish.
4. Red Bell Peppers
Red bell peppers in particular are low in potassium and high in water content, helping to support hydration. These peppers are also rich in lycopene, a carotenoid that reduces high blood pressure, which is often associated with kidney disease. Lycopene also holds anti-inflammatory and antioxidant properties to help support overall health. (7)
How to add bell peppers to your diet: Enjoy sliced bell peppers with any of these easy dip recipes, or add roasted bell peppers to a taco bowl or stir-fry.
5. Garlic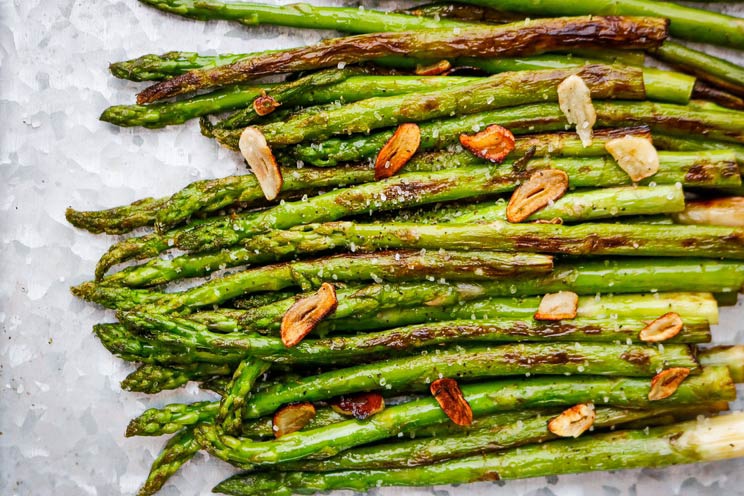 Garlic can aid the body in detoxification, and is also anti-inflammatory. According to an animal study, the active compound allicin, which gives garlic its unique smell, can support kidney health by reducing hypertension and oxidative stress, supporting overall renal function. (8)
How to add garlic to your diet: Garlic can spice up just about any recipe that needs a little added flavor. Try it with bell peppers or cauliflower for a double boost of kidney protection.
6. Onions
Onions contain powerful flavonoids and antioxidants that support kidney health. Flavonoids are an important part of supporting kidney health as they hold antihypertensive properties, meaning they can help lower blood pressure. (9) Not only do onions provide these important flavonoids to help support kidney health, but they also add tons of flavor to your recipes, and therefore may help to reduce your added salt intake.
How to add onions to your diet: Add raw chopped onions in salads and stir-fries, or use onion powder to season your meat and poultry in place of salt.
7. Cranberries
Most people know that cranberry juice is great for its ability to fight a UTI. This is because cranberries can help support the health of the kidneys by preventing bacteria from getting stuck in the urinary tract. (10)
How to add cranberries to your diet: Add dried cranberries to salads, enjoy an off-season homemade cranberry sauce, or add frozen cranberries to a smoothie.
8. Blueberries
Blueberries are excellent for overall health, as they are super high in antioxidants to help reduce inflammation in the body. They're also great for kidney health specifically. A study conducted on both lean and obese rats found that blueberries can help boost renal function while also supporting glucose metabolism. (11)
How to add blueberries to your diet: Enjoy a cup of blueberries over coconut yogurt with a side of almonds, or blended into a smoothie.
9. Strawberries
Strawberries are yet another anti-inflammatory berry that can support the kidneys by reducing inflammation in the body. They are also rich in fiber, which reduces the risk of developing type 2 diabetes.
How to add strawberries to your diet: Slice strawberries as a side to your favorite healthy breakfast, or enjoy as a healthy snack paired with a handful of nuts and seeds.
10. Raspberries
Raspberries are another delicious, fiber-rich berry to add to your diet. They are low in potassium, rich in antioxidants, and help reduce inflammation, which can help prevent diabetes. (12) Over time, uncontrolled diabetes leads to kidney damage, making it one of the most common causes of kidney failure. (13)
How to add raspberries to your diet: Add a handful of fresh or frozen raspberries to a smoothie, or enjoy mixed with blueberries and strawberries over coconut yogurt for an extra boost to your kidneys.
11. Olive Oil
Olive oil contains powerful anti-inflammatory health benefits, making it a great alternative to refined vegetable oils that lead to weight gain and diabetes, according to a study conducted on animals. (14) Since inflammation, obesity, and diabetes put a strain on the kidneys, using an anti-inflammatory oil can make a big difference in the health of your kidneys.
How to add olive oil to your diet: Use olive oil as the base for salad dressings, drizzle some over vegetables, or use as a marinade base for meats and poultry.
12. Salmon
Wild-caught salmon is rich in omega-3 fatty acids, which can help combat inflammation in the body. These fatty acids have been found to help lower blood pressure, a key part of supporting the kidneys. (15, 16, 17)
How to add salmon to your diet: Aim to have wild-caught salmon twice a week with chopped garlic and cauliflower rice drizzled with olive oil for a kidney-boosting meal!
13. Apples
Apples are rich in dietary fiber, antioxidants, and vitamin C, and are also fairly low in potassium. This makes them a great healthy snack for those who need to be mindful of how their potassium levels. (18)
How to add apples to your diet: Snack on sliced apple "nachos" with almond butter, or drizzle a baked apple with raw honey and a sprinkle of cinnamon for a sweet treat.
14. Red Grapes
Red grapes contain resveratrol, a flavonoid that acts similarly to antioxidants to help protect the body from damage. It may also be able to help protect against diabetes by preventing insulin resistance, a common cause of diabetes. (19)
How to add red grapes to your diet: Add sliced red grapes to homemade chicken salad, or freeze them for an ice-cold sweet snack!
15. Mushrooms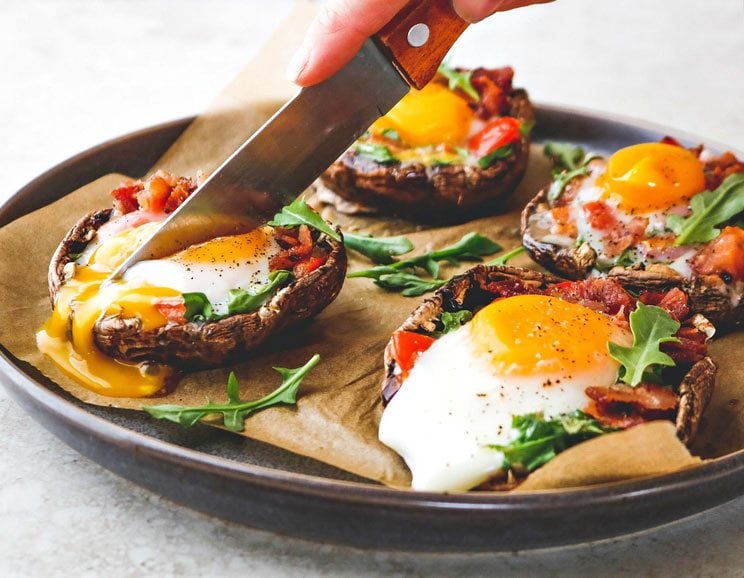 Mushrooms are one of the few vegetarian foods that contain ergosterol, a precursor to vitamin D. (20) Vitamin D plays an important role in kidney health, as low vitamin D levels are linked to early signs of kidney disease. (21)
How to add mushrooms to your diet: While all mushrooms contain some ergosterol, the richest sources are cremini, portobello, maitake, and white mushrooms. (22) Add mushrooms to your omelets, egg muffins, or stir-fries.
---
The Bottom Line
Our kidneys work hard to remove toxins and chemicals from our bodies. Show your kidneys some love by removing the foods that cause strain, and swap in these nourishing foods instead to help your body naturally detox.