These baby back ribs are marinated in a fresh chimichurri sauce and slow roasted for fall-off-the-bone tender meat.
Oven slow-cooked ribs are the perfect way to enjoy a summertime favorite all year long. Mix things up with a mouthwatering marinade to coat your fall-off-the-bone ribs!
Chimichurri is a Argentinian sauce used for meat. It's recognizable by its vibrant green color and made with plenty of fresh herbs and garlic.
Love slow cooker recipes?
Click here to get your FREE copy of our delicious Slow-Cooker Recipes!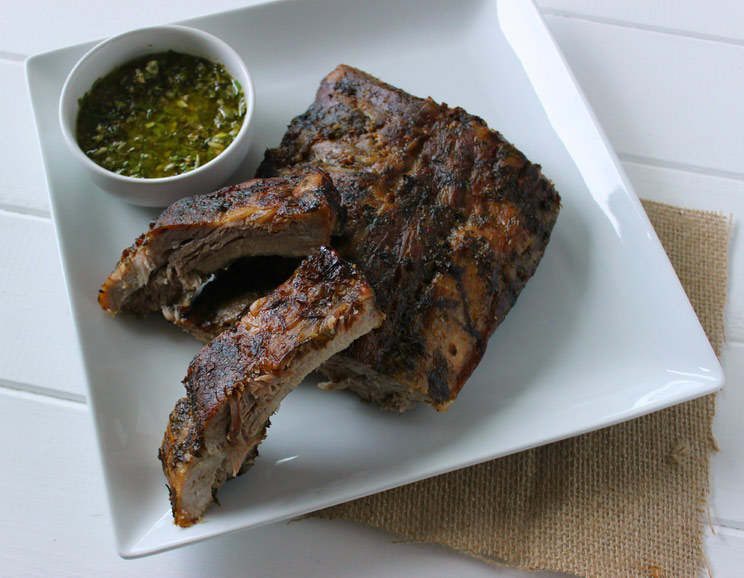 The sauce is simple and only takes two minutes to make. Just place the ingredients into a food processor (or finely chop with a sharp knife), and brush half of the marinade over your ribs. Reserve the remaining to serve with your meat for even more flavor.
The hardest part is actually waiting for your meat to cook! But trust us, these ribs are worth the wait! The robust marinade is an herb lover's dream. You can try using this Chimichurri sauce recipe on any type of meat or seafood – like steak, chicken, shrimp. The possibilities are endless!
Deanna Dorman
Chimichurri Baby Back Ribs Recipe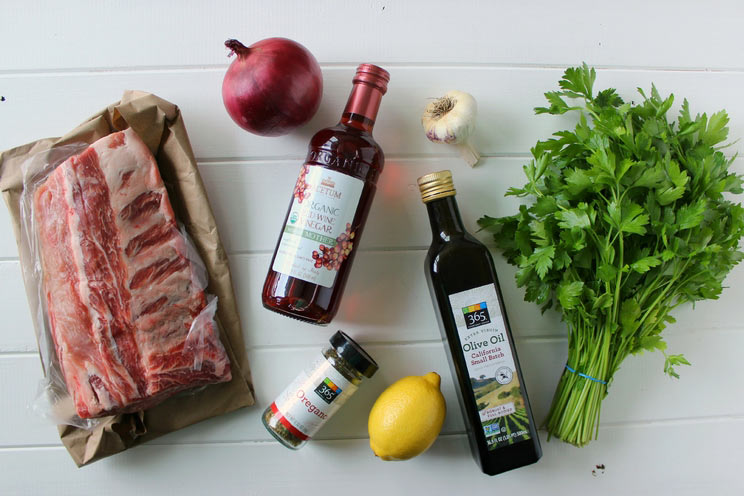 Prep Time:
10 mins
10 minutes
Chimichurri Baby Back Ribs Recipe
Smother your ribs in a chimichurri sauce made with fresh herbs and red wide vinegar.
Tools
Food Processor

Baking Sheet
Ingredients
1 cup fresh parsley

6 cloves garlic, minced

3/4 cup extra virgin olive oil

1 t dried oregano

juice of 1/4 lemon

1 T diced red onion

1/4 cup red wine vinegar

1 t ground black pepper

1/2 t salt

1-2 racks baby back ribs
Instructions
In a blender or food processor, pulse together the parsley, garlic, olive oil, vinegar, lemon juice, red onion, oregano, pepper, and salt. Pulse to blend everything together into a chunky marinade.

Brush HALF of the marinade over the top and bottom side of the ribs, and allow them to marinate for about 20 minutes at room temperature. Reserve the remaining chimichurri off to the side for serving.

Preheat to oven to 250ºF. Place a piece of foil on a baking sheet and lay the ribs top-side-down. Cover with another piece of foil and seal the ends of the foil together to create a sealed pouch. Bake the ribs at 250ºF for 2 hours.

Remove the ribs from the oven, and increase the temperature to 300ºF. Carefully remove the top piece of foil (watch out for any steam escaping), and flip the rips top-side-up. Place the ribs back in the oven and bake for another hour, or until internal temperature reaches 145ºF.

Serve with the remaining chimichurri sauce.
(You'll Also Love: Easy, Melt in Your Mouth Oven-Baked Ribs)