Take Brussels sprouts to a whole new level with this Asian-inspired Sweet Chili Vinaigrette. It's the perfect main salad or side dish to jazz up your plain old Brussels!
If you have been following us for some time, you know we love creating (and recreating) inspiring dishes for a Paleo lifestyle. This sweet and spicy dish uses a little Asian flare to create a side dish—or even a main course—that your taste buds are sure to love.

A few months ago, I brought you a Sweet Thai Chili Glazed Salmon that is seriously to-die-for…if you haven't tried it yet, you're missing out on some serious flavor!
Love slow cooker recipes?
Click here to get your FREE copy of our delicious Slow-Cooker Recipes!
Since that creation, I've been obsessed with the Paleo Sweet Chili Sauce and have found ways to use it on just about everything. Naturally, that included Brussels sprouts.

Making homemade Paleo Sweet Chili Sauce is very simple and only takes four minutes. You can always make things a little bit easier and use the grating attachment on your food processor to shred up your veggies. The texture is a little finer, but the taste is still amazing.
Once all of your ingredients are prepped and your chili sauce is made, all you have to do is whisk up a quick vinaigrette. For a hearty boost, add some grilled chicken or salmon on top for a protein-rich, Paleo meal.
Deanna Dorman
Sweet Chili Brussel Sprouts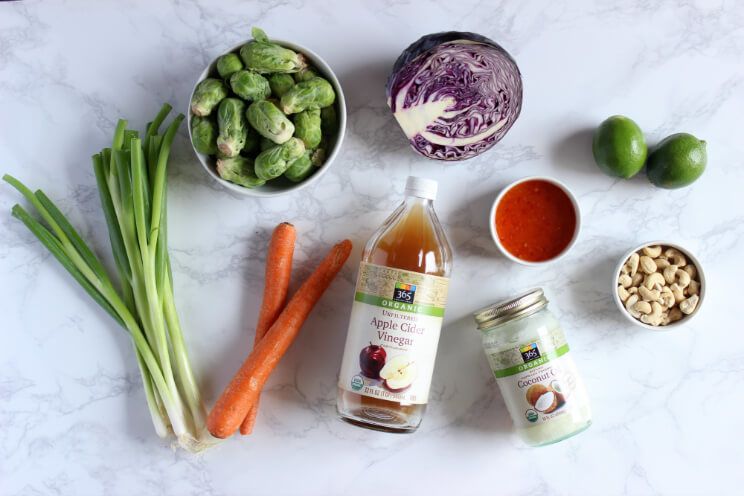 Cook Time:
4 mins
4 minutes
Prep Time:
10 mins
10 minutes
Sweet Chili Brussel Sprouts
This sweet and spicy dish uses a little Asian flare for a side dish your taste buds will love.
Ingredients
1 pound Brussels sprouts, shredded

¼ cup red cabbage, shredded

2 carrots, grated

2 green onions, chopped

½ cup cashews

For the Sweet Chili Sauce:

1/2 cup apple cider vinegar

1/4 cup raw honey

4 cloves garlic, minced

4-6 Thai chili peppers or 1 Serrano pepper, minced

2 t fresh grated ginger root

2 t arrowroot powder

For the Vinaigrette:

¼ cup coconut oil, melted

¼ cup Sweet Chili Sauce

1 T apple cider vinegar

Juice from ½ lime
Instructions
Shred, grate, and chop your veggies and combine them in a large bowl.

To prepare your Sweet Chili Sauce, combine all the Sweet Chili Sauce ingredients together in a small sauce pan, making sure to dissolve the arrowroot powder completely. Bring the sauce to a boil over medium-high heat and allow the sauce to boil for about 1 minute to thicken. Remove from heat and allow to cool slightly before preparing your vinaigrette.

Prepare your vinaigrette by whisking all the ingredients together, then drizzle over your Brussels sprouts and toss to combine.


(You'll Also Love: Rainbow Veggie Pesto Salad)