These Zesty Paleo Coconut Lime Muffins are a healthier-for-you, low-carb treat. Lightly sweetened, thick, and creamy, these muffins are perfect for breakfast – or as a snack!
One of my biggest baking challenges is striking the balance between healthy and delicious. Some healthy ingredients can taste rather bland, if not paired with the right flavors.
But I'm going to let you in on a little secret: Thanks to the magic of fresh citrus, you can enhance those otherwise bland flavors. Think lemon, lime, or orange. Those perky flavors add just the right amount of sweetness to anything.
Love Almond Flour Recipes? Then you'll love our FREE Almond Flour Recipes.
Click here to get your FREE copy of our delicious Almond Flour Recipes!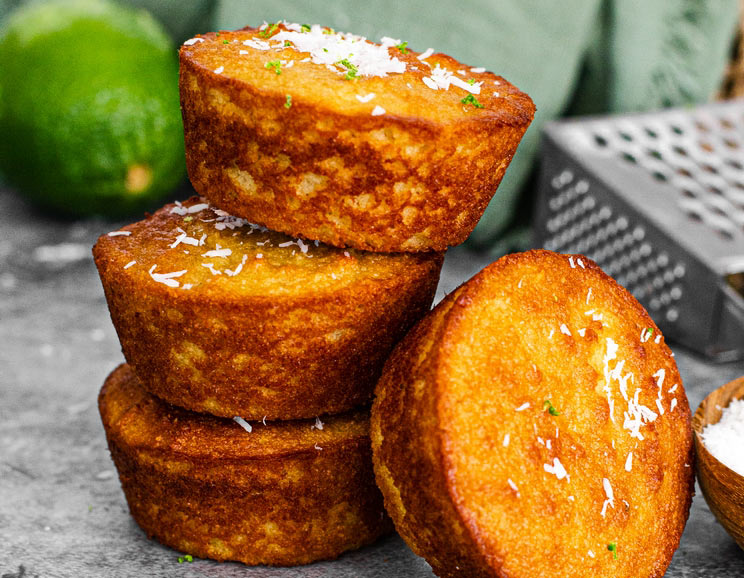 For these Paleo Coconut Lime Muffins, lime was my citrus of choice, but truthfully, any citrus would work beautifully in this recipe. Due to the combination of eggs, coconut milk, and applesauce, these muffins are thick and creamy. They're lightly sweetened with honey and shredded coconut – just the way I like them. And the citrus from the lime enhances that sweetness and really makes them pop!
When you do your prep, don't be surprised if you see a small chemical reaction taking place in your bowl – as you mix the lime juice with the other wet ingredients. That's what you want to see; then you'll get that fresh, bubbly, sweet citrus-y taste!
These Paleo Coconut Lime Muffins are super-simple to make. They take just five minutes to prepare. From there, all you do is transfer them to your muffin tin and patiently wait as they bake. You'll be tempted to eat all of them when they come out of the oven (and I don't blame you), but I recommend letting them completely cool before devouring.
I've found they're best after being refrigerated for a few hours. It allows that sweet citrus to really marry with the other ingredients. Then you'll get bright flavors with every bite!
Megan Olson
Zesty Coconut Lime Muffins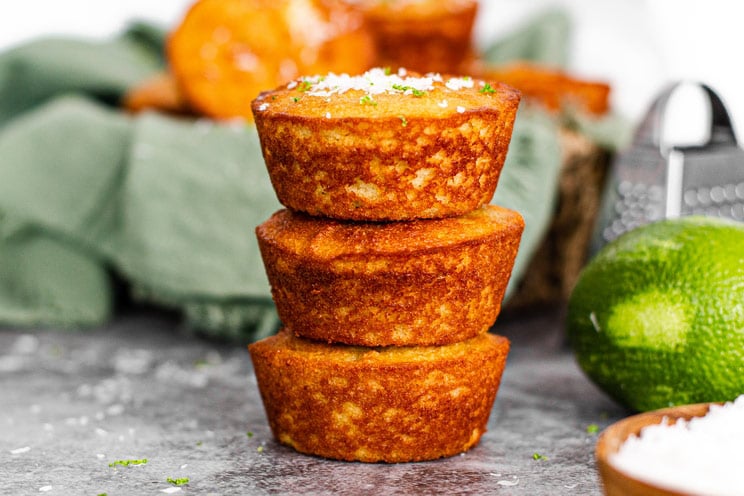 Cook Time:
20 mins
20 minutes
Prep Time:
5 mins
5 minutes
Nutrition facts:
8 grams of protein
16 grams of carbohydrates
24 grams of fat
294 calories
Zesty Coconut Lime Muffins
Lightly sweetened, thick, and creamy, these muffins are perfect for breakfast - or as a snack.
Ingredients
2 1/4 cups almond flour

2 eggs

1/2 cup unsweetened coconut milk

3 T honey

1/2 t vanilla extract

2 T applesauce

5 T lime juice

The zest of 1 lime

1/2 cup unsweetened shredded coconut (and 2 T for sprinkling)

1 t baking soda
Instructions
Preheat oven to 350ºF. Prepare a muffin tin with liners or nonstick cooking spray.

Place eggs, applesauce, coconut milk, honey, vanilla extract, lime juice, and lime zest into a large bowl or standing mixer. Then mix until thick and frothy.

Add the almond flour, shredded coconut, and baking soda to the batter. Then mix to combine. Do not overmix.

Transfer to the prepared muffin tin. Sprinkle more shredded coconut on top of each muffin.

Bake at 350ºF for 15-20 minutes (or until cooked and slightly brown around the edges). Allow to cool in the muffin tin for 5 minutes, then gently remove and transfer to wire rack to cool further.

In an airtight container, store in the refrigerator up to one week.
Looking for Paleo ingredients? Here are a few we'd recommend:
Almond flour (Anthony's)
Coconut milk (Native Forest)
Raw honey (Bee Farms)
Vanilla extract (Frontier)
Baking soda (Bob's Red Mill)
You'll Also Love: Orange Cardamom Keto Muffins with Coconut Butter Glaze