Roasted sweet potato gnocchi and caramelized Brussels sprouts come together in an elegant dish that's surprisingly easy to make!
This grain-free dish is perfect for any special occasion. The balsamic vinegar and honey infuse the Brussels sprouts with a tangy and sweet twist, while the sweet potato gnocchi are a gorgeous alternative to traditional pasta.
To start, bake the sweet potatoes until they're tender enough to be mashed, then add the egg and the flour mix. Combine until it forms a doughy ball, then divide into manageable equal parts. If you are not using all of the dough, you can keep it refrigerated in an airtight container for up to three days or in the freezer for up to two months.
Add power-packed superfood veggies to every meal with these easy cauliflower recipes.
Click here to get your FREE copy of our Cauliflower Recipe Guide!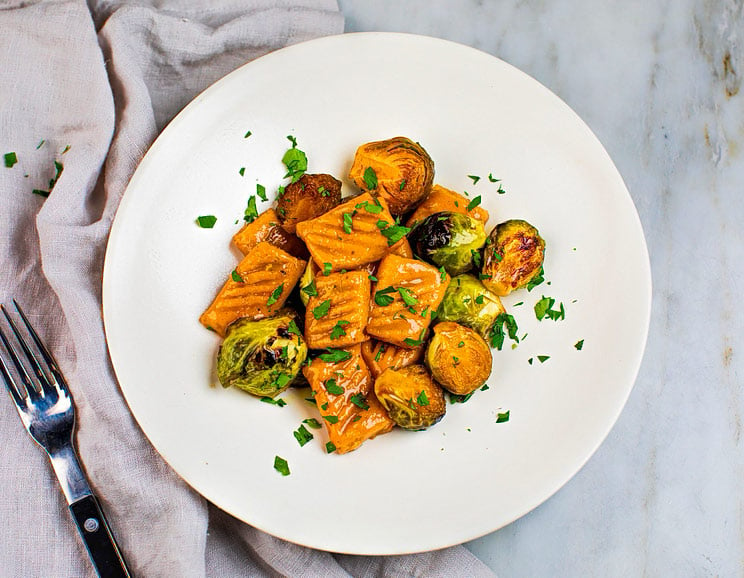 You don't need any special equipment to make the perfect gnocchi pillows. The real trick is to add the perfect amount of flour. The more flour you use in the gnocchi dough, the more dense it will be. So, make sure to just lightly flour the working area to avoid mixing an extra amount of flour into the dough.
Use a fork to the give the gnocchi a nice finish, or you can use a gnocchi board for a more defined effect. Let the gnocchi pillows rest in the fridge to keep shape, then bring a pot of water to a simmer and add the gnocchi. When they start to float, it means they're almost ready, so don't leave them too long in the water. If you are not serving them right away after cooking, dip them in an ice bath bowl to stop them from cooking further.
For the Brussels sprouts, prepare them by removing the outer dry layer and cutting the excess stem. Next, coat them with the glaze and make sure that the sprouts are dry, as this helps the glaze to stick better. Bake until caramelized, remove them from the oven, and enjoy with the sweet potato gnocchi.
Dina Hassan
Sweet Potato Gnocchi with Caramelized Brussels Sprouts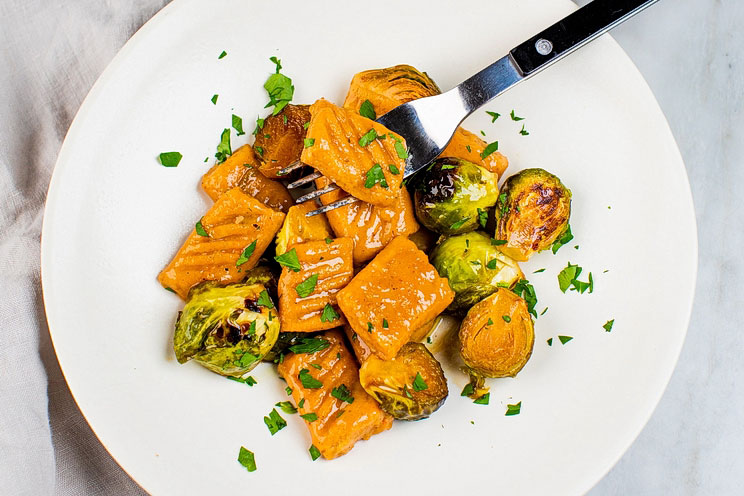 Cook Time:
1 hr 30 mins
1 hour 30 minutes
Prep Time:
25 mins
25 minutes
Nutrition facts:
20 grams of protein
111 grams of carbohydrates
38 grams of fat
848 calories
Sweet Potato Gnocchi with Caramelized Brussels Sprouts
Roasted sweet potato gnocchi and caramelized Brussels sprouts come together in an elegant dish that's surprisingly easy to make.
Tools
Baking tray

Parchment paper

Medium mixing bowl

Large mixing bowl

Large pot
Ingredients
For the Sweet Potato Gnocchi:
2 lbs sweet potatoes

2 cups almond flour

1½ cup tapioca flour, plus extra for dusting

⅛ cup coconut flour

½ t salt

1 t baking soda

¼ t ground allspice

1 egg
For the Balsamic Brussels Sprouts:
1 lb Brussels sprouts

1½ T extra virgin olive oil

½ t salt

2 T balsamic vinegar

2 t raw honey
Instructions
Preheat the oven to 350°F. Line a baking tray with parchment paper (this will be for the Brussels sprouts).

Wash sweet potatoes and prick skin with a fork several times. Wrap in foil and bake in the oven for about 60 minutes.

In a medium bowl, combine the almond flour, tapioca flour, coconut flour, salt, baking soda and ground allspice. Set aside. Lightly dust a clean work surface with some extra tapioca flour.

Remove the sweet potatoes from the oven, let cool slightly and while warm, peel the skin off and mash using a potato masher. Let cool to room temperature, then add the flour mix and the egg to the potato; knead the dough into a smooth ball.

Divide the dough into two equal parts, then split each ball into 8-10 smaller portions. Roll out each portion into a ¾-inch thick rope. Slice rope into 1-inch segments and score each dumpling with the tip of a fork. Repeat with the remaining dough. Place the gnocchi on a plate, cover and set in the fridge to chill, about 15-20 minutes.

Meanwhile, prepare the Brussels sprouts by trimming the outer dry layer, then cut the bottom off and slice lengthwise. In a large bowl, toss Brussels sprouts with olive oil, salt, balsamic vinegar and honey. Transfer to prepared baking tray and bake for about 25 minutes, until tender and caramelized. Remove from the oven and set aside.

To cook the gnocchi, bring a large pot of water to a gentle boil over medium-high heat. Cook the gnocchi in batches; they are done when they float to the surface, about 90 seconds. Remove from water and toss with the balsamic glazed Brussels sprouts. Serve warm.
Looking for Paleo ingredients? Here are a few we'd recommend:
Almond flour (Anthony's)
Tapioca flour (Authentic Foods)
Coconut flour (Anthony's)
Baking soda (Bob's Red Mill)
Olive oil (Sky Organics)
Raw honey (Bee Farms)
You'll Also Love: Keto Brussels Sprouts Sliders