Every have trouble getting frozen chicken to thaw without getting rubbery or tasting freezer burned? If it's perfectly grilled chicken breasts you crave, we got you covered.
A stockpile of individually frozen chicken breasts is an ideal base for any busy Paleo follower. But if you can't that it into something delicious, then it's nothing but a waste of time and space.
If you're ready for a good method to get those frozen birds tasting like fresh and juicy when grilled then give this a go. You'll get perfectly grilled chicken breasts, straight from frozen, every time.
Trying to figure out exactly what to eat on Paleo?
Look no further than our FREE 21 Day Paleo Meal Plan
Even better? Do this once a week with several chicken breasts and have your protein conveniently pre-cooked for the next several days!
Rebecca Maclary
Perfectly Grilled Chicken Breasts from Frozen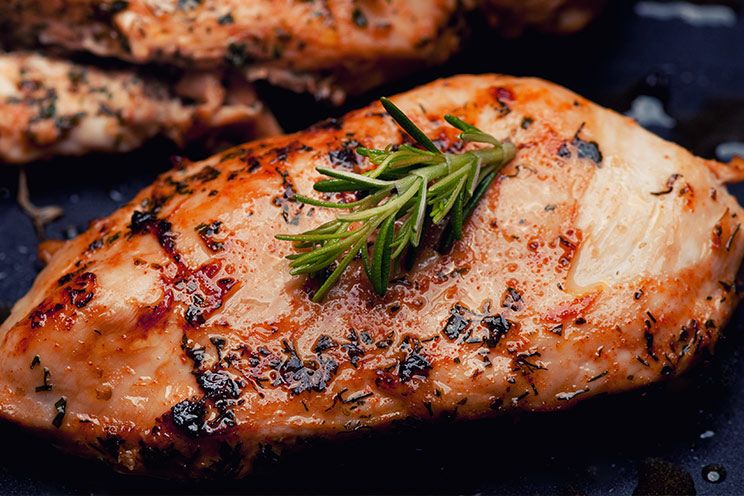 Cook Time:
25 mins
25 minutes
Prep Time:
7 mins
7 minutes
Perfectly Grilled Chicken Breasts from Frozen
If you think it's impossible to turn frozen chicken breasts into succulent grilled meat, think again.
Ingredients
1 boneless, skinless frozen chicken breast

2 T fat of your choice
Instructions
Heat a grill pan with a lid to medium high.

Melt the fat in the pan. When the fat is good and hot, place your chicken breasts into the pan and cover. Wait 4 minutes.

After 4 minutes, flip your chicken. (If it won't release, wait one more minute.)

Cover the flipped chicken, and wait another 4 minutes.

After four minutes, flip your chicken back, cover and wait 10 minutes.

After 10 minutes flip your chicken again, cover and remove from heat.

Let your chicken breast sit, covered, for 10 minutes.
(You'll Also Love: The 23 Best Chicken Recipes of All Time)