The tastiest, antioxidant-rich tortilla you've never heard of! It makes a great breakfast, lunch, or dinner, and you'll feel like you've escaped to Spain.
Traditionally, Tortilla Españolas (i.e., Spanish tortillas) are usually made with white potatoes, but I've swapped them for colorful, purple ones. They're packed with antioxidants and are a lot less carb-dense than regular potatoes. It's not that carbs are bad per se, but it's easy to overdo them. So having recipes that help us naturally reduce them is always a plus.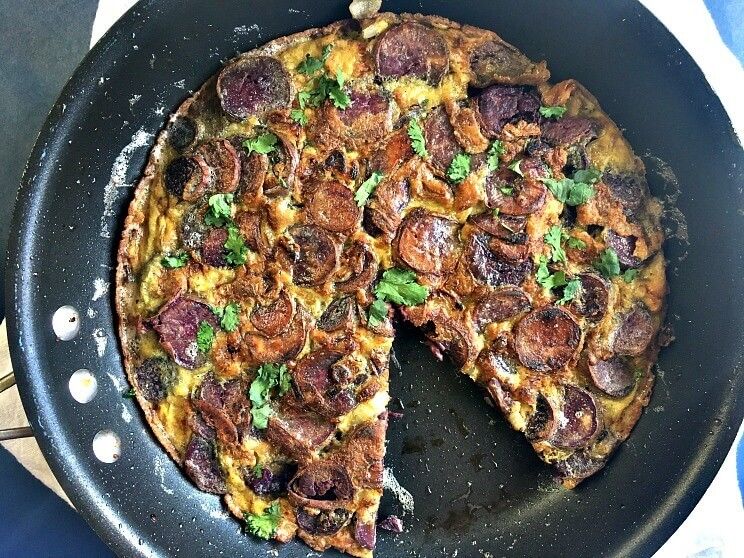 This dish can be eaten at any time of the day—as a tapa, for dinner, or for breakfast. (I personally love it for breakfast.) It's often served with a little jamón on the top or side. You can also make it the day before, and bring it to work for an easy, healthy lunch!
Love slow cooker recipes?
Click here to get your FREE copy of our delicious Slow-Cooker Recipes!
Delfina Bonilla Lopez
Tortilla Española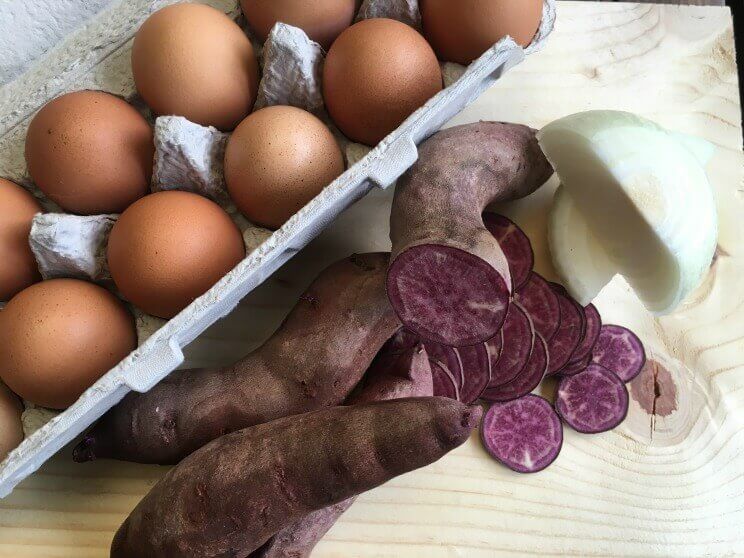 Cook Time:
40 mins
40 minutes
Prep Time:
8 mins
8 minutes
Tortilla Española
Tortillas Espanolas are like hearty omelettes filled with potatoes and onions!
Ingredients
3/4 cups pasture-raised lard or coconut oil

4 or 5 purple potatoes or yams (sliced ⅛" thick)

1 large yellow onion (diced)

4 cloves of garlic (pressed or minced)

6 large eggs

3 t Himalayan pink salt or celtic sea salt

Black pepper (to taste)

Cilantro or parsley (optional for garnish)
Instructions
Heat a nonstick pan over medium heat with ¼ cups pasture-raised lard or coconut oil.

When the pan is hot, add in the sliced purple potatoes. Sprinkle 2 t salt on the potatoes as they begin to soften in the pan. Let them cook through for 8-10 minutes until they're softened—but not crisp and crunchy. Stir constantly to make sure they soften evenly.

Remove the potatoes from the pan and set aside. Keep the oil used to cook the potatoes in the pan. It will be used in the next step.

Add the onions and garlic to the same pan that the potatoes were cooked in. Cook them on low for 6-8 minutes, until they're soft and translucent. Then remove them from the pan, and set them aside with the purple potatoes.

In a large mixing bowl, crack the eggs. Scramble them, then add in the mixture of the purple potatoes + onion + garlic. Stir carefully, so the potatoes don't break or get mushed.

Set the pan (the same one you've been using all along) over high heat, then add the egg and potato mix back into the pan. Shake the pan to spread its contents evenly, and let it cook over high heat for 1 minute.

Reduce the heat to medium low, and cook for about 8-10 minutes. It's time to flip the egg when it can easily come away from the sides of the pan—either by shaking the pan, or by lifting the edges of the egg and shaking the pan.

Transfer it to a plate, cut it into wedge slices, and serve it warm with a sprinkle of cilantro or parsley (optional).


(You'll Also Love: Bubbly Hot Bacon Spinach Frittata)