These mini keto Brussels sprout sliders are the perfect snack or breakfast to fuel hunger with protein and fiber!
Slider buns get a veggie makeover, ditching the bread in favor of roasted Brussels sprouts. The vibrant sprouts are first roasted to tenderize and lightly brown the outside before being topped with a slice of hardboiled egg and smoky bacon! These 4-ingredient sliders are a great post-workout snack or breakfast to pack in big flavor in a small portion.
When looking for Brussels sprouts, choose the largest ones you can find so they can be topped with the hardboiled egg. Pasture-raised bacon adds meaty goodness and breakfast appeal to the recipe. Hardboiled eggs are a less messy way to add an egg and a dose of protein. The eggs can be prepared a day or two in advance for easy assembly.
Curious about ketosis?
Click here to get the FREE Easy Keto Guide to learn the right way to go keto!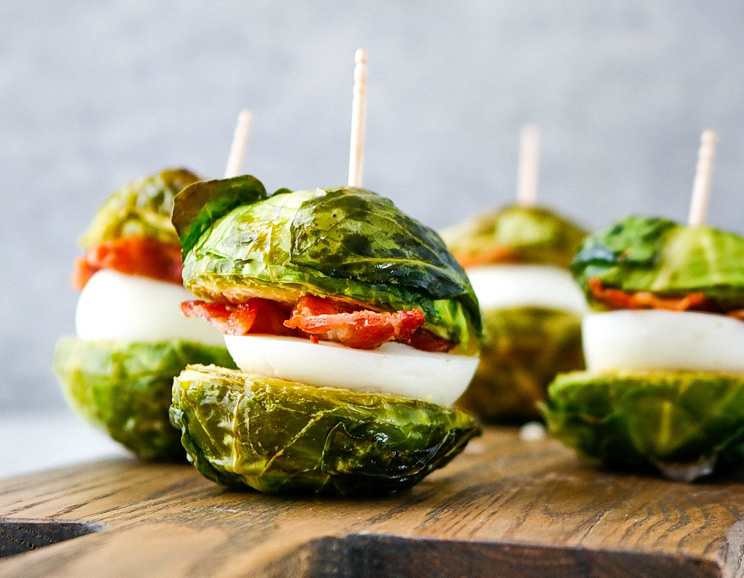 When it comes to bacon, look for a pasture-raised variety with no added sugar or preservatives to keep the recipe keto and Paleo-friendly.
Brussels sprouts can become a mini slider for just about anything you can fit in a burger or sandwich with a little bit of planning. Mini beef hamburgers, sautéed onions, grilled mushrooms, and even deli meat can be used to make mini, two-bite Brussels sprout sliders.
Tips
Brussels sprouts should be roasted long enough to tenderize them so they are easier to eat.
Allow five extra minutes of baking if they are still tough after 20 minutes.
The sliders are best eaten right after assembling for best flavor and texture.
This recipe can easily be doubled to serve a crowd.
Jennafer Ashley
Keto Brussels Sprouts Sliders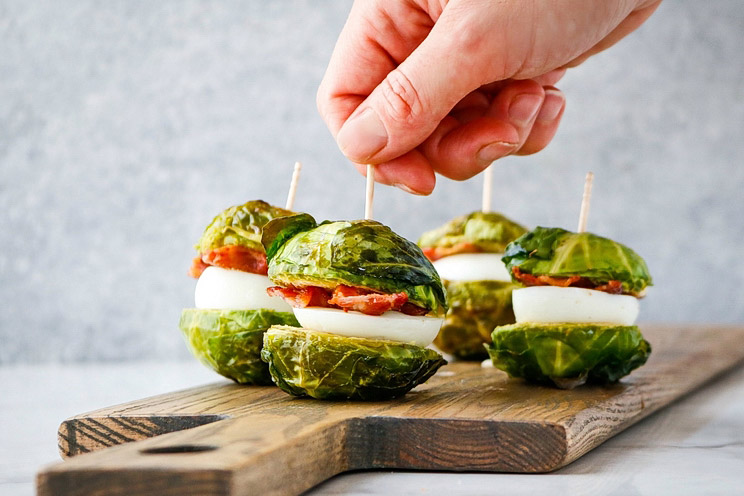 Cook Time:
20 mins
20 minutes
Prep Time:
5 mins
5 minutes
Nutrition facts:
2 grams of protein
2 grams of carbohydrates
4 grams of fat
56 calories
Keto Brussels Sprouts Sliders
These mini keto Brussels sprout sliders are the perfect snack or breakfast to fuel hunger with protein and fiber.
Tools
Medium baking sheet

Parchment paper

4 toothpicks
Ingredients
4 large Brussels sprouts

1 t avocado oil

2 strips pasture-raised bacon, cooked

1 large hardboiled, pasture-raised egg
Instructions
Heat the oven to 375ºF and line a medium baking sheet with parchment paper. Slice the Brussels sprouts in half lengthwise. Combine the Brussels sprouts in a medium mixing bowl and drizzle with avocado oil. Use your hands to gently coat the sprouts with oil. Pour onto a baking sheet and bake for 20 minutes.

Cut the bacon strips into 4 pieces to create 8 small pieces of bacon. Place one Brussels sprout, cut side up, on a plate and top with a hardboiled egg slice and 2 pieces of bacon. Top with the other Brussels sprout half. Secure with a toothpick. Repeat with the remaining Brussels sprouts. Enjoy right away.
Looking for Paleo ingredients? Here's what we recommend:
Avocado oil (Bella Vado)
For more ways to use vegetables as sandwich and burger buns, try one of these recipe hacks…