This Paleo grilled cheese sandwich fuses creamy cashew cheese with the crunch of grain-free bread. Just the thing to satisfy your lunch cravings.
Good news: unlike traditional bread recipes, this Paleo version requires zero kneading and zero rise time. Simply mix the ingredients together, bake, and in 30 minutes, you'll have a fresh loaf ready to go. This grain-free bread can be stored in an airtight container at room temperature for 3-4 days, or in the fridge for 7-10 days.
The cheese is just as easy to make and your blender does most of the work. With cashew and carrot as a cream base, lemon and nutritional yeast add a tangy, savory taste that goes well with not just sandwich bread, but as a dip for Paleo crackers and veggies, too!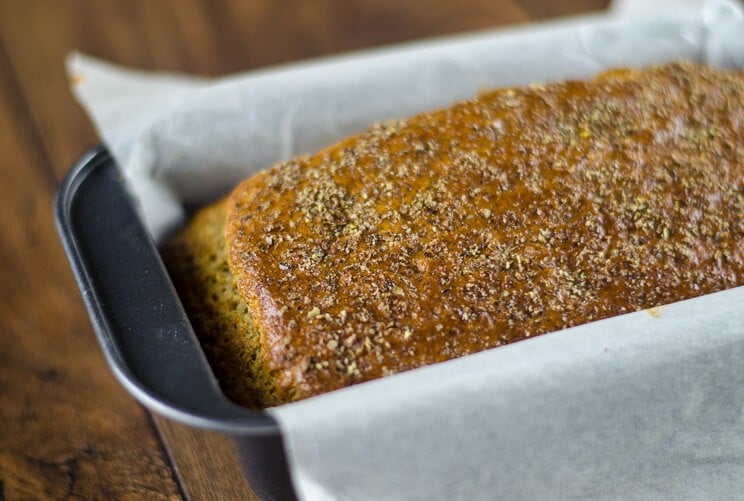 To make this cheese, the cashews must be soaked overnight for a minimum of 4 hours, so that they can be easily blended into a cream base. From there, just add the cooked carrot and the rest of ingredients and blend until creamy. This recipe makes about 2 cups of cheese and is good for up to 5 days in the fridge.
Dina Hassan
Healthy Grilled Cheese Sandwich Recipe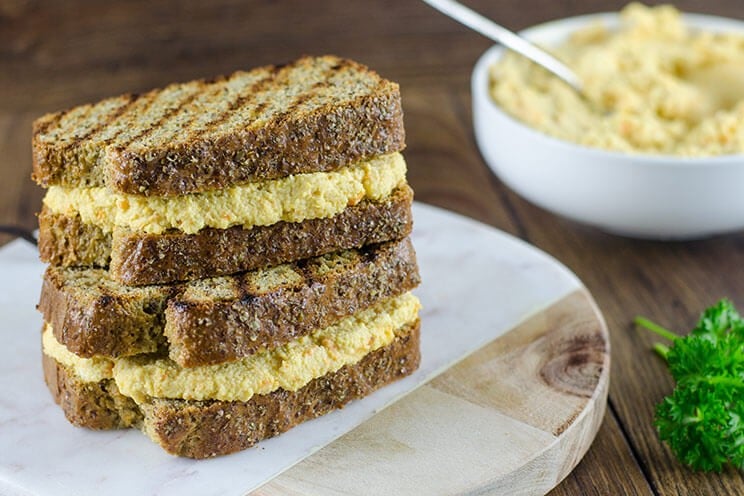 Cook Time:
40 mins
40 minutes
Prep Time:
15 mins
15 minutes
Healthy Grilled Cheese Sandwich Recipe
This Paleo grilled cheese sandwich fuses creamy cashew cheese with the crunch of grain-free bread.
Tools
8x4-inch loaf pan

Parchment paper

2 Large bowls

Whisk

Blender

Skillet
Ingredients
For the Bread:
¼ cup almond butter

5 eggs

1 t honey

1 t apple cider vinegar

1 cup almond flour

¾ cup tapioca flour

¼ cup ground flax seeds, plus 2 t for sprinkling

½ t salt

1 t baking soda
For the Cashew Cheese:
1 ½ cup raw cashews, soaked for 5 hours

1 medium carrot, boiled and drained

¼ cup water

2 T lemon juice

2 garlic cloves

¼ cup nutritional yeast

1 T tahini
Instructions
For the Bread: Preheat the oven to 350°F. Line an 8x4-inch loaf pan with parchment paper.

In a large bowl, whisk the almond butter, eggs, honey and apple cider vinegar; mix until combined.

In a separate large bowl, mix the almond flour, tapioca flour, ground flax seeds, salt and baking soda. Gradually add the wet ingredients into the dry ingredients, then pour the mixture into the prepared loaf pan and sprinkle the top with ground flax seeds. Bake for 30 minutes, until golden brown.

When ready, take bread out of the oven and let it cool in the pan for 10 minutes. Remove from the pan and set on a cooling rack.

For the Cashew Cheese: Meanwhile, prepare the cheese. In a blender, add the drained cashews, water and lemon juice; blend on high until smooth.

Add cooked carrot, garlic, nutritional yeast and tahini; blend on high, scraping the sides frequently until it is thick and creamy.

For the Grill: Slice bread and spread a ½-inch layer of cheese on top and cover with another slice; set aside. Melt grass-fed butter in a skillet over medium-low heat. When butter begins to sizzle, add the sandwich to the skillet, rubbing it in the butter. Grill until golden brown and use a spatula to flip over. Continue grilling until both sides are crispy. Remove from the heat and serve immediately.
Tip: If you want a lighter consistency to the cashew cheese, add a few teaspoons of water when blending it.

(You'll Also Love: Grain-Free Broccoli Toast Recipe)