A hearty, homemade dinner in 30 minutes? Yes, please. This Chicken Enchilada Casserole is easy to make – with wholesome ingredients that can feed an entire family!
If you love a good enchilada sauce, this recipe is for you. This chicken enchilada casserole is made in 30 minutes – by combining a rainbow of freshly chopped vegetables with a homemade enchilada sauce. This recipe is extremely easy, and it will leave you 100% satisfied.
The real star of this casserole is the enchilada sauce. Never made your own sauce? Let me tell you how it's done!
Love slow cooker recipes?
Click here to get your FREE copy of our delicious Slow-Cooker Recipes!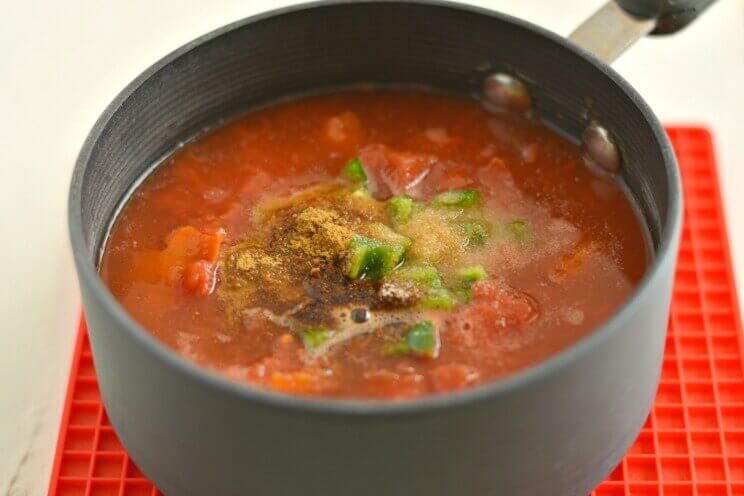 Start by bringing a small saucepan to a boil. Then add one can of organic tomatoes, water, chili powder, cumin, garlic, and onion powder. I added a diced jalapeño to mine – to kick up the heat and bring out the rich flavors. Feel free to add more jalapeño (or omit it).
While the enchilada sauce simmers, chop all the veggies, and layer them evenly in a casserole dish with the uncooked chicken. Then pour that yummy enchilada sauce over the casserole, and bake 25-30 minutes – or until vegetables are soft and moist.
Megan Olson
Paleo Chicken Enchilada Casserole Recipe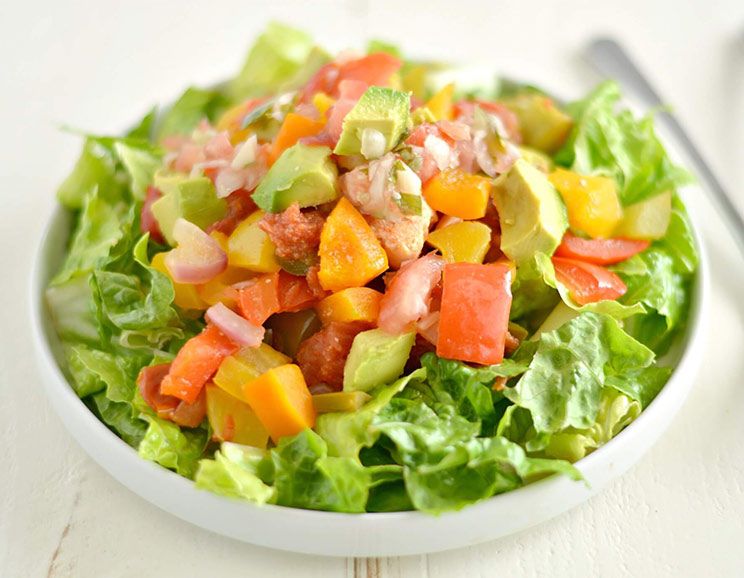 Cook Time:
25 mins
25 minutes
Prep Time:
5 mins
5 minutes
Paleo Chicken Enchilada Casserole Recipe
This easy chicken enchilada casserole combines freshly chopped vegetables with a homemade enchilada sauce.
Ingredients
For the casserole:

2 large uncooked chicken breasts (diced)

1 yellow bell pepper (diced)

1 red bell pepper (diced)

1 green bell pepper (diced)

1 orange bell pepper (diced)

1 medium red onion (diced)

For the sauce:

1 8 oz can of organic diced tomatoes

1 diced jalapeno (optional)

½ cup water

½ t cumin

¼ t chili powder

½ t garlic powder

¼ t onion powder

Salt & pepper to taste
Instructions
Preheat the oven to 375ºF.

Add all ingredients to a small saucepan, and bring the mixture to boil. Then reduce heat to medium low, and simmer.

While the sauce simmers, chop the veggies and chicken—keeping everything the same size (so it bakes evenly).

Evenly layer the veggies and chicken in a baking dish. Then pour the enchilada sauce over the top.

Bake in the oven for 25-30 minutes - uncovered at 375ºF.

Remove from the oven. Serve on a bed of lettuce; top with salsa and avocado.
Pro tip: Serve as is, or on a bed of crisp lettuce. Top with homemade avocado, salsa, or Pico de Gallo for a delicious, satisfying meal!

(You'll Also Love: Mexican Stuffed Peppers)