Indulge both your cookie and cake cravings with these chocolate chip-studded cookie bars.
In this Paleo-friendly cookie bar recipe, we're combining all the best parts of both cakes and cookies. Coconut flour helps ensure fluffy, cake-like bars with a cookie-like chew.
These gluten-free cookie bars require only a handful of ingredients and 15 minutes of prep, meaning they're the perfect sweet treat for any time of day. You'll love wholesome, grain-free additions like coconut flour, coconut sugar, almond milk, and uber-dark chocolate chips.
Love Paleo Desserts? Then you'll love our FREE Paleo Dessert Cookbook.
Click here to get your FREE copy of our delicious Dessert Recipes!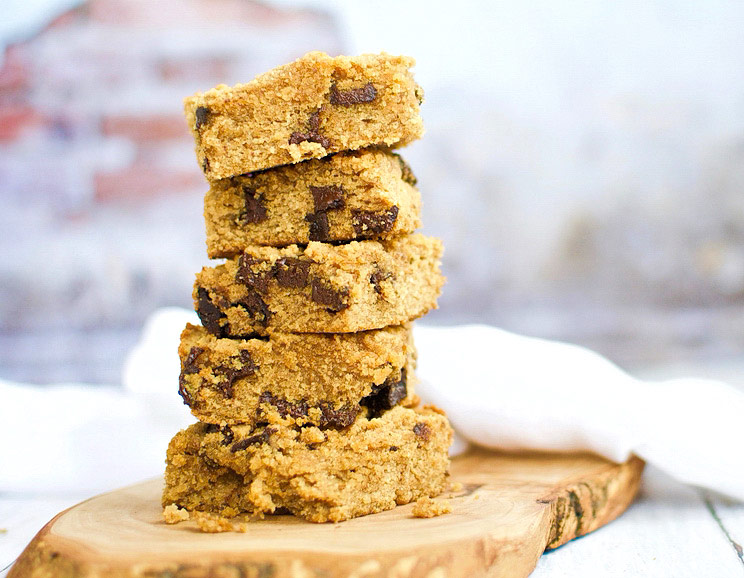 The Basics Of Baking With Coconut Flour
The trick to successfully baking with coconut flour is finding the right balance of wet to dry ingredients. Coconut flour is like a sponge, and quickly absorbs any and all liquids in its path.
Too little liquid will result in dry, crumbly cookie bars. That's why we've included a bit of almond milk along with 3 whole eggs in this recipe. (By the way, it's super easy to make your own at home, and we love this simple almond milk recipe.)
Some Helpful Tips To Get You Started:
Be sure to fully incorporate your wet ingredients before sifting in the dry. This helps ensure you get fluffy, light bars instead of heavy, dense logs.
Don't forget to sift! Don't just dump your dry ingredients in. Sifting helps aerate and evenly distribute the dry ingredients.
Avoid over-mixing. Protect the texture of your fluffy bars by not over-mixing any of the ingredients.
Cooling is important. We know it's hard, but let your bars fully cool before diving in. The coconut flour really takes form as it cools.
Danielle Moore
Coconut Flour Chocolate Chip Cookie Bars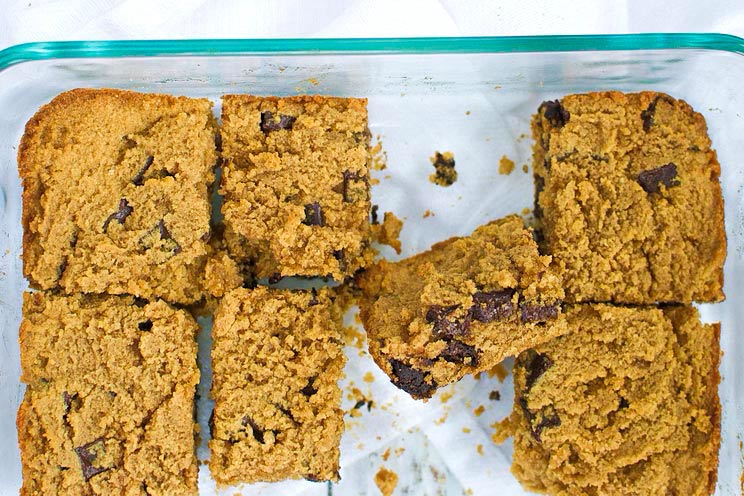 Inactive Time:
1 hr 20 mins
1 hour 20 minutes
Cook Time:
25 mins
25 minutes
Prep Time:
15 mins
15 minutes
Nutrition facts:
3 grams of protein
10 grams of carbohydrates
10 grams of fat
Coconut Flour Chocolate Chip Cookie Bars
Indulge both your cookie and cake cravings with these chocolate chip-studded cookie bars.
Tools
5-by-7-inch casserole dish

Mixer with paddle attachment
Ingredients
1/3 cup ghee, room temperature (plus more for greasing)

1/4 cup coconut sugar

3 eggs, room temperature

3 T almond milk

1 t vanilla extract

1/2 cup coconut flour

1 t baking soda

1 t salt

1/2 cup dark chocolate chips
Instructions
Preheat the oven to 350°F.

Grease a small casserole dish with ghee.

Use a mixer with a paddle attachment to cream together the ghee and coconut sugar on medium speed for 2 minutes, until light and creamy.

Add eggs, almond milk, and vanilla to the mixture. Mix another minute, until smooth.

Sift in coconut flour, baking soda, and salt. Mix on low speed until just combined, about 2 minutes.

Fold in chocolate chips.

Transfer cookie dough to prepared casserole dish. Spread into an even layer.

Bake 22 to 25 minutes, until golden.

Cool for 15 minutes in the pan, and then run a knife around the edges to release the cookie bars. Carefully transfer to a wire rack to cool completely, about one hour. Cut into 12 bars.
Looking for Paleo ingredients? Here are a few we'd recommend:
Ghee (Pure Indian Foods)
Vanilla extract (Frontier)
Coconut flour (Nutiva)
Baking soda (Bob's Red Mill)
Semi-sweet chocolate chips (Enjoy Life)
If you love simple and sweet desserts like this, check out our FREE Paleo Sweets cookbook. In it, you'll find amazing Paleo-friendly treats like heavenly chocolate cake and the best gluten-free chocolate chip cookies – ever. Hungry? Get your copy shipped to you now.