Indulge in fudgy gluten-free brownies with double chocolate, rich maple syrup, and a sea salt finish!
Made with heart-healthy olive oil and antioxidant-rich cacao powder, these brownies are bursting with gluten-free benefits. Best of all, they're super simple to make and can be ready to serve in less than an hour.
How To Make Paleo Brownies (without Sacrificing Flavor)
To nix traditional grains and refined sugars, we sub in cacao powder and cassava flour to add rich, chocolatey flavor (without overpowering the other ingredients). Make sure to shop for unsweetened brands of cacao powder with a percentage of at least 70 percent or higher. You can find most unprocessed powders at local health food grocers or online retailers.
Love Paleo Desserts? Then you'll love our FREE Paleo Dessert Cookbook.
Click here to get your FREE copy of our delicious Dessert Recipes!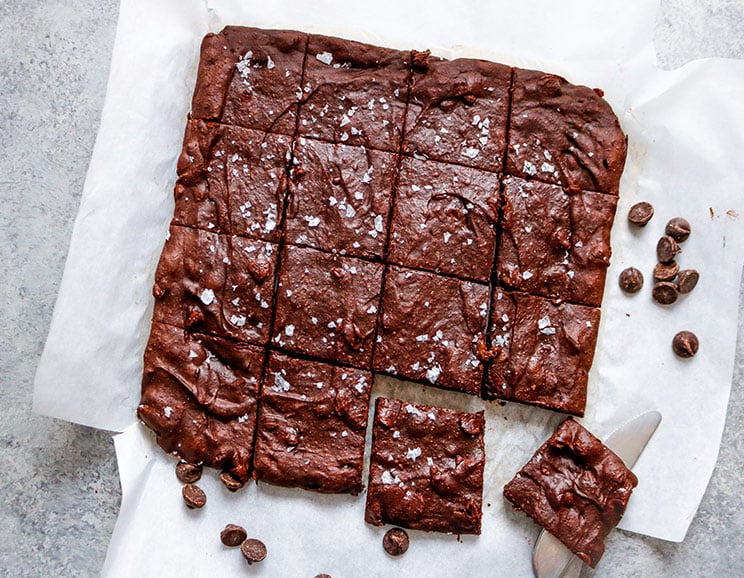 Olive oil adds extra moisture to the brownies for an uber-decadent bite that's both chewy and fudgy. We then combine it with a bit of pure maple syrup to complement the dark chocolate chips. Flaky sea salt tops everything off with a savory kick that marries all ingredients together.
Helpful Tips to Get Started:
Gradually stir in the fine powders and flours. Gently mixing the cacao powder and cassava flour with other wet ingredients will help the flour evenly combine. Avoid dumping them in all at once to prevent the airy powders from getting all over your countertops.
Give your brownies time to cool. It's important to be patient with cooling times, since this will allow the brownies to set and slice into perfect squares. Handling them too soon could result in brownies that fall apart.
Add your sea salt immediately after baking. This will allow the salt to stick better on top and easily meld with the chocolatey flavors.
Use these on-hand substitutions when necessary. Arrowroot flour can be used instead of cassava, while maple syrup can be swapped out for raw honey in equal amounts. You can also choose to dust the brownies with additional cacao powder instead of sea salt or drizzle with melted dark chocolate.
Jennafer Ashley
Fudgy Olive Oil Brownies with Flaky Sea Salt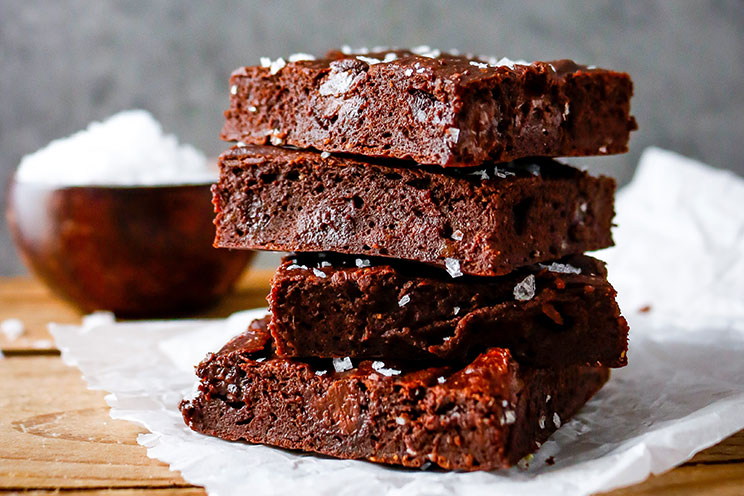 Cook Time:
30 mins
30 minutes
Prep Time:
10 mins
10 minutes
Fudgy Olive Oil Brownies with Flaky Sea Salt
Indulge in fudgy brownies that include double chocolate, rich maple syrup, and a sea salt finish.
Tools
9-inch baking pan

Parchment paper

Medium mixing bowl
Ingredients
1/2 cup olive oil

1/3 cup maple syrup

1/2 cup warm water

1 t vanilla extract

2 large eggs

3/4 cup cacao powder

1/2 cup cassava flour

1/2 cup dark chocolate chips

1/4 t flaky sea salt
Instructions
Preheat the oven to 325ºF and line a baking pan with parchment paper, slightly overlapping the sides.

In a medium mixing bowl, stir together the olive oil, maple syrup, warm water, and vanilla extract.

Gradually stir in the cacao powder for about 20 seconds to fully combine. Add in the eggs and continue stirring for another 10 seconds.

Gradually stir in the cassava flour and fold in the chocolate chips. Pour the mixture into the center of the pan and spread it evenly with a rubber spatula.

Place the pan into the oven and bake for 30 minutes.

When ready, remove it from the oven and immediately sprinkle the sea salt on top.

Allow the brownies to cool in the pan at room temperature for 10 minutes.

Once finished, gently lift the brownies by gripping the parchment paper and set them onto a countertop.

Let the brownies cool for 20 more minutes before slicing into squares.

When ready, serve immediately or store in an airtight container for up to 5 days in a dry spot.
Looking for Paleo ingredients? Here are a few we'd recommend:
Olive oil (Sky Organics)
Vanilla extract (Frontier)
Raw cacao powder (Healthworks)
Semi-sweet chocolate chips (Enjoy Life)
Sea salt (REDMOND)
Coarse sea salt (AztecSeaSalt)

(You'll Also Love: Coconut Flour Caramel Apple Brownies)