If you're a fan of pizza but are not so keen on the gluten, then this Sheet Pan Cauliflower Pizza is your delicious solution!
This simple and untraditional pizza is built right in a sheet pan, with zero rising time required! You can top this versatile cauliflower crust with whatever you like, but we love this amazing combination of tomato sauce, chicken and bell peppers!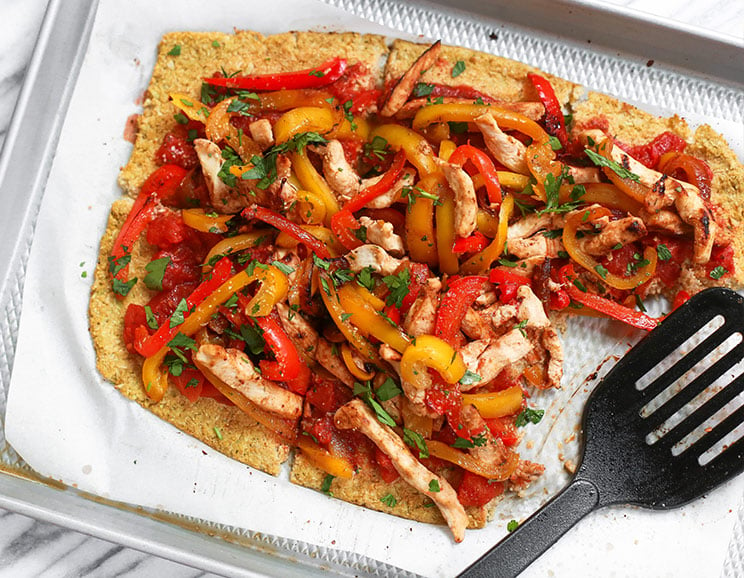 To make the crust, simply cut a whole cauliflower head into florets and pulse in a food processor until it resembles fine rice. You can also buy riced cauliflower at most grocery stores to save on time. Mix the cauliflower rice with eggs, dried herbs and salt, then press down into a sheet pan and spray with coconut oil. Bake until the crust turns golden brown on top.
Trying to figure out exactly what to eat on Paleo?
Look no further than our FREE 21 Day Paleo Meal Plan
In the meantime, sauté chicken strips and sliced bell peppers until tender. Then, spread tomato sauce over the pre-cooked crust, pour the veggies and chicken on top, and send the pizza right back to the oven to continue cooking for another 5 to 10 minutes. Sprinkle freshly chopped parsley on top, cut into squares, and dig in!
Felicia Lim
Sheet Pan Cauliflower Pizza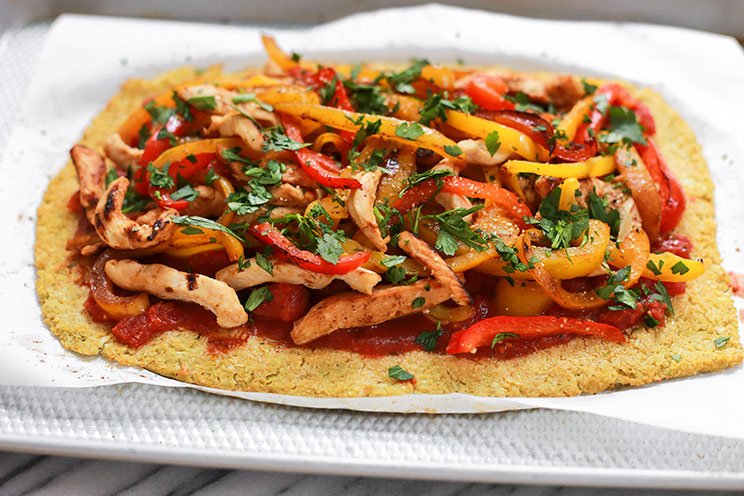 Cook Time:
30 mins
30 minutes
Prep Time:
15 mins
15 minutes
Sheet Pan Cauliflower Pizza
If you're a fan of pizza but are not so keen on the gluten, then this Sheet Pan Cauliflower Pizza is your delicious solution!
Tools
Baking sheet

Parchment paper

Food processor

Cheesecloth

Large skillet

Wooden spoon

Large mixing bowl
Ingredients
1 large head cauliflower (approximately 3 cups riced)

2 large eggs, lightly beaten

1 T dried garlic-parsley mix

1 t salt

1 red bell pepper, deseeded and sliced

1 yellow bell pepper, deseeded and sliced

¾ pound chicken breast, sliced into thin strips

1 cup tomato sauce (or diced tomatoes in sauce)

Salt to taste

½ cup fresh chopped parsley
Instructions
Preheat the oven to 400°F and line the baking sheet with parchment paper.

Cut the cauliflower into small florets, discarding the stems and the leaves. Wash the florets before placing them into the bowl of a food processor or an electric blender. Process the florets in batches until the cauliflower reaches a texture of fine rice.

Sauté the cauliflower rice in a large skillet over medium heat for 10 minutes, occasionally stirring with a wooden spoon to make sure the cauliflower doesn't burn. Let the cauliflower cool before placing it in a cheesecloth and squeezing out as much moisture as possible. This is essential so that you get a crust that doesn't break.

In a large mixing bowl, combine the cooked cauliflower rice, eggs, dried garlic-parsley mix, and salt. Stir well until you get a homogeneous mixture.

Transfer the cauliflower mixture to the prepared baking sheet and use your hands to flatten it out to a half-inch thick crust. Spray coconut oil over the top.

Bake the cauliflower crust for 20 to 25 minutes until it turns golden brown on the top.

As the crust is cooking, sauté the sliced bell peppers and chicken in a large skillet with a little oil over medium heat until the chicken is cooked through and the bell peppers are tender.

Remove the crust from the oven, spread out the tomato sauce over the crust, top with the cooked bell peppers and chicken, sprinkle a little salt over, and bake another 5 to 10 minutes.

Serve the cauliflower pizza sprinkled with fresh chopped parsley.
Tip: This recipe seasons the crust with dried garlic and parsley, but you can also use rosemary, thyme, or any other dried herbs you prefer. Or, leave them out entirely for a totally plain crust.

(You'll Also Love: 17 Low-Carb, Gluten-Free Pizza Recipes)