Serve up these warm, crispy cauliflower fritters morning, noon or night!
Looking for the Paleo answer to carb-heavy hash browns? These yummy handheld fritters are it! The crispy breakfast champions are perfect for dunking in Paleo ranch or dairy-free sour cream.
Each of these "cheesy" little cauliflower fritters are bursting with nutritional benefits. Turmeric and black pepper form an anti-inflammatory powerhouse, while pasture-raised eggs pack protein and healthy Omega-3's. Almond flour adds fiber and helps create the satisfying crispiness surrounding each fritter. And the not-so-secret ingredient that adds cheesy flavor without any dairy is (drumroll please)… nutritional yeast! This protein-rich flavor imparts a mild cheddar cheese taste and aroma to anything it touches.
Love Almond Flour Recipes? Then you'll love our FREE Almond Flour Recipes.
Click here to get your FREE copy of our delicious Almond Flour Recipes!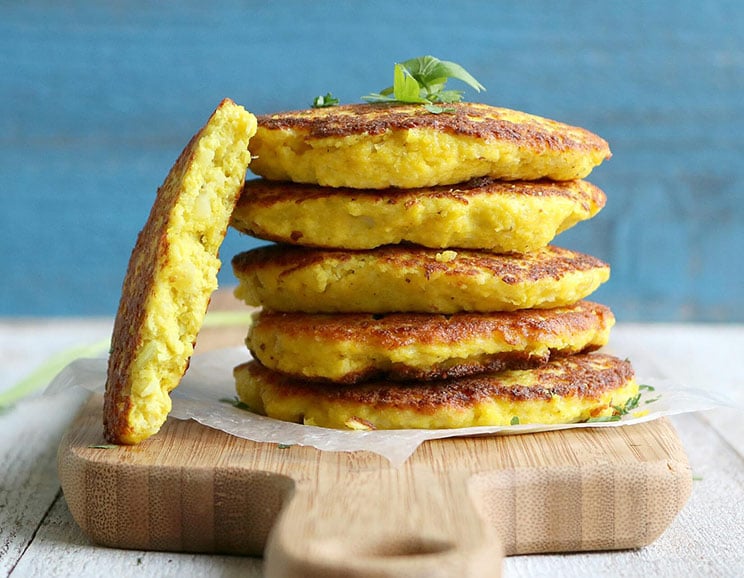 Tip: Try nutritional yeast in soups or stews to add flavor and help thicken the broth.
Start by boiling or steaming the cauliflower until fork tender, not mushy. It's essential to boil the cauliflower to create just enough moisture to help the fritters stick together and not crumble. Strain and lightly pulse florets in a food processor to create tiny rice-like bits.
Add the cauliflower to a mixing bowl with the remaining ingredients and mix to combine and moisten. Melt ghee over medium heat in a large skillet while you form the cauliflower mixture into patties. Place 2-3 fritters on the pan and use a spatula to shape into circles. Cook 3-4 minutes, gently flip and cook an additional 3-4 minutes. Serve the cauliflower fritters hot.
Alternative cooking method: If you prefer to bake your fritters, line a baking tray with parchment paper and arrange the fritters on the tray. Bake at 350°F for 20-25 minutes, flipping halfway through.
Jennafer Ashley
Hot & Crispy Cauliflower Fritters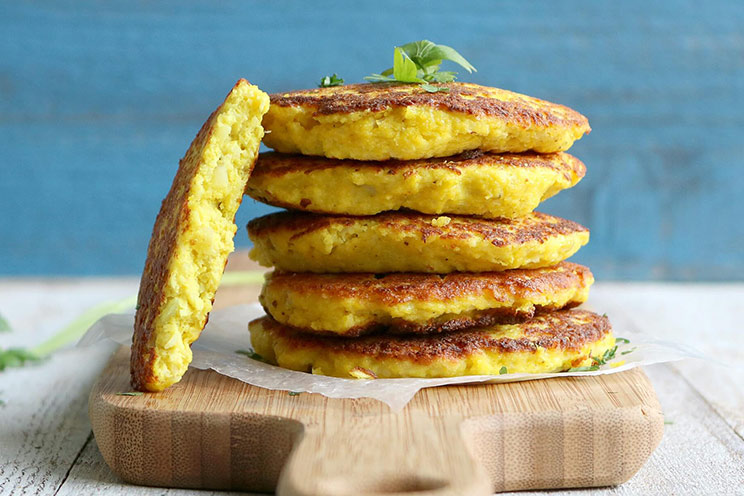 Cook Time:
15 mins
15 minutes
Prep Time:
10 mins
10 minutes
Hot & Crispy Cauliflower Fritters
Serve up these warm, crispy cauliflower fritters morning, noon or night!
Tools
Large pot

Food processor

Mixing bowl

Spatula

Large skillet
Ingredients
1 large head of cauliflower, broken into florets

2 eggs

2/3 cup almond flour

1 T nutritional yeast

1/2 t turmeric

1/2 t sea salt

1/4 t black pepper

1-2 T ghee
Instructions
Add the cauliflower to a large pot covered in water. Bring to a boil and boil for 8 minutes. Strain. Add the florets into a food processor and pulse until riced.

Add cauliflower, eggs, almond flour, nutritional yeast, turmeric, salt and pepper to a mixing bowl. Stir well to combine. Form into patties.

Heat the ghee over medium heat in a skillet. Scoop about half the mixture into three fritters and cook until golden brown on each side, 3-4 minutes. Set aside until the rest of the fritters are cooked. Serve hot.
Watch the Recipe Video Below!

Looking for Paleo ingredients? Here are a few we'd recommend:
Almond flour (Bob's Red Mill)
Ghee (Pure Indian Foods)

More veggie-packed fritters: