Sweet potato and kale come together to make crispy veggie fritters just begging to be dipped in a creamy garlic aioli!
Crispy on the outside and tender on the inside, these veggie fritters are packed with protein and are naturally gluten-free. Grab a mixing bowl and get ready to whip up these healthy fritters in just 30 minutes.
Create A Flawless Fritter
When hearty veggies meet grain-free flours like tapioca starch and almond meal, it creates the perfect density to crisp up nicely in the skillet. The eggs help bind everything together so it doesn't get crumbly, while hearty veggies like sweet potato, kale, and cauliflower add a powerfully healthy dose of fiber and essential minerals. All these fritters need for seasoning is a little bit of salt and a dash of garlic powder.
Add power-packed superfood veggies to every meal with these easy cauliflower recipes.
Click here to get your FREE copy of our Cauliflower Recipe Guide!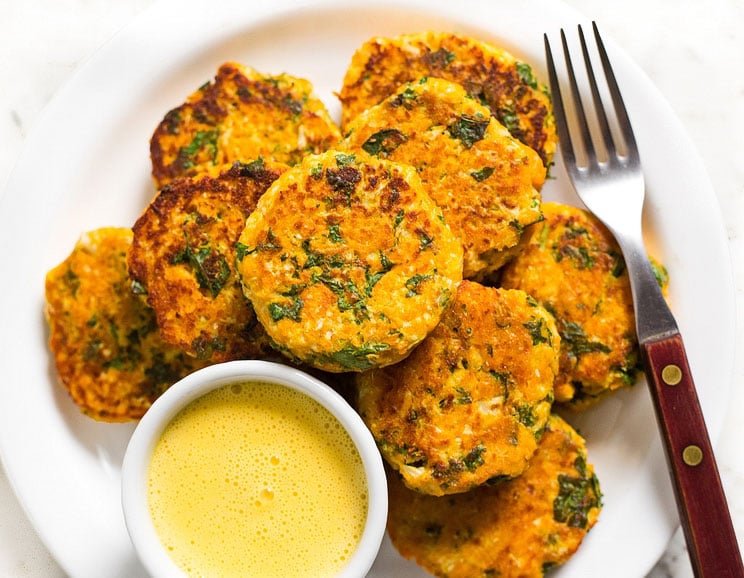 Making The Garlic Aioli
No fritter is complete without a creamy dipping sauce. This garlic aioli is made with olive oil, lemon juice, and egg yolks for a texture that's similar to mayonnaise – but with way more flavor!
Helpful Tips For Getting Started:
For a thinner aioli, add more oil. If you don't like your aioli too thick, simply thin it out with an additional tablespoon of olive oil.
Cook the fritters in batches. Don't crowd your fritters when you fry them up. Depending on how big your skillet is, cook them in two or three batches to allow them to cook evenly.
Swap out the sweet potato. You can easily swap in pumpkin purée or mashed acorn squash in equal amounts.
Felicia Lim
Crispy Veggie Fritters with Garlic Aioli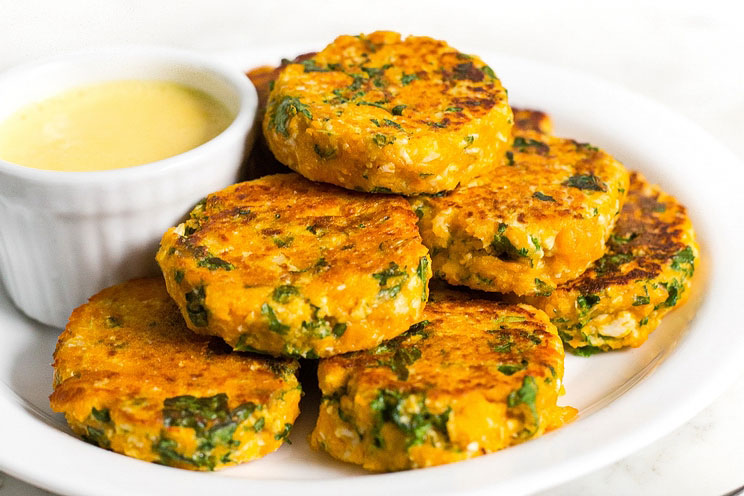 Cook Time:
20 mins
20 minutes
Prep Time:
10 mins
10 minutes
Nutrition facts:
14 grams of protein
35 grams of carbohydrates
54 grams of fat
Crispy Veggie Fritters with Garlic Aioli
Sweet potato and kale come together to make a crispy fritter just begging to be dipped in a creamy garlic aioli.
Tools
Large mixing bowl

Large skillet

High-speed blender
Ingredients
For the Sweet Potato and Kale Fritters:
3 cups mashed sweet potatoes

2 cups riced cauliflower

3 cups chopped kale

2 beaten eggs

¼ cup tapioca starch

½ cup almond meal

½ t garlic powder

1 t salt

6 T coconut oil, for frying
For the Garlic Aioli:
3 egg yolks

1 T fresh lemon juice

1 T chopped garlic

1 t salt

½ t pepper

6 T olive oil
Instructions
To Make the Fritters: In a large mixing bowl, combine the sweet potatoes, cauliflower, kale, eggs, tapioca starch, almond meal, garlic powder, and salt together. Mix until combined.

Scoop out 2 heaping tablespoons of the mixture and roll it into a ball. Repeat until all the mixture is gone. You should have about 12 balls.

Heat the coconut oil in a skillet over medium heat and place 4-6 balls in a single layer, at least 2 inches apart. Slightly flatten each ball with the back of a spatula to form them into patties. Cook for at least 3 minutes.

Flip the patties, then cook another 3 minutes, or until they're lightly browned on both sides.

Repeat with the remaining veggie balls.

To Make the Garlic Aioli: While the fritters are cooking, blend all the ingredients for the aioli on high speed for at least 30 seconds, or until you get a creamy mixture.

Serve the fritters alongside the garlic aioli, and enjoy!
Looking for Paleo ingredients? Here are a few we'd recommend:
Tapioca flour (Authentic Foods)
Almond meal (Barney)
Garlic powder (Frontier)
Cold pressed coconut oil (Viva Naturals)
Olive oil (Sky Organics)
If you can't get enough of these veggie fritters, try making them with zucchini or cauliflower next!