For a Paleo take on Kung Pao, cauliflower roasts to an irresistible crisp in the oven, then gets tossed with a spicy, flavorful sauce.
In this easy recipe, coconut aminos swaps in for soy sauce and gets tossed with aromatic Chinese 5-spice, garlic, ginger, scallions, and vinegar.
Leaning towards a meatier option? This sauce works great with chicken, beef, and pork too! In fact, it's an excellent stir fry sauce for your favorite meat and veggie pairings.
Add power-packed superfood veggies to every meal with these easy cauliflower recipes.
Click here to get your FREE copy of our Cauliflower Recipe Guide!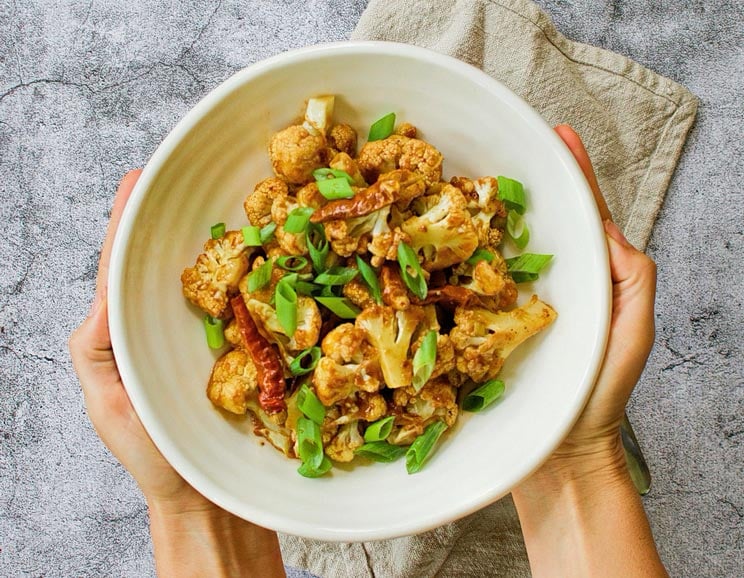 The Trick To Crispy Cauliflower
The cauliflower florets in this recipe get a generous sprinkling of tapioca flour before roasting. This serves two important purposes.
First, it helps the cauliflower crisp up in the oven. You'll know they're ready by their golden exterior.
Second, when the tapioca-coated cauliflower combines with the sauce, it helps to add just a touch of thickness.
Helpful Tips To Get You Started:
Create your own Chinese 5-spice. If you stumbled upon this recipe without any Chinese 5-spice on hand, you can make your own with a combination of fennel seeds, cinnamon, star anise, cloves, and ground pepper (or Szechuan pepper).
Make it veggie-friendly. Swap out the gelatin for agar-agar powder to make this dish completely vegetarian.
Don't skip the bloom. Soaking the gelatin in cool water before adding it to the warm sauce allows each granule to absorb water, which will help it dissolve more evenly into your sauce.
Danielle Moore
Crispy Kung Pao Cauliflower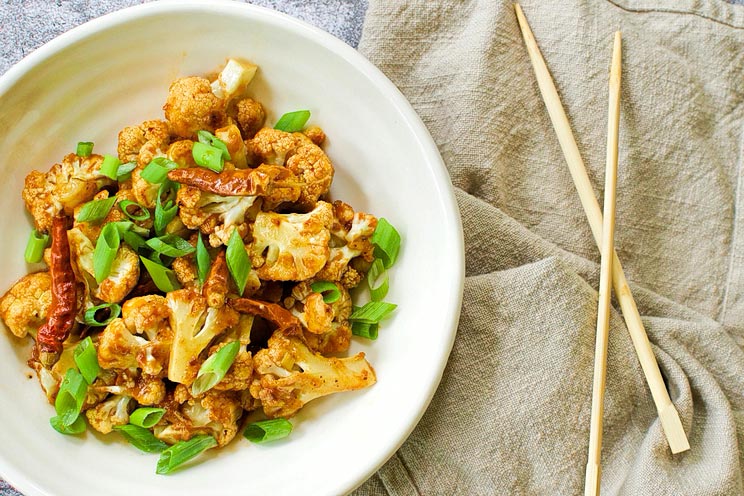 Cook Time:
17 mins
17 minutes
Prep Time:
8 mins
8 minutes
Nutrition facts:
6 grams of protein
22 grams of carbohydrates
10 grams of fat
Crispy Kung Pao Cauliflower
For a Paleo take on Kung Pao, roasted cauliflower roasts to an irresistible crisp in the oven, then gets tossed with a spicy, flavorful sauce.
Tools
2 small mixing bowls

Sheet pan

Large saucepan
Ingredients
¼ cup cold water

1 t gelatin

¼ cup coconut aminos

1 t Chinese 5-spice

1 T tomato paste

2 T apple cider vinegar

5 cups cauliflower florets

3 T olive oil, divided

Salt and pepper to taste

2 T tapioca flour

1 t minced garlic

1 T minced ginger

¼ cup chopped scallions, green and white part separated

2 T dried chili peppers
Instructions
Preheat the oven to 425°F. Place a ¼ cup cold water in a small mixing bowl. Sprinkle gelatin over the top and set aside to bloom for 5 minutes.

In a separate small mixing bowl, whisk together the coconut aminos, Chinese 5-spice, tomato paste, and apple cider vinegar.

On a sheet pan, toss the cauliflower florets with 2 tablespoons of olive oil to coat. Season with salt and pepper to taste. Sprinkle with tapioca flour and toss again to coat. Transfer to the oven for 15 to 17 minutes, until golden.

Whisk the gelatin into the water then add to the sauce mixture. In a large saucepan, heat the remaining tablespoon of olive oil over medium heat. Add garlic, ginger, and the white part of the scallions. Cook for 1 minute, until fragrant.

Add the sauce and bring to a boil. Reduce the heat and simmer for 5 to 6 minutes, stirring occasionally, until thickened.

Remove the cauliflower from the oven. Add the roasted cauliflower and chili peppers to the sauce. Toss to coat. Scoop the cauliflower and sauce into a bowl. Garnish with the green part of the scallion.
Looking for Paleo ingredients? Here are a few we'd recommend:
Unflavored gelatin (Great Lakes)
Apple cider vinegar (Bragg)
Olive oil (Sky Organics)
Tapioca flour (Authentic Foods)
Reap the benefits of cauliflower with these 37 anti-inflammatory cauliflower recipes!