Nestle crunchy clusters of cashews with layers of Paleo caramel and "white chocolate" to calm all your snacking needs!
Made with Paleo caramel and coconut white chocolate, these clusters pack a silky-sweet crunch in every bite. The caramel layer stays soft and chewy while complimenting the "white chocolate" coating on top. You can make your own caramel sauce at home (this recipe using coconut sugar and honey is our favorite) or find a Paleo-friendly version at your local health food store.
Unlike traditional white chocolate, this Paleo alternative ditches the refined sugar in favor of raw honey and coconut butter. While the honey helps hold the clusters together, coconut butter creates a smooth texture that compliments the rich caramel. Tip: Use this sweet coconut mix as a dip for strawberries, to make homemade candy bars, or as a drizzle for other Paleo desserts.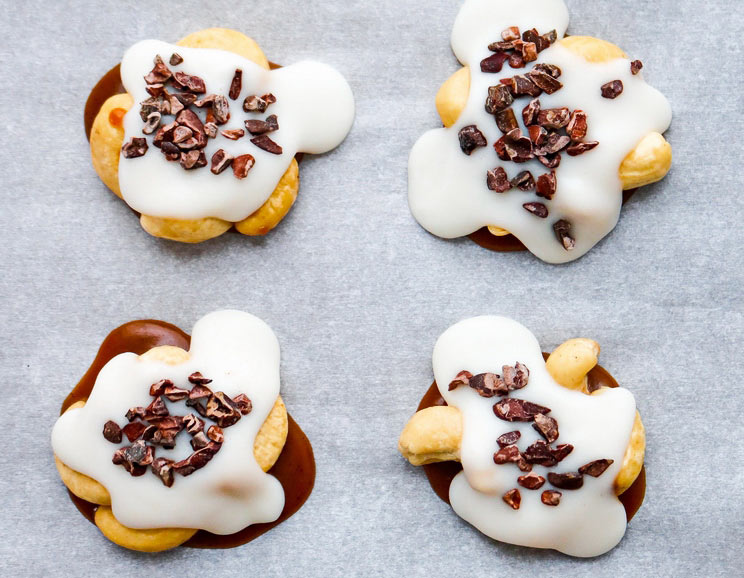 Love Paleo Desserts? Then you'll love our FREE Paleo Dessert Cookbook.
Click here to get your FREE copy of our delicious Dessert Recipes!
As the final touch, each cluster gets a sprinkle of raw cacao nibs on top. Cacao nibs are chocolate in its purest form and include plenty of antioxidants, magnesium, and iron. Rich in chocolatey flavor, they're naturally sweet and perfect as a low-sugar alternative.
These clusters are versatile and can include an array of fun Paleo friendly toppings including:
pomegranate arils
unsweetened coconut flakes
fresh orange zest
a drizzle of almond butter
Jennafer Ashley
Coconut Caramel Cashew Clusters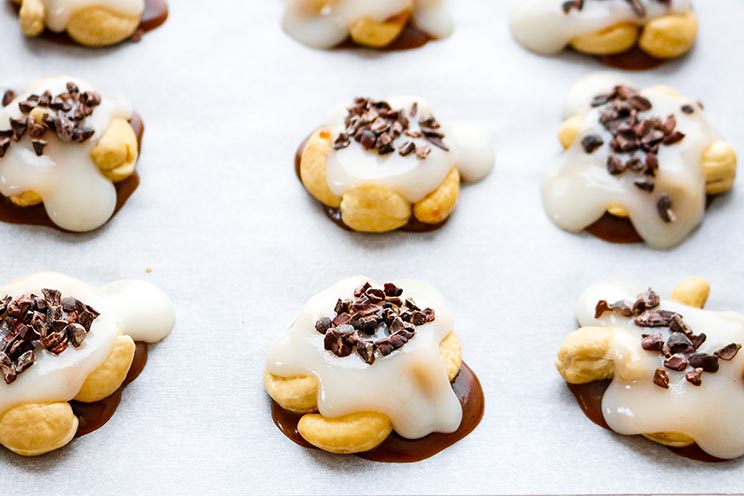 Inactive Time:
45 mins
45 minutes
Cook Time:
7 mins
7 minutes
Prep Time:
15 mins
15 minutes
Coconut Caramel Cashew Clusters
Nestle crunchy clusters of cashews with layers of Paleo caramel and "white chocolate" to calm all your snacking needs.
Tools
Double-boiler

Parchment paper

15 x 10 baking sheet
Ingredients
1/2 cup unsweetened canned coconut cream, solid

1/4 cup coconut butter

1 T honey

1 cup raw cashews

1/2 cup Paleo caramel sauce

1 T cacao nibs
Instructions
Heat the coconut cream, coconut butter, and honey together in a double boiler over medium heat for 7 minutes, or until smooth. Stir well, then remove from the heat and set aside. Allow it to cool slightly while preparing the next steps.

Line a medium baking sheet with parchment paper and group the cashews into 15 clusters on the baking sheet (about 5 cashews each).

Spoon 1 teaspoon of Paleo caramel sauce over each caramel cluster, then transfer to the freezer for 15 minutes.

Pour 1 teaspoon of the coconut mixture over each caramel layer and sprinkle with cacao nibs. Return it to the freezer for 30 additional minutes, or until the coconut layer is solid. Serve immediately and enjoy or store leftovers inside the refrigerator for up to 1 week.
Looking for Paleo ingredients? Here are a few we'd recommend:
Coconut cream (Native Forest)
Coconut butter (Artisana)
Raw honey (Bee Farms)
Raw cashews (Terrasoul Superfoods)
Cacao nibs (TAZA Chocolate)

(You'll Also Love: 31 Deliciously Gluten-Free Desserts – Cookies, Cakes, Pies & Bars!)