Recreate your favorite coffeehouse bliss bars with a fresh makeover of antioxidant berries, coconut, and creamy cashews!
If you love the indulgent flavors of traditional bliss bars, you're going to swoon over this refreshing new take. Topped with a blueberry compote and fresh strawberries, it's a naturally sweet way to curb cravings during peak berry season.
How To Make Your Blueberry Compote Stand Out
Compotes are known for their sweet flavor and jelly-like texture. For this recipe, we swap out traditional cranberries for a blueberry compote made with maple syrup and fresh lemon juice. The maple syrup adds a rich taste, while the lemon juice gives it a nice fresh flavor.
Love Paleo Desserts? Then you'll love our FREE Paleo Dessert Cookbook.
Click here to get your FREE copy of our delicious Dessert Recipes!
Simmering these ingredients together helps to meld the flavors while creating a vibrant purple color. At this stage, make sure to mash the berries for three minutes before removing from the heat. As it cools, you'll start to see it thicken into a thick jelly-like consistency that's perfect for spreading over the creamy cashew layer.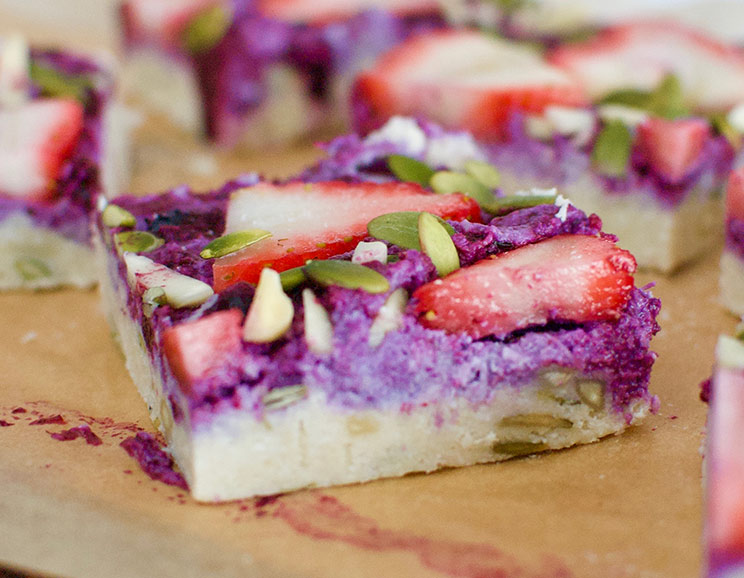 Perfecting The Creamy Cashew Base (without dairy)
While the compote cools and thickens, you'll want to purée the soaked cashews with added lemon juice and a little bit of water. This will create a silky base you can then mix with coconut oil, shredded coconut, almond extract, and maple syrup (for sweetness). The added nuts and seeds at the end offer a crunchy bite while boosting extra protein and healthy fats.
For a creamier texture, I like to let the cashews soak overnight in a bowl filled with enough water to cover the nuts. However, if you're short on time, allow them to soak for at least four hours to get them nice and plump.
Helpful Suggestions:
Use blanched or raw almonds. Depending on your preference, either version is okay to use. I like opting for blanched since it creates a softer mouthfeel.
Switch up the sweetener in equal amounts. If you're out of maple syrup, you can always sub in honey instead.
Store leftovers in the fridge. If you're not enjoying immediately, store the brittle in an airtight container inside the fridge for up to five days.
Danielle Moore
Dreamy Blueberry Bliss Bars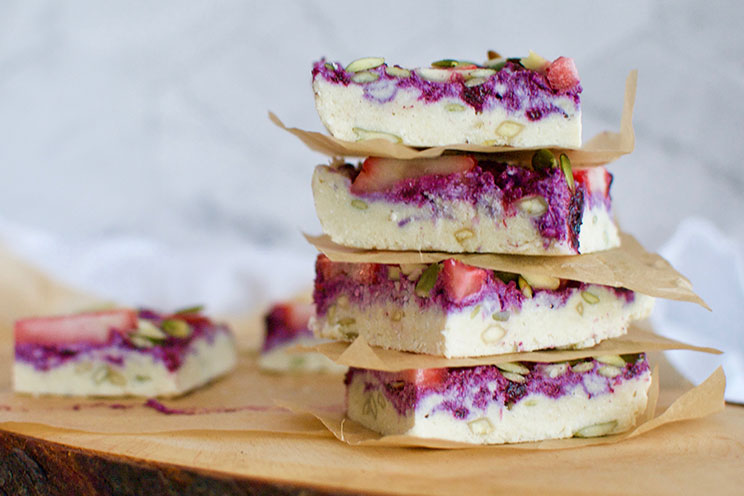 Inactive Time:
6 hrs
6 hours
Cook Time:
3 mins
3 minutes
Prep Time:
12 mins
12 minutes
Dreamy Blueberry Bliss Bars
Recreate your favorite coffeehouse bliss bars with a fresh makeover consisting of antioxidant berries, coconut, and creamy cashews.
Tools
6-by-8-inch baking dish

Parchment paper

Small saucepan

Food processor

Large mixing bowl
Ingredients
For the Blueberry Compote:
¼ cup blueberries

1 T lemon juice

1 T water

1 T maple syrup, divided
For the Bliss Bars:
½ cup soaked cashews, drained

1 T lemon juice

2 T water

¼ cups melted coconut oil

1 ½ cups unsweetened shredded coconut

½ t almond extract

2 T maple syrup

4 T pumpkin seeds, divided

4 T blanched almonds, divided

¼ cups sliced strawberries
Instructions
Line a small baking dish with parchment paper and set aside.

To Make the Blueberry Compote: In a small saucepan, combine the blueberries, lemon juice, water, and maple syrup over medium heat for 3 minutes. Stir often and smash the berries with a wooden spoon until slightly thickened. Set aside to cool.
To Make the Bliss Bars: In a food processor, purée the drained cashews. Add the lemon juice with the water and continue pulsing until well combined.

Transfer the cashew mixture to a large mixing bowl and add in the melted coconut oil, shredded coconut, almond extract, maple syrup, 2 tablespoons of pumpkin seeds, and 2 tablespoons of almonds. Stir until incorporated.

Transfer the mixture to the prepared baking dish and spread into a single layer.

Pour the blueberry compote evenly over the top and swirl with a butter knife.

Sprinkle the remaining pumpkin seeds and almonds over the compote, then press the strawberries on top.

Transfer the mixture to a freezer and let it set for at least 6 hours, then slice into 8 bars.

Serve and enjoy immediately!
Looking for Paleo ingredients? Here are a few we'd recommend:
Raw cashews (Terrasoul Superfoods)
Cold pressed coconut oil (Viva Naturals)
Raw almonds (NOW Foods)

(You'll Also Love: Blueberry 'Oatmeal' Breakfast Cake)