Elevate your mornings with deliciously creamy cashew coffee.
This 3-ingredient creamy coffee blend includes the natural sweetness of monk fruit with a dairy-free pick-me-up! As a keto and vegan-friendly recipe, this low-glycemic drink is the perfect way to start your day off right. You just need two minutes and a blender to get started.
Cashews mimic many dairy-based ingredients, including cheese, sauces, and silky coffee creamers. Because of their lack of outer skins, they're easy to blend and create a creamy texture when mixed with liquids or soaked in water. For a smoother coffee blend, try soaking them for up to eight hours or use a strainer to remove any grittier pieces after blending.
This coffee cookbook is filled with healthy recipes and reveals the natural benefits of your morning brew.
Click here to get your FREE Coffee Book Today!
To keep it keto, this coffee is naturally made with a monk fruit sweetener that's low in carbs. You can find it at many health food stores within the baking aisle or next to other sweeteners. Not following a strict keto diet? Then feel free to sub in raw honey or maple syrup.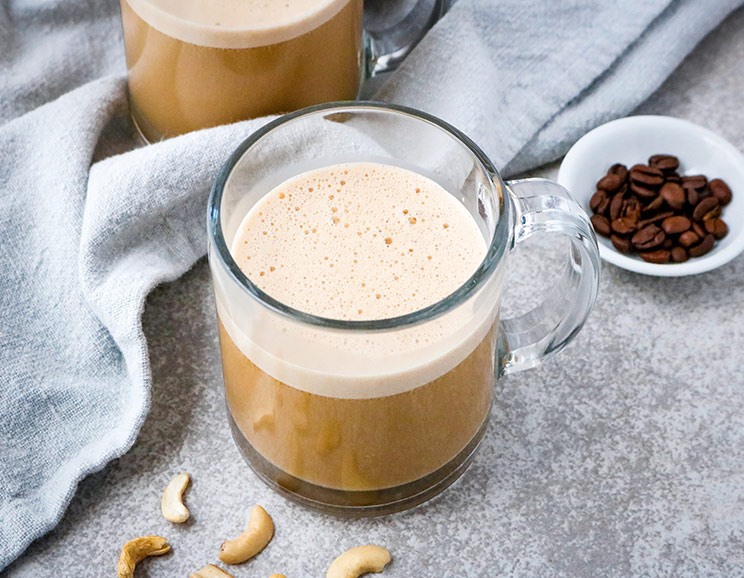 To make the cashew coffee, brew two cups of your favorite organic coffee. Tip: It's important to use hot coffee, since this will help break down the cashews when blending. Pour the hot coffee, cashews, and monk fruit sweetener into a blender and pulse for 10-15 seconds on high speed. When creamy, pour the mixture into a mug and sip away!
While this coffee blend is great on its own, you can add a fun twist by adding in any of these flavors:
Vanilla extract
Pumpkin spice
Coconut oil or grass-fed butter (this makes it even creamier + gives you a boost of healthy fats!)
Jennafer Ashley
Amazingly Delicious Cashew Coffee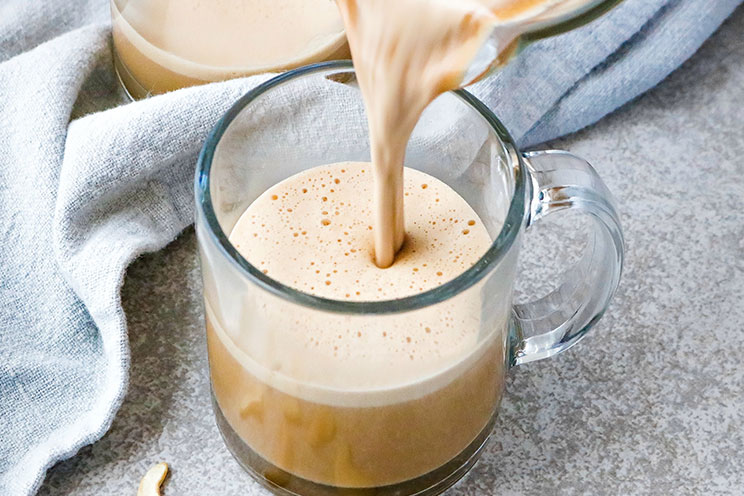 Prep Time:
2 mins
2 minutes
Nutrition facts:
7 grams of protein
8 grams of carbohydrates
14 grams of fat
Amazingly Delicious Cashew Coffee
Elevate your mornings with deliciously creamy cashew coffee.
Ingredients
2 cups hot, brewed organic coffee

1/2 cup raw, unsalted cashews

1 t monk fruit sweetener
Instructions
Place all ingredients into a blender and pulse on high speed for 10-15 seconds, or until smooth and creamy.

Pour into a mug and enjoy hot or serve over ice for a chilled drink. You can keep leftovers in an airtight jar inside the refrigerator for up to two days.

To reheat, pour the cashew coffee into a small saucepan and simmer over medium heat until steaming.
Looking for Paleo ingredients? Here are a few we'd recommend:
Raw cashews (Terrasoul Superfoods)
Monk fruit extract (Smart138)

(You'll Also Love: 18 DIY Deliciously Dairy-Free Coffee Creamers)