Pair tangy, smoky flank steak with creamy hunks of grilled avocado and a spicy salsa in this wholesome recipe.
This easy dish is ready for the table in under 30 minutes for the ultimate weeknight meal! Flank steak proves ideal for cubing into steak bites and grilling. Cubing the steak beforehand cuts down on grill time, and ensures every piece is smothered in the tangy chili lime rub.
Meanwhile, the accompanying salsa is full of fresh ingredients and adds brightness along with extra tangy flavor.
Love slow cooker recipes?
Click here to get your FREE copy of our delicious Slow-Cooker Recipes!
How To Make The Perfect Zesty Steak Rub
The zesty rub is a combination of lime juice and zest with smoky cumin and chili powder. They come together to make a paste that sticks to each piece of steak.
The rub doesn't need to marinate on the steak before grilling, but it can be applied and refrigerated for up to six hours before grilling time.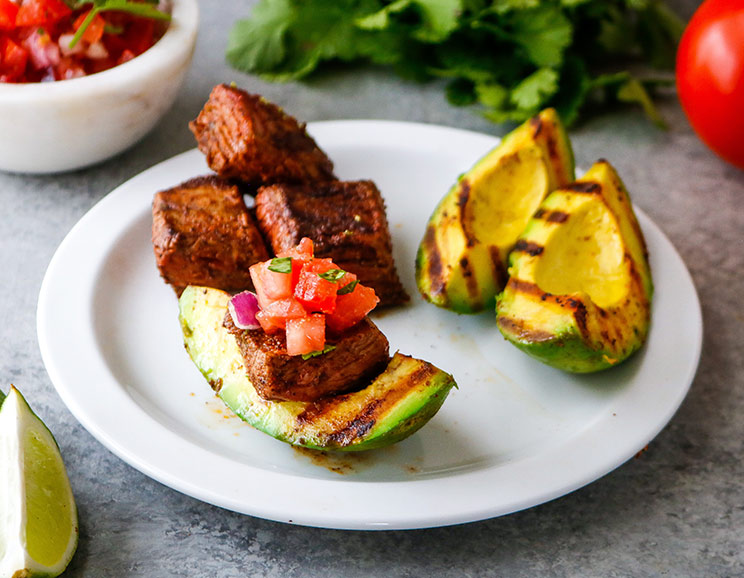 Why Should You Grill The Avocado?
Grilled avocado takes this typically chilled fruit to new levels, with grill marks that seal in smoky flavor in every bite. It's restaurant-worthy goodness.
The avocados are quartered for easy serving and grilling – you can rest assured that a perfectly ripe avocado quarter will not fall apart on the grill. A hot cast-iron grill pan is essential to achieving the grilled look and taste indoors.
Helpful Tips To Get You Started:
Search for the perfect avocado. You'll need avocados that are ripe but not too soft so that they can hold up to the heat.
Try different cuts. You can use hanger or skirt steak if you can't find flank.
Plan ahead. The salsa can be made up to 24 hours in advance.
Jennafer Ashley
Chili Lime Steak Bites with Grilled Avocado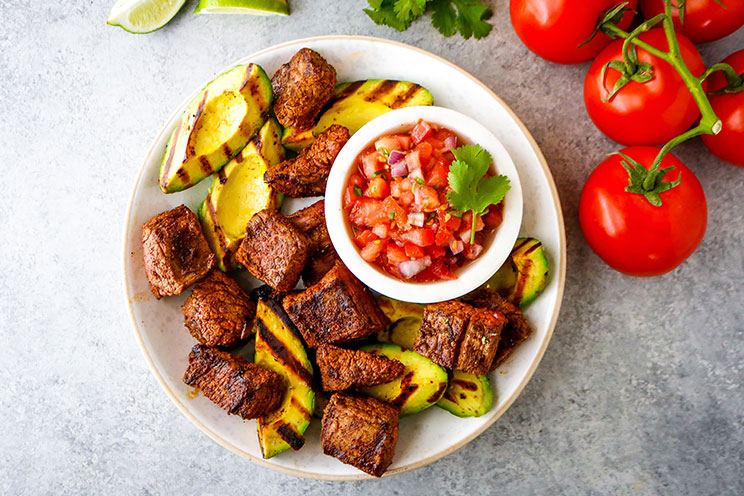 Cook Time:
14 mins
14 minutes
Prep Time:
10 mins
10 minutes
Nutrition facts:
26 grams of protein
12 grams of carbohydrates
27 grams of fat
Chili Lime Steak Bites with Grilled Avocado
Pair tangy, smoky flank steak with creamy hunks of grilled avocado and a spicy salsa in this wholesome recipe!
Tools
Small mixing bowl

Medium mixing bowl

Medium cast iron grill pan
Ingredients
For the Salsa:
1 cup finely chopped tomato

1/4 cup finely chopped red onion

2 T chopped cilantro

1/4 t ground cumin

1 T lime juice

1/4 t sea salt
For the Steak and Avocado:
2 T lime juice

1 t lime zest

1 tsp chili powder

1/4 t ground cumin

1/2 t sea salt

1/8 t ground black pepper

1 lb flank steak, sliced into 2-inch pieces

2 T avocado oil, divided

2 ripe avocados
Instructions
Stir together the ingredients for the salsa in a small mixing bowl. Refrigerate while preparing the steak bites.

Stir together the lime juice, lime zest, chili powder, cumin, sea salt, and black pepper in a medium mixing bowl to form a paste. Add pieces of steak, using your hands to coat.

Heat a medium cast-iron grill pan over medium-high heat for 3 minutes. Grease with one tablespoon of avocado oil. Add steak to pan and cook for 6 minutes, turning halfway through.

While the steak cooks, slice the avocados in half lengthwise and remove the pit. Remove the skin and quarter the avocados. Brush avocados with remaining avocado oil on all sides.

Remove the steak from pan and set it aside on a plate tented with aluminum foil. Grill avocado slices for 8 minutes, turning halfway through. Serve hot alongside steak bites and salsa.
Looking for Paleo ingredients? Here are a few we'd recommend:
Coarse sea salt (AztecSeaSalt)
Ancho chili powder (Simply Organic)
Black pepper (Frontier)
Avocado oil (Bella Vado)