Looking for a finger food that's as nutritious as it is delicious? These grilled sweet potato fries will fit the bill.
They're easy to whip up and a scrumptious dish with a char-grilled flavor. Since sweet potatoes are dense, these fries are simmered before grilling, which also makes peeling them quick and effortless.
Plus, the garlic chive aioli gives them that extra savory oomph and takes less than a minute to make. Use this mayonnaise from our Paleo condiment collection for a quick go-to recipe you can use to make the aioli with.
Want to snack smarter and curb cravings? Get your FREE 25 Healthy Paleo Snacks Cookbook here.
Click here to get your FREE copy of our Snack Recipes Cookbook!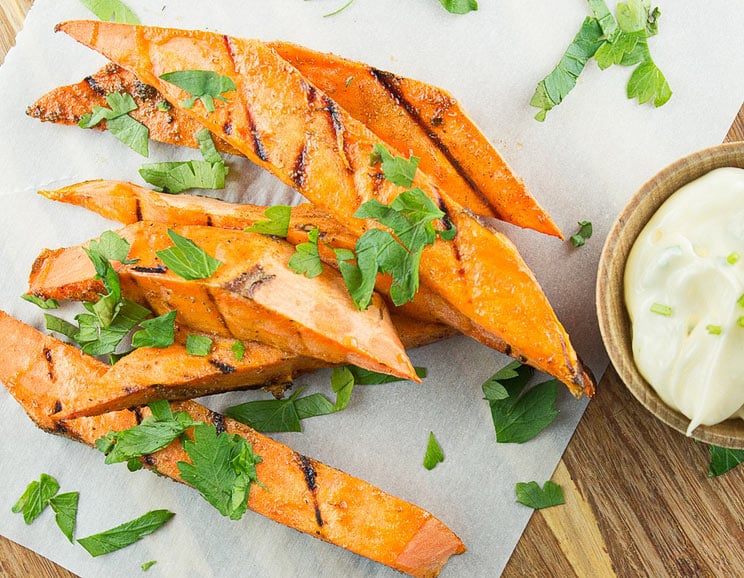 The thing about sweet potatoes is that they are super versatile and pair with just about anything. They make a great side for lunchtime sandwiches or a healthy Paleo salad.
Whether served for a weeknight meal or at a backyard barbecue with your favorite Paleo burger, they are sure to be a hit!
Amy Hunter
Grilled Sweet Potato Fries with Garlic Chive Aioli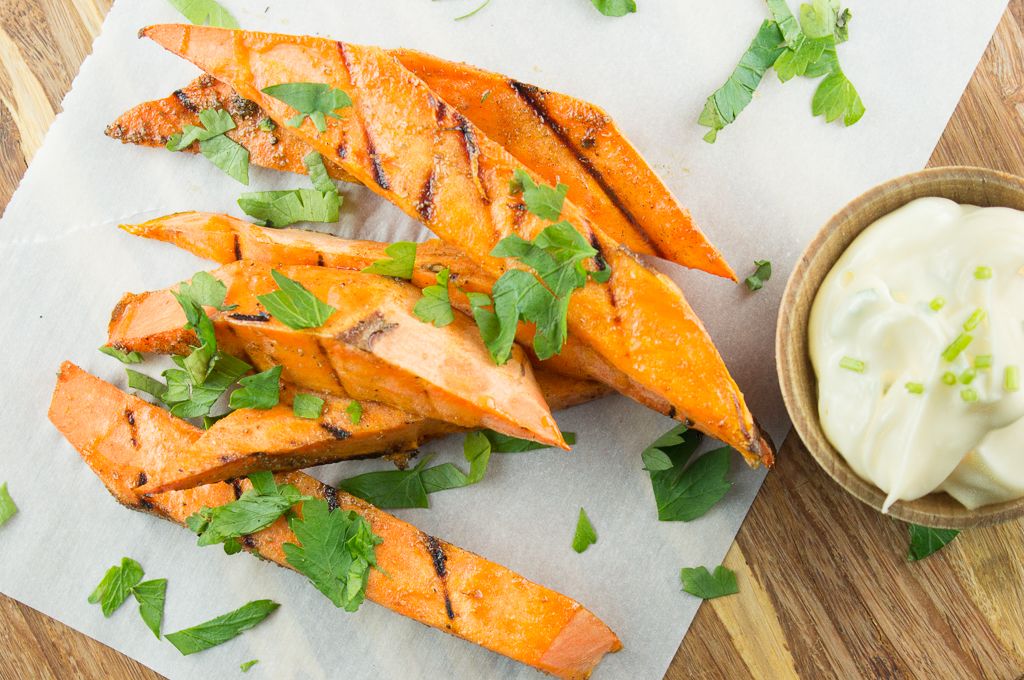 Cook Time:
30 mins
30 minutes
Prep Time:
10 mins
10 minutes
Grilled Sweet Potato Fries with Garlic Chive Aioli
These fries are grilled to perfection and mixed with Paleo mayo, garlic, and chives for a nutritious and tasty snack.
Tools
Pot for Boiling

Kitchen Knife

Small Mixing Bowl
Ingredients
2 sweet potatoes

2 T olive oil

1 t ground cumin

1/2 cup Paleo mayonnaise

2 T minced chives

2 cloves garlic, minced

1 t lemon juice

Sea salt and fresh ground pepper, to taste
Instructions
Bring a pot of salted water to a boil. Add the sweet potatoes, turn the heat down to a simmer, and cook until easily pierced with a fork, about 10 minutes. Remove from pot, peel (the skin should slip off easily) and let sit until cool enough to handle. Cut into wedges.

Pre-heat a gas or charcoal grill to medium-high heat. Brush the wedges with olive oil and sprinkle with the cumin.

Place wedges on the grill for 10-15 minutes, or until tender and lightly charred on both sides.

Before serving, make the aioli by mixing the Paleo mayo, garlic, chives, and lemon juice in a small bowl. Season with salt and pepper to taste. Serve with the fries.
Looking for Paleo ingredients? Here's what we recommend:
Extra virgin olive oil (Sky Organics)

(You'll Also Love: Crispy Bacon-Wrapped Sweet Potato Fries
)