This Butternut Squash Soup with Pears and Ginger strikes the perfect balance of sweet and savory!
The pears balance the earthy flavors of butternut squash in this recipe while adding a hint of sweetness. It gives the soup a light, refreshing taste, and will leave everyone wondering what secret ingredient is hiding in it.
To start, you just need five base ingredients and just a few seasonings to marry everything together. Nutmeg is a must for any butternut squash recipe. Freshly grated nutmeg complements the earthy flavors with a subtle, nutty flavor, while ginger adds a cozy, spicy aroma.
Love slow cooker recipes?
Click here to get your FREE copy of our delicious Slow-Cooker Recipes!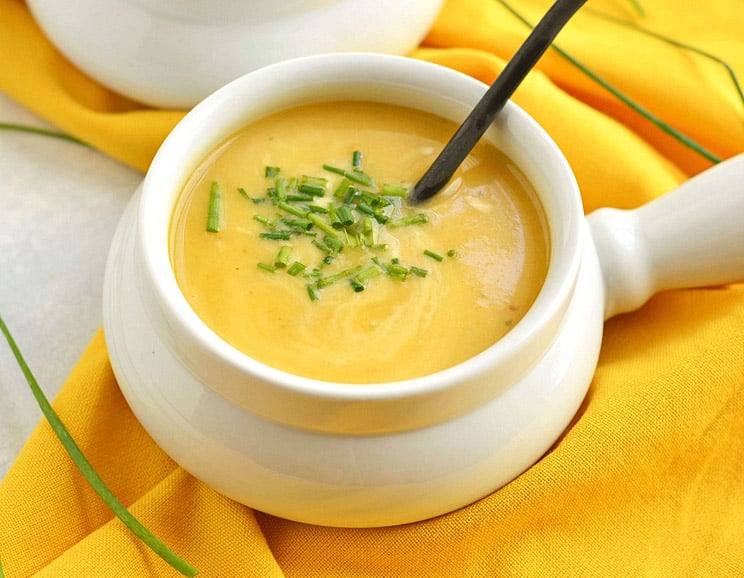 To keep the soup extra creamy without the dairy, you'll be using coconut cream. To give it a real silky taste, drain the liquid from the coconut cream and blend only the cream part with the squash and pears. Be sure to save some of that dreamy cream to serve as a garnish.
This recipe makes a light lunch or lovely side dish. Add Paleo coconut bread on the side for dipping!
Tip: Not a fan of pears? Apples would make a lovely substitute in this recipe!
Megan Olson
Dreamy Butternut Squash Soup with Pears and Ginger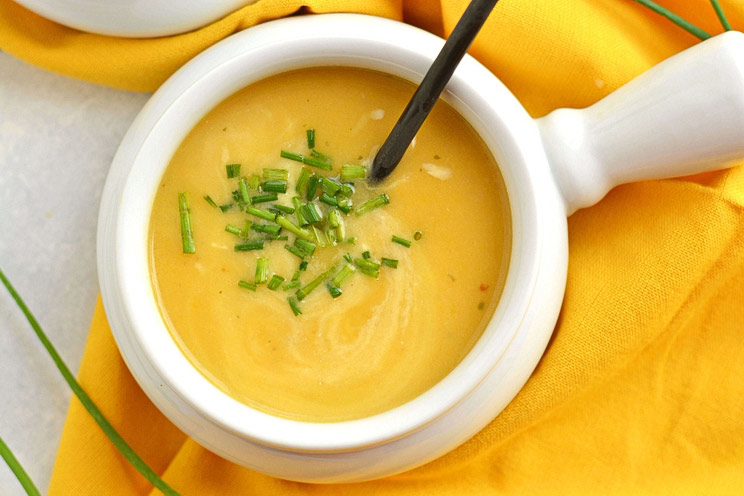 Cook Time:
30 mins
30 minutes
Prep Time:
10 mins
10 minutes
Dreamy Butternut Squash Soup with Pears and Ginger
This Butternut Squash Pear Soup strikes the perfect balance of sweet and savory.
Ingredients
2 cups butternut squash, cubed

2 pears, peeled and diced

½ small white onion, diced

¼ cup coconut cream

1 T extra virgin olive oil

¼ t freshly grated nutmeg

½ t ginger

½ t dried parsley

Chives for garnish
Instructions
Add extra virgin olive oil, onions, butternut squash, pears and spices to a pot and bring to medium heat.

Sauté 5 minutes or until the onions are translucent. Then add 4 cups water to the pot.

Cover the pot and bring to a boil. Once boiling, reduce heat to a simmer.

Simmer 20 minutes or until the butternut squash is softened.

Add half the soup to a blender (careful, it might be hot!) with half the coconut cream. Process on high until smooth. Repeat for the second half of the soup and coconut cream.

Serve immediately and garnish with chives.
You'll Also Love: 27 Cozy Fall Soups You Can Freeze